Retired astronaut Chris Hadfield has told Sinéad Kennedy and Dáithí Ó Sé on RTÉ One's Today show that he has written his first thriller, The Apollo Murders, which is due out later this year.
"It's something I've wanted to do for a long time," Hadfield told the hosts when he appeared on the show on Tuesday. "But during the pandemic, actually because I travelled less, I had time to concentrate on it."
Prior to The Apollo Murders, the Canadian had previously written a number of non-fiction books and released an album, Space Sessions: Songs from a Tin Can.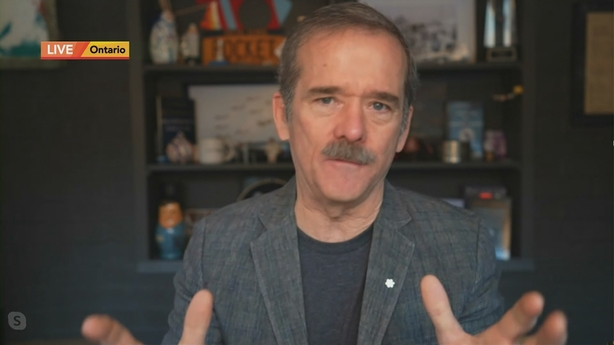 "It's set in 1973, with the Cold War and the Soviets' space programme and the end of the American space programme, where they were going to the Moon," he said of his fiction debut.
"It's been a lot of fun to put together... It's in pre-order right now; it'll come out in October. All of the pre-reads have been so complimentary. They're like, 'How did you write this book?!' [Laughs] So, I'm pretty delighted.
"I think people are going to enjoy it. But also, I'm one of the very few authors who can write action fiction who has actually done space walks and commanded a spaceship and spent time in weightlessness and flown Russian and American rocket ships. So, it gave me a grounding of understanding that then I could put into the story that I think really adds to it.
"Over half of the characters in it are real people, because it's set in 1973. So, that was a real fun part of the depth of research, and then building this really convoluted story in the era of Apollo."