The teaser trailer for the television special that will see Britain's Duke and Duchess of Sussex interviewed by Oprah Winfrey has been released.
The 90-minute interview with Prince Harry and Meghan Markle will be broadcast in the US by network CBS this Sunday, 7 March.
The 30-second trailer for the interview sees Oprah Winfrey asking Meghan Markle: "Were you silent, or were you silenced?"
"I just want to make it clear to everybody there's no subject that's off limits," the broadcaster says.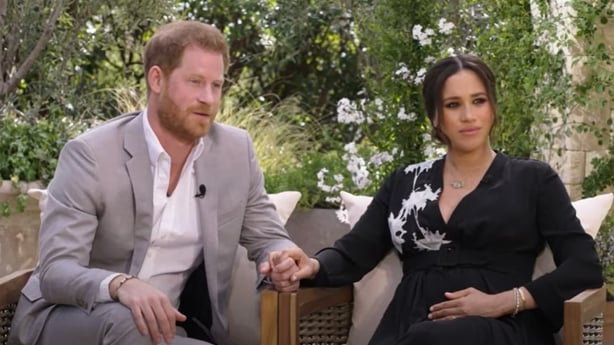 Later, Prince Harry tells Oprah Winfrey that his "biggest concern" was "history repeating itself".
"You've said some pretty shocking things here," she then tells the couple.
Last month, Buckingham Palace announced that the couple had told Britain's Queen Elizabeth II that they would not be returning as working members of the royal family. The Duke and Duchess recently announced that they are expecting their second child.
When the interview was first announced in February, CBS said: "Winfrey will speak with Meghan, The Duchess of Sussex, in a wide-ranging interview, covering everything from stepping into life as a royal, marriage, motherhood, philanthropic work to how she is handling life under intense public pressure.
.@Oprah, Harry and Meghan. March 7 on CBS. https://t.co/msMwpgrmpv pic.twitter.com/xyTAJmcEsq

— CBS (@CBS) February 15, 2021
"Later, the two are joined by Prince Harry as they speak about their move to the United States and their future hopes and dreams for their expanding family."
Oprah Winfrey was among the guests at the couple's wedding at Windsor Castle in May 2018.
She is one of their neighbours in Montecito, California and is also working with Prince Harry on a mental health series for AppleTV+.