Writer and broadcaster Piers Morgan has said he has made a statement to police after he and his family received death threats online.
The Good Morning Britain presenter had tweeted about the threats on social media.
He wrote: "I've reported these death threats to @metpoliceuk and look forward to hearing back from them. I'm also keen to hear what steps @instagram @Facebook are taking to identify the person who made the death threats on their platform & has now deleted their account."
The former editor of The Mirror newspaper, who is married to fellow journalist Celia Walden, updated his followers, saying: "Well they're definitely taking this seriously, they're round my house now taking a statement."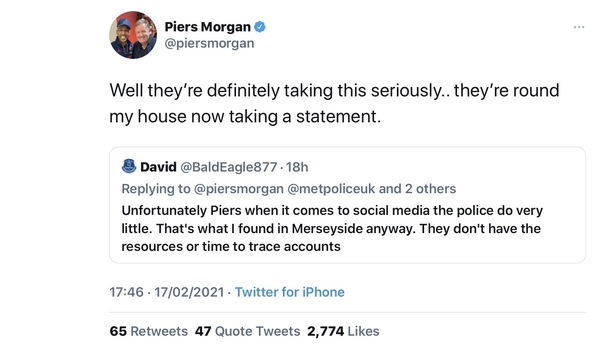 A representative for the Metropolitan Police told The Daily Star: "We have received a report of malicious communications relating to messages sent on social media. Enquiries are ongoing."