On Friday's Late Late Show, Foo Fighters frontman Dave Grohl told Ryan Tubridy that Ireland brings him "a sense of joy" that goes all the way back to his first visit in 1991.
The singer-guitarist joined the Late Late on the day the Foo Fighters' new album, Medicine at Midnight, was released, and reminisced about how he became smitten with Ireland when he arrived to play his first Irish show with Nirvana in legendary Cork venue Sir Henry's.
"I guess it was 1991, we were on tour opening up for a band called Sonic Youth," Grohl recounted.
"My family... I have a little bit of Irish heritage in my family on my mother's side, my mother's maiden name is Hanlon.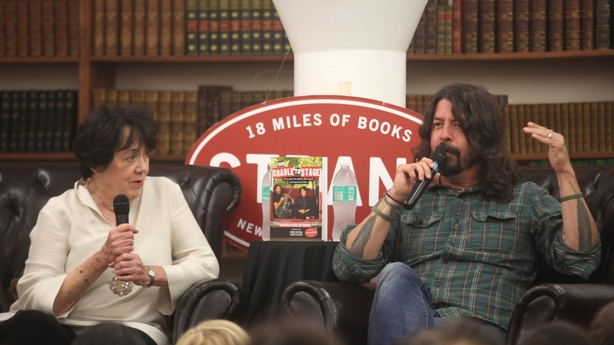 "The first time we came to Ireland, I remember arriving at night, going to sleep. I think we were in Cork and I woke up and decided to walk around town before the show.
"As I was walking around, I realised that all the women looked like my mother. I immediately got on the phone and called her and said, 'Mom, you have got to come here! Everybody looks like you! You have to see this!"
"She had never been to Ireland," Grohl continued. "So, the next year, Nirvana were headlining the Reading Festival, and I brought my mother and my sister over [to Ireland] for a good week of driving around the country before we went over for the Reading Festival.
"We just did this nice little loop down south and over to Dingle and we were staying in bed and breakfasts. We capped it off staying at Adare Manor. We had never stayed in a castle before, so this was really a huge moment.
"Of course, for years with Foo Fighters coming over, we have dear friends there. We have had amazing shows there. It's one of my favourite places in the world. It's beautiful.
"The thing about Ireland, when you play a show there, there is a sense of joy. It's a really rowdy bunch; it is this collective feeling of joy. When I'm onstage, I like to really connect with the audience."
Grohl also paid tribute to the work of Irish physical therapist Freddie Murray, who helped him recover from the broken leg he sustained after tripping and falling off the stage in Sweden in June 2015.
"It's funny," he said. "Well, it's not funny. I fell off stage and broke my leg and couldn't work for eight months.
"After the surgery that I had, I was assigned this world-class physical therapist. They said, 'He's a great guy, Freddie Murray, he's Irish'.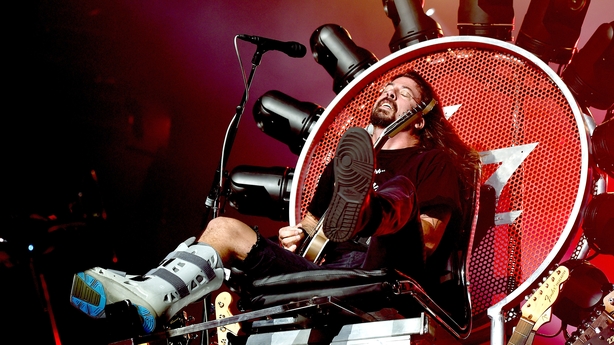 "He came out on tour, loves rock music, sweetest person you have ever met in your life... We became best friends.
"First of all, he was the most handsome man you have ever seen in your life, so all of the women on tour, the wives and the crew, would say 'Freeeeeedie'.
"I spent every day with him. I'm not kidding, if it weren't for Freddie, I would not be able to walk right now. He really took me from being completely broken to running. I wouldn't be there if it weren't for him."
Watch the interview in full on the RTÉ Player.