The BBC has announced that there will be an extra episode in the eagerly-awaited sixth season of its police thriller Line of Duty.
The news was revealed on Tuesday in a video featuring stars Adrian Dunbar and Martin Compston in character as Superintendent Ted Hastings and DS Steve Arnott, respectively.
Listen up, fellas. When the gaffer asks for more, you better deliver.
#LineOfDuty returns for Series 6 with an extra episode (7 instead of 6). Coming soon to @BBCOne and @BBCiPlayer. pic.twitter.com/6An7jywJI1

— BBC Press Office (@bbcpress) February 2, 2021
The BBC added that the seven-episode season is "coming soon".
Last month, Dunbar told the Ryan Tubridy Show on RTÉ Radio 1 that the complicated filming during the Covid-19 pandemic has made him "nervous" about watching the new season.
Production was halted due to the pandemic in March, with Dunbar finally completing filming in Belfast in November.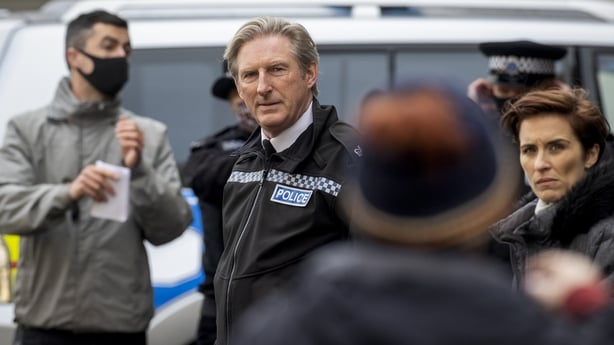 "We got it in the can," he told the show. "It's done. It wasn't perfect, the way we had to do it. We usually do it in two blocks of three [episodes]. It's a complicated story, so you keep it in your head. 
"We had to stop in March, come back, and then we were jumping all over the place. We'd do a bit from episode one, a bit from episode six, a bit from episode three, so it was very difficult to keep it all in your head sometimes. But we got it done, and it'll be fixed in the edit. Hopefully, it'll be coming out March/April."
"I'm nervous about this one because of how we had to shoot it," Dunbar continued.
"I'm a bit nervous. I haven't got a handle on it, you know what I mean? Usually, you've got a good feeling of overall of how it's all gone. But this time it's been a bit more difficult to kind of get a handle on it. I'm nervous about it. I'm hoping it's going to be of the same standard as usual, fingers crossed."
"Was there any issue with Covid continuity?" asked the host. "In terms of, you know, we all come in shapes and sizes, Adrian. If you disappear for a little while, you're stuck indoors a lot..."
"I know what you're driving at," laughed Dunbar. "A few of us kind of looked at one another when they said, 'Right, we're going to start in three weeks' time'. So it was, 'Oh my God, we've just been sitting around eating and kind of putting on weight. Are we going to fit into the costume when we get back?' I think there were a few crash diets going on, that's for sure."
Season six will also see the Line of Duty debut of Kelly Macdonald as Detective Chief Inspector Joanne Davidson.