It's almost 12 months since the curtain came down on live performances because of Covid-19, and for Ireland's country music artists, it's been a huge blow.
For decades, they've toured all over Ireland and the world, with thousands of fans flocking to see them in various venues and dancehalls.
In a bid by the country stars to keep in touch with their loyal following, singer Trudi Lalor and her songwriter husband Billy Morrissey came up with the idea of connecting fans via a phone call during lockdown.
"We came up with the idea when we were out walking and talking about the fans and how they are missing the live performances," she explained.
"So, I went on my radio show on Tipp FM and asked fans would they like to be connected with their favourite artist. In two minutes, I had 600 messages," she said.
More than 70 of Ireland's country music artists have now come on board. Among them Nathan Carter.
The 30-year-old, who lives in Co Fermanagh, is spending his time writing and recording music, but is happy to make a few calls to some of his fans.
"Us, as entertainers, we don't realise the joy you can bring just by making a call. Everybody at the minute is going through tough times and a little phone call, if it picks someone up and makes them happy for a day or a week or a month, it's great thing to do," he said.
"One lady I rang in Cork hadn't had a phone call in weeks - this was her first phone call. She was delighted. It was really nice," he continued.
It will soon be a year since Nathan Carter last performed live for his fans and he says it's difficult for everyone.
"It will be a year this month since we last done a show, so it's nice to get in contact with some of the fans," he added.
Margo and Daniel O'Donnell, Mike Denver, Robert Mizzell, Michael English, Mick Flavin, Declan Nerney, Cliona Hagan and Jimmy Buckley are among the 70 artists taking part in this campaign.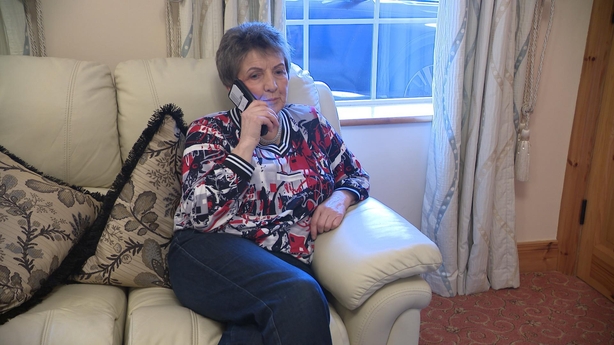 "I know by the calls that I'm making, some people are in a bad way and this does lift them," said singer Margo O'Donnell.
"We just want to let them know that we're here and we are thinking of them. We want to get back to entertaining you and we don't want you to feel sad in the meantime," she said.
Fans can nominate someone to get a phone call from their favourite Irish country artist by contacting the Reach Out Facebook page.
"We could not believe the response. We have received thousands of messages. It's a wonderful, feelgood project and we're thrilled to be a part of it," said Trudi Lalor.