Irish-American writer-director Liam O'Donnell tells Harry Guerin about the just-released third film in his Skyline series, Skylin3s.
Harry Guerin: A sci-fi action movie with a virus threatening Earth and Dublin under quarantine - what are the odds that a lot of this story that you wrote would be so relevant to 2020?
Liam O'Donnell: Yeah, I really wish it was less topical, to be honest! When I wrote it in 2018 and then filmed it in 2019, we never really imagined that 2020 would play out this way - although I do wish we could have cured the pandemic with a 72-hour space mission to an alien planet. I am very pro-science and hopeful that we're going to turn things around in 2021. But Skylin3s is definitely the kind of fun, throwback escapist adventure that hopefully audiences can embrace right now.
We need your consent to load this YouTube contentWe use YouTube to manage extra content that can set cookies on your device and collect data about your activity. Please review their details and accept them to load the content.Manage Preferences
Why Dublin?
Originally, the film was set in post-apocalyptic Los Angeles, so the already-overrun city was actually Phoenix, Arizona. So, it was just basically a nearby city to up the stakes that this virus was headed towards the protagonists - and fast. But once we set the film in London, I picked Dublin because... without giving too much away, I was raised Irish Catholic outside of Boston, so I have a lot of that underdog in me. If you listen carefully to some of the dialogue at the end, it definitely makes sense that Dublin was the point of origin rather than a British city.
You co-wrote 2010's Skyline and made your directing debut with 2017's Beyond Skyline. What were the biggest lessons you learned on Beyond Skyline that you brought to Skylin3s as both a writer and director?
Beyond was a great learning experience all around. It was a very difficult production, shot over many months on locations around the world, along with a lot of green screen sets. It took a long time to shoot and a long time to finish, which kind of made it feel like I'd directed two or three movies already by the time I got to Skylin3s.
The number one lesson was just to make something a lot more cohesive and less episodic. We shot on a lot more sets on stages and on the backlot. [We] Kept the green screens to a minimum; we usually had at least three walls of the set built and using green for the fourth wall that we'd only use for impact during certain scenes. The film was cheaper, quicker to shoot and a lot quicker to finish.
I also wanted to shoot a lot more close-ups and get more intimate with the characters during the drama and be sure to really capture their emotions in graphic frames during the action scenes. Overall, I think it made the story more impactful because you're really checking in with our lead Rose Corley, played by Lindsey Morgan, throughout the adventure and able to empathise with her throughout the journey.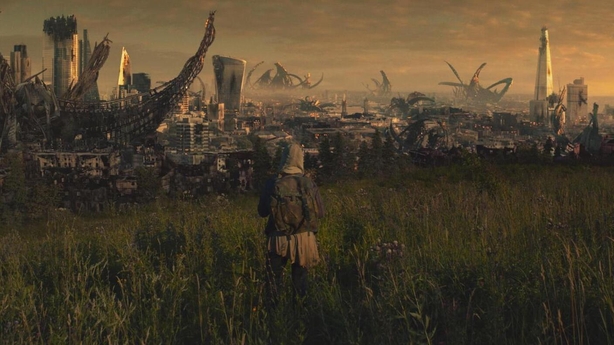 When did you start and finish shooting Skylines and then editing it? Was it a tougher shoot than its predecessor?
We started shooting this in May 2019 and finished in July. We edited in September 2019 to February 2020. Then it was all VFX, music and sound to the finish.
Beyond was definitely the tougher shoot. We got rained out a lot in Indonesia. We had a river rise up two metres overnight and swallow a set. We had to look out for scorpions and snakes in the jungle while our leads are carrying a crying baby around. And then at the end we shot at a real subway station in Toronto where you had trains overhead making it impossible to communicate. So, yeah, that was a crazy shoot.
But it was a much longer schedule, whereas with Skylin3s we had to shoot an even more ambitious story in, like, 20 fewer shooting days. There was no margin for error on making my days. Every day was like heading into battle to just overcome no matter what, while still maintaining a great energy on set with the cast and crew. Luckily, we had a really amazing team and we finished slightly ahead of schedule. I kind of didn't want to call it wrap on our last set-up because we had a few more hours left. We kept making the cast walk down this alien hillside another take or two more than we needed. It was such a fun group; I was sad to see them go.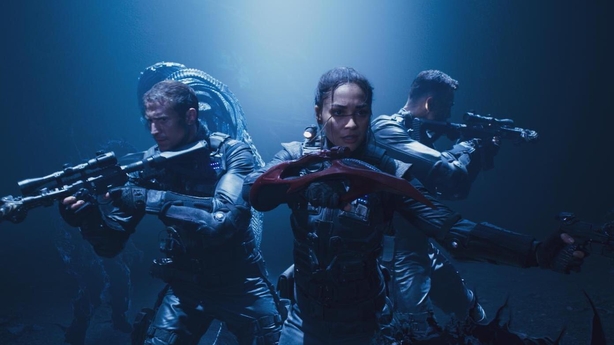 During the shoot, did you think back much to the movies that fired you up as a child and a teenager?
Absolutely. I'd listen to Basil Poledouris' score for Starship Troopers some mornings to get fired up before the shoot. This film wears its influences on its sleeves. It's very deliberately trying to feel like a film that would have been made from the late 80s, early 90s but with today's VFX and a modern twist thematically. Aliens and Predator and Terminator are definitely in its DNA along with more recent sci-fi films like David Twohy's Riddick Trilogy, District 9 and Guardians of the Galaxy. You can't escape Star Wars' influence when you're making something like this, of course, and the first film of that series is still the most inspirational to me because it did so much with so little. Star Trek is something that I wasn't that big into as a kid but have come to really love as an adult, and we were lucky to land an incredible Star Trek veteran in [actor] Alexander Siddig.
What kind of headspace were you in at the start of the Covid-19 emergency in March with a new movie on the horizon and everything so uncertain?
Well, we had just locked the cut in London and I flew back home to Los Angeles right before everything locked down. I felt very fortunate, to be honest. We'd gotten everything done that needed to be done in person and from that point on we were able to work on the VFX, music and sound all remotely until October. If I didn't have this movie, I think the pandemic would have been so much harder. I was very grateful to wake up every day and look at new VFX online and collaborate with my team over Zoom. I am very much a middle-class indie filmmaker; if this movie hadn't have happened before the pandemic, I'd probably have already sold my house to make ends meet. So even though it could be challenging or stressful at times finishing the movie remotely, I was very grateful to have had this opportunity to make something I really love.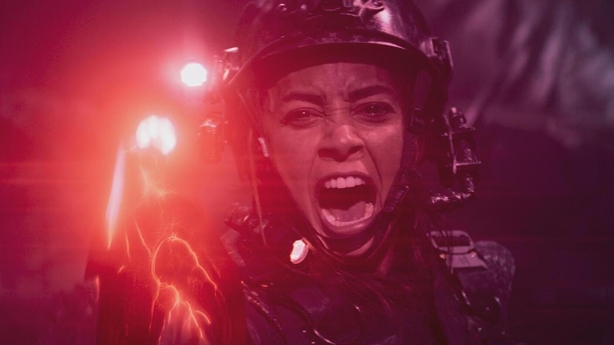 Did you think about delaying the release until 2021?
No, I never did. With visual effect-heavy films, you're always a little worried about making your schedule. But it was more about finishing it early enough to premiere at festivals like Frightfest, which we did. But I was always pretty confident we'd finish in time for our actual release in December.
Have you managed to watch many movies yourself this year and, if so, what really stood out old or new?
Definitely not as many as I would like. The last film I got see in the theatre was Leigh Whannell's The Invisible Man back in February and thought it was fantastic. Just rewatched it with my wife - I just really love the sound design and his control over the camera and pacing in each scene. I'd never seen all the Picard Star Trek films so I just finished those and came to really love that cast. I can see why everyone loves them and want to start watching the series now from the beginning. For shows, I really enjoyed the first season of The Terror. It may have been an ill-advised pandemic watch because it is quite bleak, but definitely a good watch while sipping whiskey in the evening.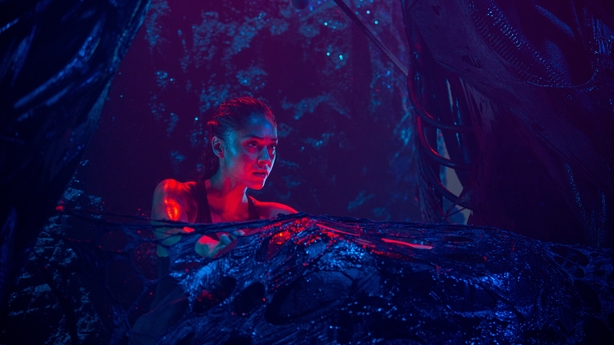 You've spent over a decade of your life working on this series of movies. What are your favourite memories as you look back?
I try to celebrate the good news when it comes because it's a really difficult business, so anytime you're on set that first day of production it's a great feeling. For the first Skyline, though, getting bought by Relativity/Universal and then going to Comic-Con and getting a big billboard put up over San Diego was definitely the highlight. That all happened within a six or seven-month span and just felt like a dream come true.
For Beyond Skyline, the first day, which was my first day as a director, was Frank Grillo and Iko Uwais beating the hell out of each other in a muddy rice paddy, so that was pretty great. For Skylin3s, there's a lot of great memories working with this cast and crew, but my favourite shot in the movie is at the end when Lindsey fires everything she has right into the camera. That was sort of improvised on the day, moving from a stunt wire shot to just having Lindsey lay on a sled attached to the dolly track. It allowed us to have a lot more control and focus on the performance and Lindsey really killed it, which gave us the emotional climax of the film.
How do you think you've changed over the course of the movies and what life wisdom do you treasure most from working on them?
When I started, I was 27-years-old and my wife and I had just had our first child, Ronan. Now I am 38 and we've just had our fourth child, Trent. I guess I am a very slow learner! But no, I do love having a big family and I think that's made me a better director in a lot of ways. There's a lot of mouths to feed on set and you need to give everyone attention and make them feel taken care of.
I think what was so great about doing a part three and directing a second time was just being more comfortable in my own skin. I'd talk to the cast every morning and instead of trying to hide any nervousness or insecurity, I'd tell them if I was nervous about something, or if something was bothering me from the day before, or 'What do you think about this or that?'. I think that's the best part of getting older: just learning to be a more honest and open collaborator and how best to manage working with so many different personalities in these bizarre situations we find ourselves when making a crazy alien action movie.
Do you think you're done with the Skyline universe now, or is it never say never?
Well, like I said, I have four kids now, so I will never say never to any gig, let alone one that is so near and dear to my heart. In a lot of ways, I feel like we're just hitting our stride and there's some interesting places we could take things. So, while I'd love to do another film next, I would definitely love to continue exploring this universe.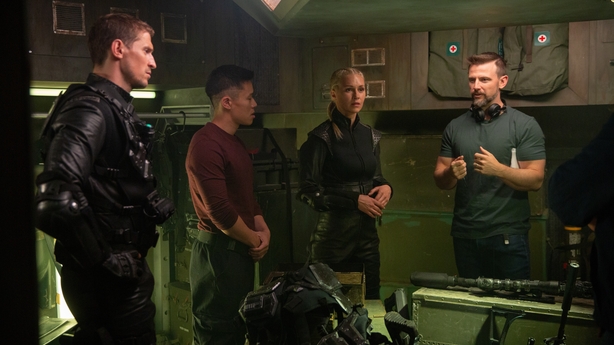 What's next?
There's a really cool script I am trying to get made with my producing partner Matthew Chausse called Abomination by Bragi Schut. It's an Arctic-set survival thriller. Period setting. Creatures. Horror. Action. It's a more mature approach but still would be building off of what I have been doing.
And the second is a script I wrote and that Derek Kolstad from the John Wick films polished called The Last Savage. It's a post-apocalyptic, sci-fi martial arts adventure that's sort of my dream action project. It reads really ambitious, but hopefully Skylin3s helps us get it going.
Finally, we can't let you go without chapter and verse on your Irish roots and favourite Irish films...
Well, I was fortunate enough to visit Ireland with my family when I was around 16-years-old, so we're talking 1998. We started our trip in the town of Doolin and I remember waking up so jet-lagged that I decided to just go for a walk. It ended up as the greatest hike of my life along the Cliffs of Moher. And this is the day before I had a camera in my pocket at all times. But I still have these amazing memories of walking along the cliffs by myself in the late afternoon and climbing down to look into the caves, which felt like something out of a movie at the time. We had a great rest of the trip driving around Ireland and staying at bed and breakfasts and strange castles and such. But that was the peak for me, that first hike.
My parents both did the ancestry.com thing and it came out something like 98% Irish on either side. My mother's maiden name was Kelley. My great-grandfather, Patrick O'Donnell, came over to Boston around 1900. My uncle is Lawrence O'Donnell, who hosts a show called The Last Word on MSNBC. He started writing the book Deadly Force about one of my grandfather's cases against the Boston Police Department that got turned into a CBS TV movie starring Richard Crenna. Dylan Baker played my father in that, which you can watch on Tubi in the US right now. And it's pretty timely.
When I was at Boston University and thought I might want to go into politics, I decided to take an internship down in Washington D.C.. Turns out I hated politics, but I was able to visit the set of my uncle's show at the time, which was a sort-of West Wing spin-off called Mister Sterling, starring Josh Brolin. Just seeing what life was like on set for one day was enough for me to completely change the course of my life. It was revelatory to see that it's just a lot of normal hard-working people working really hard together. I thought, 'Well, I can work hard, so I might as well try doing it on something I really love'.
As for recent Irish films, I really love Song of the Sea. I've watched it numerous times with the kids over the past couple of years and it's so magical and beautiful and emotionally honest. I am really looking forward to Wolfwalkers, which I have heard is incredible as well.
Skylin3s is on streaming platforms now.