Meryl Streep has said she did not expect that she would have to do so much dancing when she originally signed up for Netflix's new musical-comedy movie The Prom.
Directed by Glee co-creator Ryan Murphy and based on the Broadway show, The Prom tells the story of two Broadway stars (Streep and James Corden) and two struggling actors (Nicole Kidman and Andrew Rannells) in search of a cause to revive their careers.
They travel to a conservative small town in Indiana to support a lesbian student (played by newcomer Jo Ellen Pellman) who is not allowed to bring her girlfriend (Ariana DeBose) to the high school prom.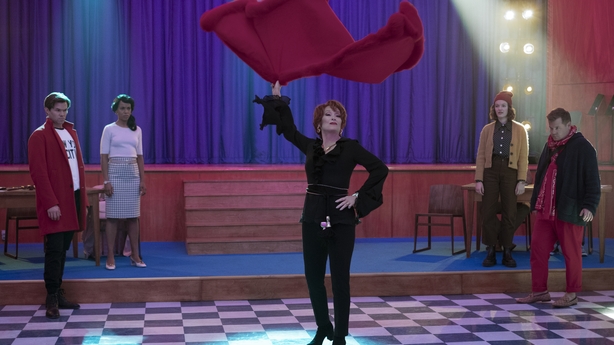 Speaking at a virtual press event attended by RTÉ Entertainment, Streep laughed when she recounted the physical demands of her role as diva Dee Dee Allen.
"I'm the oldest person in the cast and I have the most dancing, which didn't make sense to me!" she said.
The three-time Oscar winner explained that before the cameras started rolling, she went to the theatre to see the stage show.
"I've honestly never heard a reaction like that in a theatre," Streep recounted. "People were standing on their chairs at the curtain call! I mean, screaming and crying and laughing.
"But, I noticed that the leading lady didn't do a lot of dancing, so I was very encouraged to see that! Then all hell broke loose when I got to Los Angeles and they laid out for me what it was... It was a lot of dancing! I got in shape - a lot of stamina. Man, it was hard work, but it was really, really fun."
When the Mamma Mia! star was asked why musicals appeal to her so much, she replied: "More than anything, I love the dancing, because I'm not a dancer in my actual life. I love the feeling of seeing people really dance.
We need your consent to load this YouTube contentWe use YouTube to manage extra content that can set cookies on your device and collect data about your activity. Please review their details and accept them to load the content.Manage Preferences
"There are numbers in Prom where the young people get up, and when we were in the rehearsals we'd be struggling with these numbers. Then, they would get up and sort of lift the roof with their exuberance and their joy and vitality and love of being alive.
"That's a thing - it's the breakout aspect of musicals. The lid comes off the pressure of your life, whatever it is. Whatever your particular sadness is, it's irresistible in movie musicals when people start to dance. And the singing is great too!"
The Prom is streaming now on Netflix.