The director of a new film about Irish-Somali activist Ifrah Ahmed has told RTÉ Entertainment that she hopes the campaigner's story and fight against female genital mutilation (FGM) will inspire more young women in Ireland to speak out about issues that are important to them.
Mary McGuckian's A Girl from Mogadishu, which opens in cinemas today, tells the story of how Ifrah Ahmed (played by American actress Aja Naomi King) escaped as a teenager from her conflict-ravaged birthplace. She was brought to Ireland by people traffickers, who had assured her that she was travelling to be with her aunt in the United States.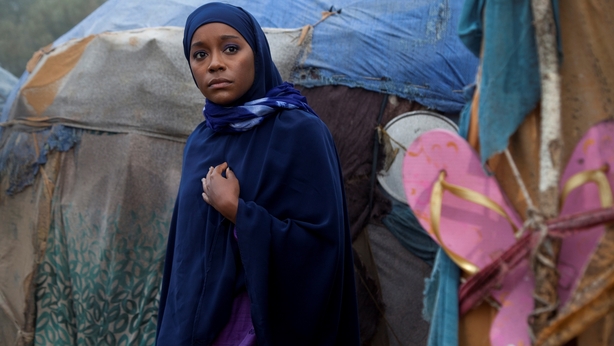 The award-winning Irish-Belgian co-production follows Ifrah Ahmed as she overcomes the isolation of being a refugee, sharing her own experiences as a survivor of FGM and gender-based violence to become a force for change around the world.
Ifrah Ahmed set up the United Youth of Ireland organisation to help young immigrants in 2010. In 2012, she established the Ifrah Foundation to campaign against FGM. That same year, she became an Irish citizen. In 2018, she was honoured with a People of the Year award.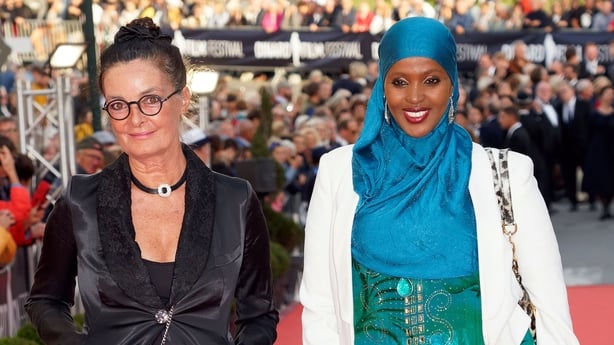 "It is a film to me about the power of testimony, about having the courage to speak up and tell your truth and work for good," writer-director Mary McGuckian told RTÉ Entertainment. "Be a channel for change."
"I think Ifrah is an inspiring role model for young women, particularly young women of colour, but for any young woman," she continued. "For so many years, women - and particularly young women - there weren't characters for them to identify with [on screen] or that reflected them, even if it's just emotionally."
Mary McGuckian and Ifrah Ahmed first met at the Cannes Film Festival some years ago, with the Dublin-based director joking that she had to go to Cannes to end up making a biopic about someone who lived in Drumcondra.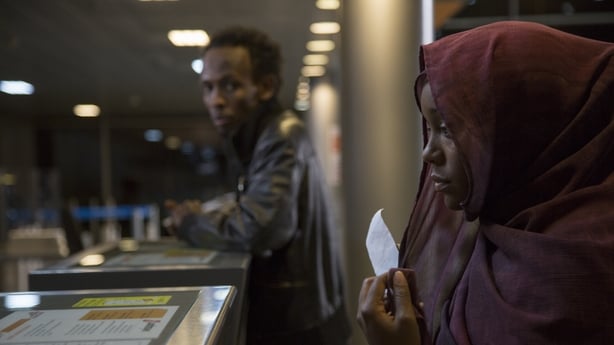 "Ifrah was there to meet African filmmakers, and she met an Irish one," she recounted. "I thought, 'This is an extraordinary story'. I didn't know enough about FGM, like a lot of people, and about what she'd been doing... If people will talk about things, they do come to light and understanding emerges and out of understanding comes solutions." 
The film, whose cast also includes Oscar-nominated Captain Phillips star Barkhad Abdi alongside Irish actors Orla Brady, Pauline McLynn and Stanley Townsend, became a labour of love for all concerned as they learned more about Ifrah's story.
"It was hard to finance the film and the budget was too small," McGuckian explained. "We were trying to make really difficult things work and we had to do it in a really complicated way with Belgians in Morocco. We literally were counting the pennies. But, on the other side, there was huge support around it. Everybody felt they were doing something worthwhile.
"While there are tough bits in it, it's fundamentally quite uplifting, Ifrah's story, and she's a very uplifting person. There was a lot of joy around and a very strong sense, I hope and believe, from the crew and everybody that was making it that they were doing something that was worth getting right."
Describing Ifrah Ahmed as "a modern face of Irish women and an incredible ambassador for Ireland", Mary McGuckian feels the experience of telling Ifrah's story has changed her own life. 
We need your consent to load this YouTube contentWe use YouTube to manage extra content that can set cookies on your device and collect data about your activity. Please review their details and accept them to load the content.Manage Preferences
"As you get older, you kind of lose that youthful energy," she said. "We had a fantastic cameraman on this, an Irish guy called Michael Lavelle. Very early on, at one point he turned around very quickly and said, 'Why are you doing this? What is it about Ifrah?'
"He asked me so suddenly and quickly, I think I said, 'She reminds me of how I wished I was at her age'. And so he kept reminding me of that. I hope I've got a bit of that back. She's fearless. Truly fearless." 
A Girl from Mogadishu is in cinemas now.