The Other Voices music festival kicks-off in Dingle tonight, with 21 acts performing in the west Kerry town.
This year, all concerts will take place behind closed doors without an audience due to Covid-19. However, all events are being streamed online.
Tonight's concert will feature performances by Damien Dempsey and Hozier. Other acts making the musical pilgrimage to Dingle include Niamh Regan, Sun Collective, Mark Lanegan and Grammy-nominated folk artist Rhiannon Giddens.
Hozier was announced as a surprise addition just last night. Having first performed in the 200-year-old church of St James in 2014, the celebrated singer-songwriter says he's looking forward to returning to the stage after "a strange and difficult" year for artists.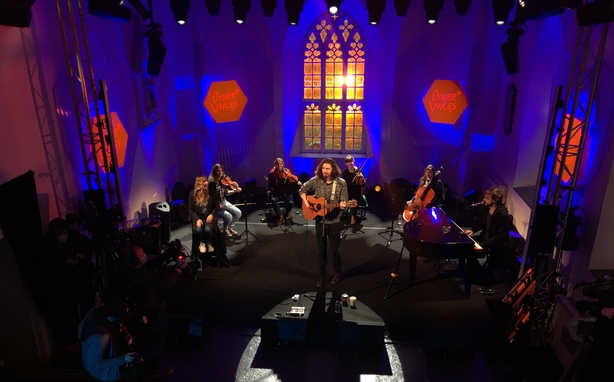 "I was very fortunate in many ways. I did not have a tour to cancel, I was going to be off the road this year. But it's been very difficult for artists, especially independent artists who put the money up themselves for touring and promotion, and for crew members also it's been really, really challenging," he said. 
"I think it's a year where the world is made very, very large again. A sense of small community has been imposed on us, in a good way. We discover again what's around us in our vicinity. I live out in Wicklow and I've been enjoying walking as far as I can and swimming as much as I can. I think it's a year for letting go and being grateful for what you have," he added.
Organising this year's festival in the middle of a pandemic has proved challenging, with strict protocol being enforced during rehearsals and performances.
"We have about 50 crew with us and they were all tested and re-tested for Covid-19 before they came to Dingle," explained Ashleigh Carton, the festival's Covid Compliance Officer. 
"Both artists and crew must have their temperature checked when they arrive on set, masks are compulsory, social-distancing is being observed and everybody is working in pods. It's certainly a challenge, but so far it's been working really well," she added.
This is the 19th season of Other Voices and this year's festival will celebrate home-grown artists, as travel restrictions have prevented the participation of international acts.
Festival director Philip King said it offers artists a rare opportunity to take to the stage.
"It will be a very eloquent sound-track that we will hear, a sound-track of a very distressful and anxious year. I think that's what artists do is they reflect that; they reflect it in their music, they reflect it in their songs and they are a sounding board for us, to be able to carry some of that anxiety and give us some hope and courage for the future." 
Live streaming of the Other Voices music festival is available on othervoices.ie and on rte.ie.