As Gary Barlow joined children with Irish roots from around the globe, everyone felt that little bit closer to home - and to coming home on The Late Late Toy Show.
The song, led by Eva Norton (pictured below in red), saw young stars around the world sending their Christmas wishes back to their loved ones in Ireland.
Eva, from Lucan, Co Dublin, was joined by: Ryan Tillman from Adelaide, Emma Rosemond in Times Square, the Aisling Céilí Ballad Group in New York City, Shay Gallagher in Bahrain, Lili Joy Kelly in Perth, Tara Neiland in South Korea, and the Ginnity, Melady, Kelly and Lenehan families in Adelaide for the pre-recorded performance.
Also featured were: Brendan Griffin in Rochester in New York, Dáithí Fitzgerald in Dubai, Abbi Houton in Boston, Liam and Soaah Slattery in Maryland, Moya Forde in Johannesburg, Kiera Arthur in Canberra, Rosemary Whelan in Melbourne, Isabelle Bonas in Dubai, the Gota Murphy brothers in Madrid, Joshua Earls in Auckland, Taylor Hayes in Florida, and Millie May O'Mahoney in Tasmania.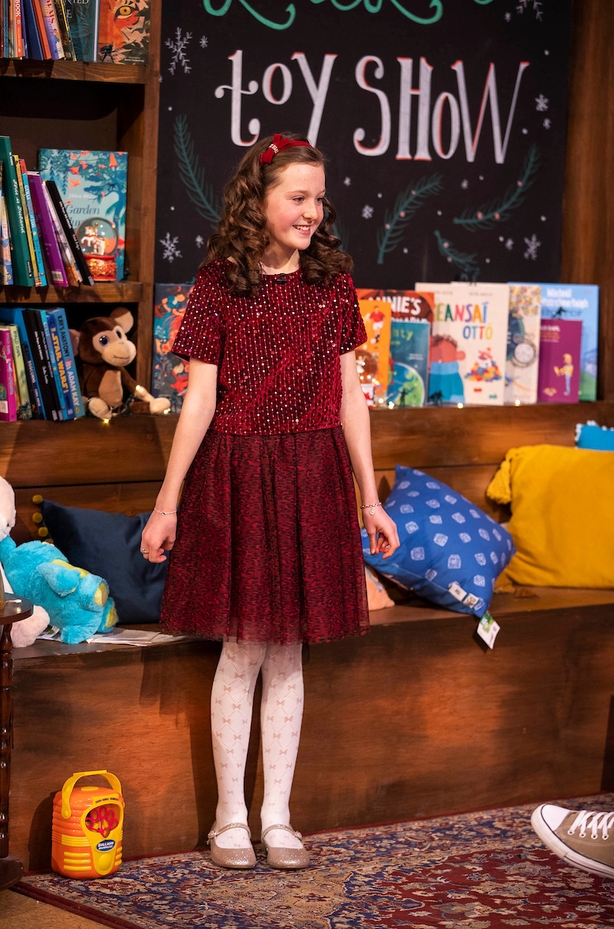 For their special moment, the Aisling Céilí Ballad Group in New York had an early 6:00am start to film in a deserted Times Square during the week of the US Presidential Election.
Speaking ahead of the performance Tubridy said: "I don't think there will be a dry eye in the land tonight when this performance is beamed across the country," said the host.
"Seeing these children - who all have much-missed and much-loved family back here in Ireland - come together to sing from every corner on Rule the World - I think it will soften the hardest of hearts.
"It's a performance that encapsulates the year that was, and bright hopes for the future and that children everywhere are going to go on to rule the world.
"It's really something very, very special and of the moment, and I'm not ashamed to admit that it really did stop me in my tracks and I was overcome with emotion."
You can watch more highlights from The Late Late Toy Show on RTÉ Player