One of the loveliest radio interviews of the year took place on Wednesday when nine-year-old Lottie Billington and her mother Sarah joined Ryan Tubridy on RTÉ Radio 1 to tell the story of how Lottie's artwork came to be featured in JK Rowling's new children's book, The Ickabog.
Co Mayo artist Lottie is one of 38 youngsters from around the world who have illustrated the just-published book.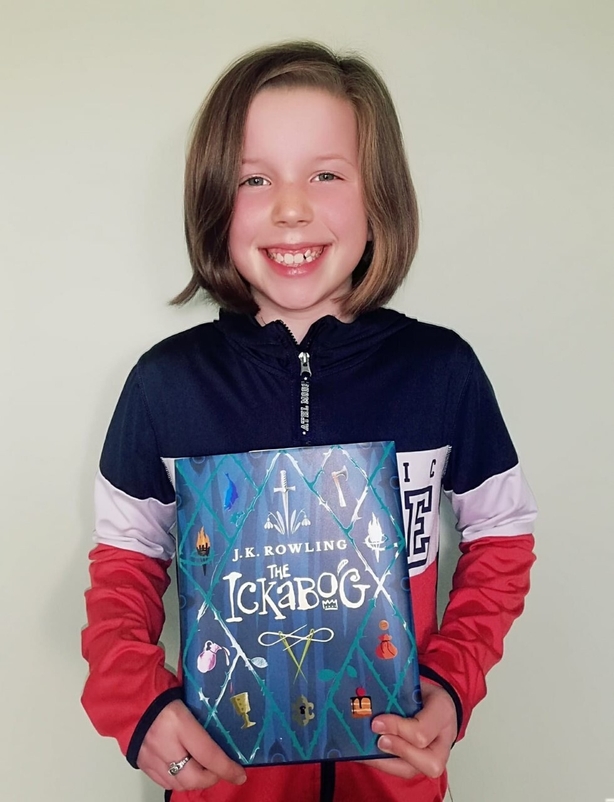 "I entered a competition for a JK Rowling book for the illustration of it over lockdown and there were 18,000 entries," explained Lottie.
"There was 38 winners, and I was one of them... I like drawing animals and I like doing different details and colours in my pictures, so I chose the peacock."
"I got a signed copy and a certificate from JK Rowling," Lottie enthused. "I felt really good when I got it."
The Harry Potter fan - an avid reader - also won €500 worth of books for her school as part of her prize.
We couldn't have done it without you! You're all AMAZING!
💚🍄💚👑💚🍄💚👑💚🍄💚 https://t.co/96jebgTP92

— J.K. Rowling (@jk_rowling) November 9, 2020
"And have you always loved reading since you were tiny-tiny?" asked the host.
"Yep," replied Lottie. "My dad used to read to the bump in my mam's belly when I was younger."
"He read to the bump?!" asked the presenter.
"Yeah, when I was in my mam's belly," laughed Lottie. "He bought a book of bedtime farm stories."
"My bump is amazing," said Sarah of Lottie. "An absolute hero - heroine - as you said yourself. I have two little amazing stars - superstars. I'm a very lucky mammy. The other bump become Rosie, another superstar. 
"Lottie has amazed me in this journey with her modesty and her humility around her achievement, but Rosie has also amazed me in terms of... You know, it's not easy being the little sister and your big sister is getting all the attention. But she's been so supportive and so proud. I just feel incredibly grateful to be their mammy."
Sarah's husband Mal passed away suddenly when their daughters were aged three and four.
"He was amazing," said Sarah. "He was full of love and kindness, and I think he's very much in this win as well because she certainly didn't get her artistic skills from me. She did try and give me a few art lessons over lockdown, but they didn't work out so well. So this feels like he's very much with us in this achievement as well so that's lovely."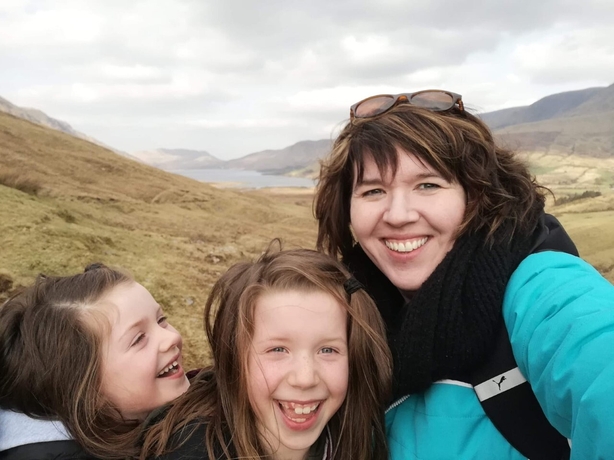 When asked how they had dealt with their loss, Sarah replied: "I think Lottie and Rosie were my greatest teachers in it all. They've really shown me how to deal with what we call in our house 'the big feelings', whether that be through art or dancing or whatever. You know, we've had amazing support from family and friends. We're very, very lucky in that sense... We've just been very blessed with the people that we have in our lives." 
"A terrible thing happened to us, but we have a lovely life, full of people who love and support us," added Sarah.
"If Lottie's story and her achievement can give anybody else a bit of hope that they'll be happy again, then that's a great added bonus. And I am so unbelievably proud of the two of them."  
You can listen to the interview in full above.