Fia Moon has released her new single, Let This Go. We asked her the BIG questions . . .
Let This Go is the third of six singles she will release as part of her debut mixtape, following the success of Better Days and XX.
We need your consent to load this YouTube contentWe use YouTube to manage extra content that can set cookies on your device and collect data about your activity. Please review their details and accept them to load the content.Manage Preferences
Speaking about the new track, Moon says: "It's about accepting things for what they are and learning to let go of things that don't make you happy. When you're so comfortable in a situation, it can be really hard to detach yourself and recognize that you need to walk away and let go of the things that are ultimately holding you down."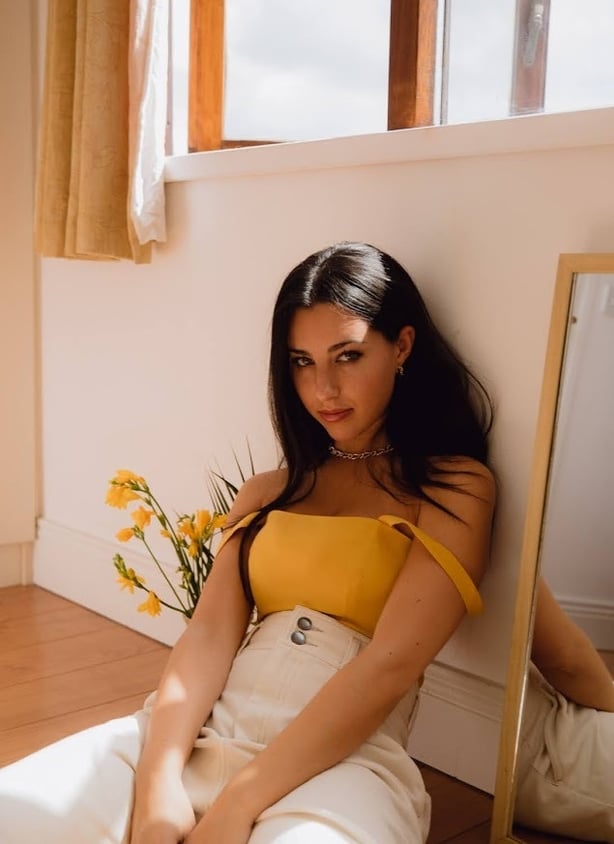 Earlier this year, Moon collaborated on the successful Irish Women In Harmony charity cover of The Cranberries Dreams, which went straight to No.1 on the Official Irish Homegrown Chart, raising over €220,00 for Safe Ireland.
She also made her first TV appearance alongside artists such as Gavin James and Denise Chalia, when she performed as part of RTÉ's fundraiser for workers in the live music industry Songs From An Empty Room.
Tell us three things about yourself?
I grew up in Dublin and moved to London a few years ago. I've been back in Ireland since lockdown though and while I spent the first half in Mayo, I'm now happy to be back in Dublin :) It's been a silver lining for me being able to come back and be closer to friends and family.
I have a degree in Economics which a lot of people don't know. I've found people tend to assume I did music in school.
I used to do cover gigs in Dublin and learning so many popular songs really helped subconsciously shape my song writing when I began a few years ago.
How would you describe your music?
It's R&B pop with soul. I started training classically when I was seven and listened to a lot of artists like Ella Fitzgerald or Billie Holiday as that's what my parents played around the house and I think it's also really shaped my music.
Who are your musical inspirations?
I have soo many! I really admire artists like Ella, Aretha Franklin and Nina Simone. I'm such a big fan of the likes of Fleetwood Mac, London Grammar as well as artists like Halsey, Jhene Aiko, Lana Del Ray and Miley Cyrus. There are so many though it's hard to narrow it down as I'm influenced depending on the day and my mood!
How did you occupy yourself during the coronavirus lockdown?
At the beginning of lockdown, I decided to move back to Ireland and stay at my house in Mayo which is on the beach. The fact that I was able to get out every day for fresh sea air really helped and I'm aware of just how lucky I was to be able to do that. I also hadn't been home in so long, so I was so happy to spend time with my sister and cat for the first while! To be honest, releasing new music has really been keeping me occupied and I've been so grateful to have had that outlet to keep me focused at a time when everything seemed so in the air. I also work part-time and was so honoured to be part of Irish Women in Harmony for the release of our version of Dreams by The Cranberries in aid of SAFE Ireland. I also got to do my first TV Performance with Songs From An Empty Room on RTÉ and am so proud to be part of a night that raised funds for AIST and Minding Creative Minds, which are two charities really close to my heart.
What's your favourite song right now?
I always look forward to Fridays when Spotify updates all its new music for the week and when I listen there's usually one or two songs that will stand out to me which I'll end up just playing on repeat. This week it's Fake by Lauv and Conan Gray. I also really love London Grammar's Baby It's You.
Favourite lyric of all time?
Wow that's a hard one! I adore all of Fleetwood Mac's lyrics. Landslide gives me chills every time Steve Nicks says, 'can I sail through the changing ocean tides, can I handle the seasons of my life'. Lyrics are so personal though and that's what's so beautiful about it as we all interpret them based on our own experiences. My favourite lyric of the songs I've written so far is from Better Days in the middle eight when it goes 'Why does life feel like a bridge that goes nowhere? I don't believe in God but tonight I'll say a prayer... tell me there'll be better days'. Every time I hear or sing that line it always transports me back to the moment it was written and how I felt at the time.
If you could only listen to one song for the rest of your life what would it be?
Sooo tough to choose only one song but if I HAD to, I think it would be Lovely Day by Bill Withers. No matter what mood I'm in it always makes me happy.
Where can people find your music/more information?
By following me on Spotify, Soundcloud, Bandcamp or YouTube (however you like to listen to music). Music plus everything else I post on my Instagram, Twitter, Facebook and TikTok accounts.