Aimée, Denise Chaila, Picture This and Gavin James are among the acts taking part in Songs from An Empty Room, a night of live music being broadcast RTÉ2, RTÉ 2FM, and RTÉ Player on Saturday night. We round up some of the acts not to miss
The one-off live music extravaganza sees artists come together across the country in support of Minding Creative Minds and the Association of Irish Stage Technicians (AIST) Hardship Fund.
Songs from An Empty Room will feature over two hours of musical performances, broadcast into homes from much-loved venues around the country, including The Olympia Theatre in Dublin, Cyprus Avenue in Cork, Dolan's in Limerick, INEC in Killarney and Galway's Roisin Dubh.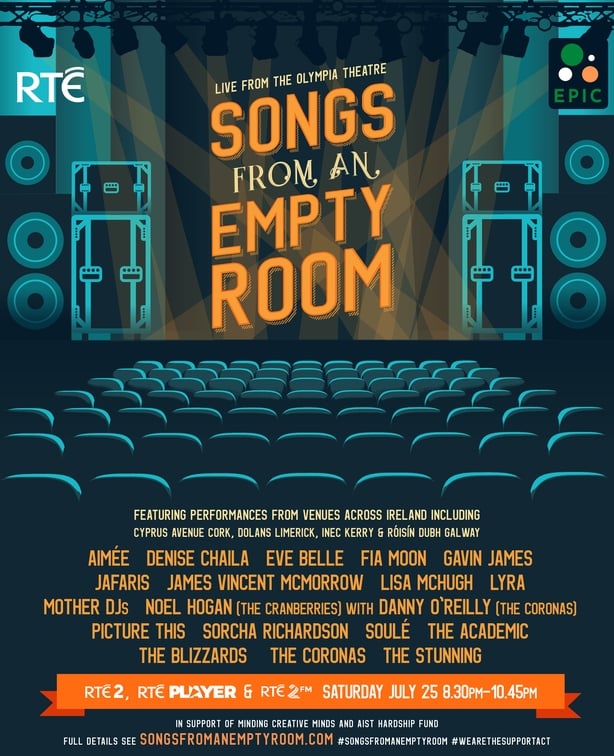 The show, which will be broadcast from 8.30pm and 10.45pm and hosted by Eoghan McDermott and Jenny Greene.The event is produced by EPIC - Event Production Industry Covid-19 Working Group - a cross-event working group representing the Live Events Sector formed to help the industry during the current crisis.
The night will also feature footage from behind-the-scenes in Ireland's event industry, with a focus on the people whose livelihoods have been severely impacted by the Covid-19 pandemic.
Stay up to date on Songs from an Empty Room and see behind-the-scenes footage on RTÉ2 and RTÉ 2FM's social channels, and by following #WeAreTheSupportAct.
You can lend your support by visiting www.songsfromanemptyroom.com and by donating via text or through the initiative's GoFundMe Page
Aimée
25-year old Swords singer Aimée is a rising star in Ireland's resurgent pop scene. She's inspired by Ariana Grande and Demi Lovato and just like them is on a mission to deliver pop with substance and more than a side serving of girl power. She's already made a name for herself with tracks like Don't Call Me Pretty, Break Me and What My Mamma Gave Me, which hark back to the pure pop of Christina Aguilera and Britney Spears. Tonight will be her first gig since New Year's Eve and speaking on RTÉ 2FM last week, she said, "I'm so nervous because I haven't been on a stage since New Year's Eve, it's like I've come out of retirement. It is great to be able to something for something that is so important. Artists get all the praise, but without the lighting or sound engineers there would be no shows."
However, she sees big things ahead for Irish pop, telling RTÉ Entertainment earlier this year, "I don't think Irish pop is there yet but it's definitely making big steps. There are lots of Irish artists who are afraid to explore straight down the line pop because it's so associated with that American sound or Swedish sound. When I say I'm straight down the line pop, a lot of people say 'Oh! That's brave!' The Irish talent is just ridiculous, it's crazy and I'm hoping 2020 will be the year of Irish pop."
Denise Chaila
We need your consent to load this YouTube contentWe use YouTube to manage extra content that can set cookies on your device and collect data about your activity. Please review their details and accept them to load the content.Manage Preferences
Irish rap and hip hop is finally breaking through and its queen of the scene could very well be Denise Chaila. The Zambian-born, Irish-bred rapper and MC caused quite a stir with her track Copper Waltz and last year she impressed with her uncompromising debut EP Dual Citizenship. She's written and performed with some of her closest friends from collectives like Sim SimmaSoundsystem (Dublin), PX Music (Limerick) and the two people who have been with her since day one: Rusangano Family's God Knows and MuRli Bo. During the past year Denise has performed at the Barbican Centre in London, the National Concert Hall in Dublin and the Black Box Theatre, Galway, as part of the critically-acclaimed Imagining Ireland series.
Gavin James
Having had to sadly cancel his planned drive-in shows, Dublin hero Gavin James will be itching to get back on stage tonight, even if it is in front of an empty room. The unassuming singer songwriter, who more than gives the one they call Sheeran a run for his money, has some impressive stats to back up his lovelorn ballads - one billion global streams and 250,000 concert tickets sold worldwide, In a capital publicity wheeze, he even launched his last album IN SPACE. James released his latest single, Boxes, last May and it adds to an already impressive catalogue of well-crafted modern pop songs. James is likely be a star attraction tonight so book your place on the couch. We still think he should use his real name though.
Eve Belle
Hailing from deepest Donegal, Eve Belle is a chronicler of sorrows on her songs and she displays a world-weariness seldom found in writers of such tender years. She says: "My main focus as a writer is honesty across the whole emotional spectrum, this can take me from unabashed melancholia to tongue-in-cheek musings on the mores of modern love." In 2016, One of Eve Belle's early songs, Too Young To Feel This Old, caught the ear of Irish independent label Rubyworks, while her evocative cover of Coldplay's Violet Hill found favour with Chris Martin and his fellow nice chaps. Her debut, 2018's five-track EP Things I Once Believed was produced in London with Fred Cox, best known for his work with Grace Carter and Dodie, and she has supported label mates Hozier and Wyvern Lingo, as well as Mabel. Throughout 2019 and 2020, Belle has released a string of singles, Cut Throat, Smithereens, Out Of Town and Begging For Rain, which have enjoyed daytime success at Irish national radio. She is currently putting the finishing touches to her debut album, which is due to be released by Rubyworks later in 2020.
The Academic
"It's heart-breaking," Academic frontman Craig Fitzgerald told RTÉ Entertainment recently when asked about his band's extended lay-off from live performances during the Covid-19 lockdown.
The coronavirus pandemic continues to lay waste to the live music scene, robbing musicians of their right and need to perform and connect with their audience, and for a band like The Academic, who have carved out a reputation as a live act, it is a tough time.
After months of online only shows, the Mullingar fourpiece will have the chance to hit the stage tonight with renewed energy and a new EP, Acting My Act, to show off.
The band made a powerful opening gambit in 2018 with their No 1 debut album Tales From The Backseat, a zesty pop racket fuelled by small town ennui, seething hormones, and dreams of rock ' n' glory, and they'll be relishing a chance to break cover if not the live gig lockout on Songs from an Empty Room.
Fia Moon
London-based and Dublin-born Fia Moon's R&B tinged, atmospheric pop has drawn comparisons with the likes of Halsey, Jhene Aiko, Banks and Snoh Aalegra. Performing since the age of five and surrounded by music thanks to her parents, who are of Irish and Italian heritage, Fia began gigging while studying in Dublin and developing her sound before she moved to London. Moon made it on to RTÉ 2FM's Rising list for 2019 and she recently sang with the 39-strong The Irish Women Harmony, who released a collaborative charity cover single of The Cranberries Dreams to huge success.
Sorcha Richardson
We're going to stick our necks out here and say that Irish singer-songwriter Sorcha Richardson will be the best thing about tonight's show. A maven of poetic introspection who calls to mind Sharon Van Etten, Arcade Fire, Phoebe Bridgers and Julia Jacklin, Richardson's archly observed songs exude class and striking melodies.
She released her superb debut album, First Class Bravery, last year and it ended up on many end of year best of lists. "It's the hidden meaning in mundane moments," she says. "Days that look like any other day and yet somehow you have this feeling that it's one you'll remember forever."
Alan Corr @CorrAlan2