After months of layoff and with a new deal with a major US major label, Westmeath band The Academic have sprung back into action with a new EP. Front man Craig Fitzgerald talks to Alan Corr about lockdown, mental health, and reimagining his band's sound
"It is a heartbreaking question," says Craig Fitzgerald, the boyish frontman of Mullingar fourpiece The Academic.
We are discussing the prospect of the band getting to play live again as the coronavirus pandemic continues to lay waste to the live music scene, robbing musicians of their right and need to perform and connect with their audience.
We need your consent to load this YouTube contentWe use YouTube to manage extra content that can set cookies on your device and collect data about your activity. Please review their details and accept them to load the content.Manage Preferences
For a band like The Academic, who have carved out a reputation as a live act, it is a tough time.
"There's not much we can say about it other than we have to play it by ear and sit around and wait," says Fitzgerald. "Performing is what we live for and it's very hard to release music and not be able to tour in all our favourite places.
"But the four of us are happy to wait until it can be done again correctly and safely. If it's next year or however how long, we can wait. It's hard to see the world without it."
School's out for summer but not forever and The Academic year has not been good. Last year, on Fitzgerald's birthday in fact, the former indie tyros were wined and dined by the head of Capitol Records after he'd seen them play a gig in London and were signed to the major, home to Sam Smith, Katy Perry, and Christine and The Queens, after a spell on New York imprint Downtown Records.
And then 2020 rolled around like a particularly grumpy troll and shot out the bright lights. The Academic, like everyone else, faced into a lockdown which may now be slowly lifting but will leave lingering effects for a long time, especially for anyone trying to make a living in the creative arena.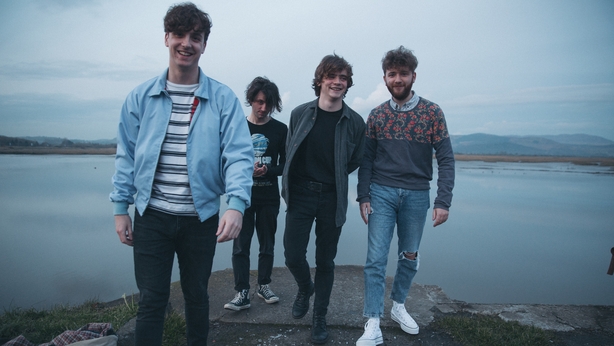 Fitzgerald, who formed the band with schoolmates Dean Gavin and brothers Matt and Stephen Murtagh in 2013, has been spending the last four months at home in Killucan (Pop: 1,370) just outside Mullingar, Zoom calling with the rest of the band, reading, and discovering new music.
"When you're not living life and stuck at home, you need to experience new things," he says. "I couldn't take my eyes off the news for the first few weeks. We were asking were we ever going to go on tour again . . . But after a while we did find a groove."
Now the band, who made a powerful opening gambit in 2018 with their No 1 debut album Tales From The Backseat, a zesty pop racket fuelled by small town ennui, seething hormones, and dreams of rock ' n' glory, have broken cover if not lockdown with their strutting new six-track EP, Acting My Age.
For a frighteningly young act who trade in spiky guitar pop and teen dreams, that title may be a tad ironic. As Mick Jagger, who chose The Academic as a support act at the Stones' 2018 Croke Park show, will tell you - rock 'n' roll has a funny way of keeping you in a permanent state of adolescence.
We need your consent to load this YouTube contentWe use YouTube to manage extra content that can set cookies on your device and collect data about your activity. Please review their details and accept them to load the content.Manage Preferences
"I definitely think it does," says Fitzgerald. "I think over the past few years we have been growing up and entering early adulthood so that title is kinda ironic because all four of us in the band can be extremely childish and it's ironic for us to be saying act your age."
However, for an act whose name is inspired by JD Salinger's celebrated tale of teen angst and rebelliousness The Catcher in the Rye, it's not quite Radiohead and sudoku on the tour bus. Then again, it's not quite The Monkees and TikTok either.
"Maybe half and half," says Fitzgerald. "I think because we've all known each other for so long that we're really good at switching to band mode into friend mode. It's never been a problem for us. We've always been able to keep each other entertained.
"That's why we've toured for us so long and lasted so long because we know each other inside out. We can bicker but it's over stupid things like football but that's it."
The Acting My Age EP sees the band move on from the more fumbling lyrical concerns of their debut album to address perhaps more grown-up issues - and with a streamlining of their sound.
"I think the new songs are a more experimental stage between our debut album and whatever will be our next album," says Fitzgerald. "It's a collection of songs from over the past two years. I think the first album is quite naïve and full of stories of our teenage years.
"These songs now are trying to explore the emotions behind the things we are actually experiencing, mental health stuff that I struggled with over a couple of years. These songs are hopefully me moving on from the 'he said, she said' songs to something a little bit more open and honest. These songs are about dealing with emotions."
So does being in a band cause or help potential health issues? As the bewildered and beleaguered Rob asks in High Fidelity, what came first, the music or the misery?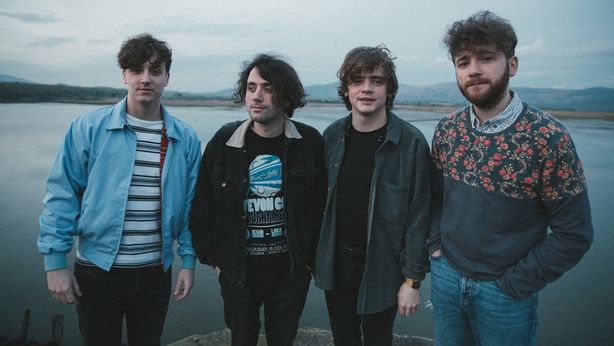 "It's a bit of both," Fitzgerald says. "There is a very therapeutic thing about waking up and writing a song. It saved me and I'm lucky to have it. I'd I have a certain emotion tingling away I can put it into a song and it lives there for a while. But everyone is human and you have four humans in a van, living life on the road and that can get people down sometimes.
"It is very important for any young band to check with people and that they're able to keep going. If you're not careful it can catch up on you. I'm definitely a shy person in my own time but I've figured out a place I can go to when I'm on stage and leave shy Craig behind for an hour or so. It's the music that does it for us."
They recorded some of their new EP with Kaiser Chiefs' Nick Hodgson behind the desk and the band also broadened their horizons to take in new influences such as New Order and Talking Heads. The results are the same melodically primed guitar pop but now tinged with the buzz and purr of electronica.
Signing to Capitol Records should also bring the band a higher profile and maybe a reinvention as an even more commercial concern.
Final question, when people meet The Academic, do they immediately ask do they know fellow Westmeath man Niall Horan? "Haha. Sometimes," laughs Fitzgerald. "They hear we're from Westmeath but to answer the question, I don't really know Niall. I've only met him once. He came down to one of our gigs and he is a very nice guy."
Alan Corr @CorrAlan2
Acting My Age EP is out now. The Academic will (hopefully) be playing live again soon