Dublin-based band Nobody's Heroes have released their debut EP, Whipped Cream & Sauce. We asked them the BIG questions . . .
The band, made up of Neo Morake (vocals, guitar, song writing), Gavin Yendole (guitar, keys), Hubert Bielinski (bass), Jgary Bautista (drums), say they're committed to exploring all kinds of music, from hip hop to psychedelic to folk.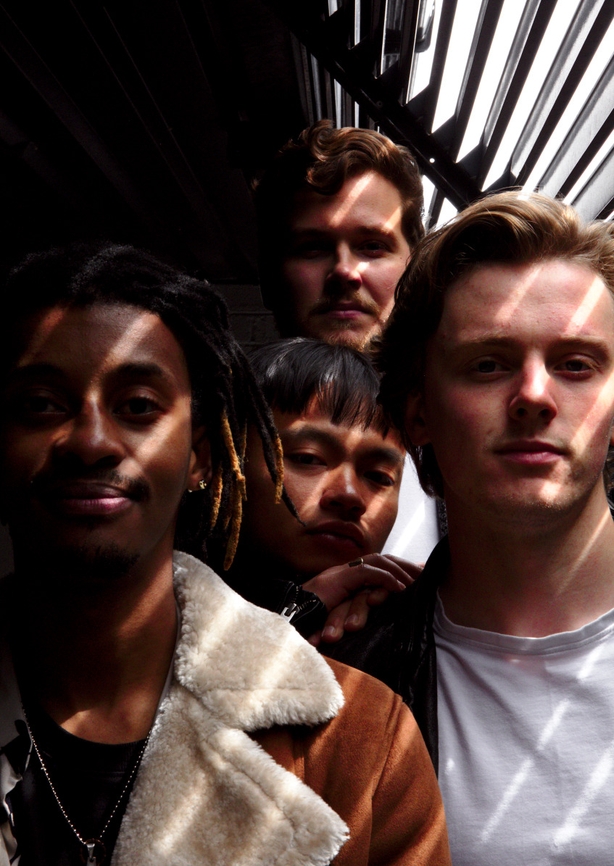 Speaking about the three-track EP, the band say, "Creating this EP has been a labour of love. After nearly a year of work we are beyond excited to present Whipped Cream & Sauce."
Warning: this song contains graphic language
We need your consent to load this YouTube contentWe use YouTube to manage extra content that can set cookies on your device and collect data about your activity. Please review their details and accept them to load the content.Manage Preferences
"This is undoubtedly our best work to date and believe it truly shows our creative range. Fans of our live shows will recognise the basis for these songs, but we hope they will appreciate the evolution of our sound"
Tell us three things about yourself?
We are a four-piece band. We were all raised in Dublin and have known each other since we were wee babas.
When we were thirteen, Jgary pulled the short straw and had to teach himself how to play the drums. Yes, he is still the drummer today.
The reason behind our name Nobody's Heroes is that we don't stick to a single genre of music, therefore, to quote Stiff Little Fingers, "Don't wanna be nobody's hero . . . Don't wanna be nobody's star". We love playing all different styles and genres ranging from hip hop, funk, indie-rock, soul, R&B and everything in between.
Who are your musical inspirations?
Imagine Tom Misch is in a room with Mac Miller, James Hetfield, Bruno Mars, Anderson Paak, Lianne La Havas, Dave Grohl and Pharrell Williams, and they all had a love child.
How did you occupy yourself during the coronavirus lockdown?
Luckily, we recorded the bulk of our last single, Counting Dates, and our new EP in Sun Studios in February. When lockdown came around, it gave us the time to mix and polish off all the songs we recorded to the standard we wanted them to be (while safely social distancing).
Once the restrictions eased, we were able to write and record some new material that we plan to release in the New Year.
What's your favourite song right now?
Bittersweet - Lianne La Havas.
Funky, fresh and full of a whole lot of old-school soul.
Favourite lyric of all time?
"I won't smoke if you don't no more, 'Cause I know you hate the taste of it, I don't wanna picture our firstborn, If you've stopped discussing names with me, But if it means that we get through, then you know I'm up for anything" - Anything by Catfish And The Bottlemen.
Catfish & The Bottlemen have been a collective favourite of ours for a long time. Their songs are big, punchy stadium anthems with honest, soulful lyrics. This lyric is beautiful, tragic and gritty all at once. It does what lyrics are supposed to do: It makes you feel!
If you could only listen to one song for the rest of your life, what would it be?
Gravity - John Mayer. It's just one of those songs that whatever you're feeling, it fits the vibe, and as usual with John Mayer, the instrumentation is perfect.
Where can people find your music/more information?
You can listen to our music on all major platforms. For some live performances, check out our YouTube channel at NobodysHeroes Band.
For some up close and personal follow us on instagram at @NobodysHeroes where we keep our fans updated on any major news.