2020 still felt new, with high hopes and expectations, when I first reported on Covid-19, recalls RTÉ News Foreign Reporter, Jackie Fox. On January 18, I wrote a story about a mysterious "new respiratory virus" in the Chinese City of Wuhan for the 6.1 News
I was in the middle of getting ready for a three-week journalism scholarship in the US in March, a 'roundy birthday' party (as Ronan Collins would put it) and planning my wedding for June. Little did I know that this new virus would turn the world upside down and these events wouldn't get a look in.
Following that first report, my time as a foreign news reporter in the RTÉ Newsroom transformed. My days were spent scrolling through endless video feeds of workers in hazmat suits across Asia disinfecting everything they could, people singing to each other from balconies and construction workers quickly building new hospitals as the number of infections increased rapidly.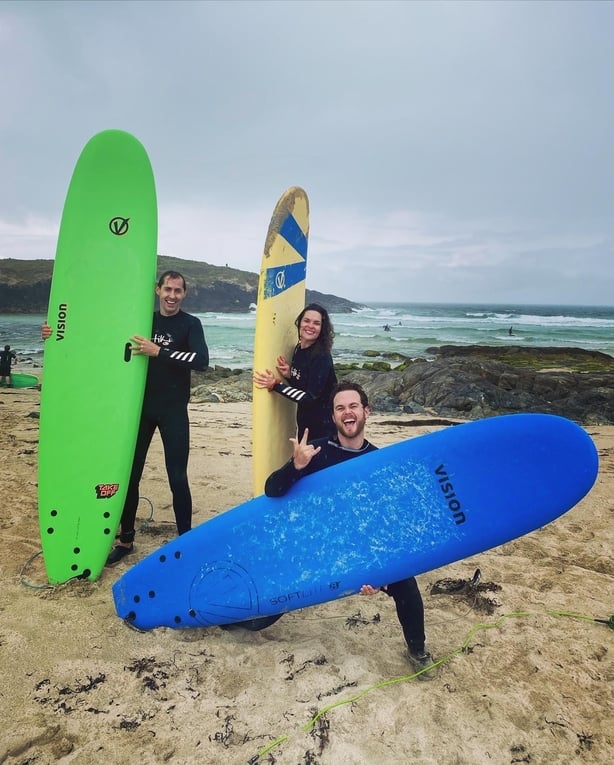 Life in Ireland went on as normal (and so did the wedding planning) as we tried to make sense of it all. At work, I scrambled to get in touch with Irish people in China to ask them about what seemed like a baffling concept – life in lockdown.
One of those was Irish teacher Ben Kavanagh, who was living in Wuhan and who talked about how restrictions felt like being "in a movie" with empty streets and only the four walls for company. At one point, he popped on goggles and a mask to show me what he used as protection from the virus when out food shopping.
While a lockdown seemed so foreign in January, the mood changed in the middle of February. The focus had shifted closer to home when infections started to appear in Europe.
I was no longer reporting on faraway lands but tourists being trapped on cruise ships, a 'red zone' being created around northern Italy, and holidaymakers stuck in Spanish hotel rooms for days awaiting coronavirus tests.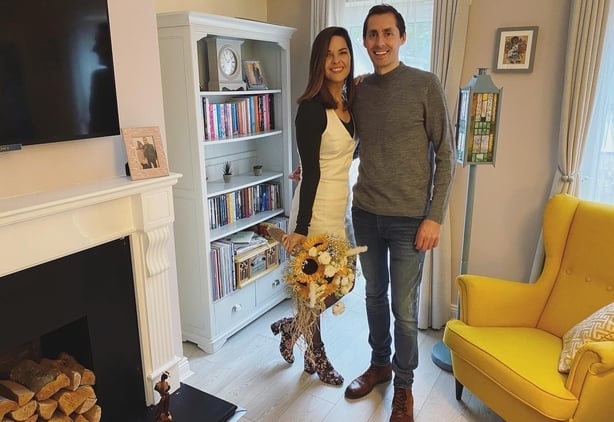 When March hit, the seriousness of the situation took hold and so did an air of uncertainty. At work, I was still in the office trying to tell stories of how our neighbours were starting their battle against the spread of the coronavirus, as we tried to map our own path.
At home, my partner and I agonised over whether or not we should go ahead with the wedding. The trends from the rest of the world didn't give us much room for hope. Countries were closing down for months and we still didn't know a lot about the virus. We envied my parents' optimism, buying us a wedding magazine at the beginning of March. "Sure it'll be grand," they said. Even though we had our invitations addressed and ready to go, we held on to them just in case.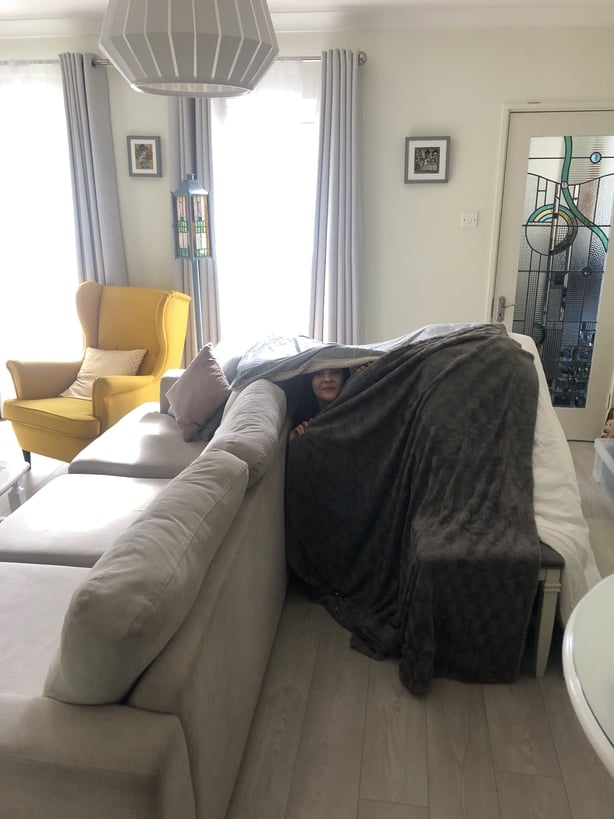 But after Leo Varadkar's first major speech about the potential impact of the virus on Irish life, we pulled the plug and postponed the lot until 2021. For days we wondered if we jumped the gun, but we knew and understood that we made the right decision as life in lockdown begun. By the end of March, the new normal of working from home was underway.
My colleagues and I on the foreign desk were tasked with what we called the 'global package' for the TV bulletins. We were monitoring World Health Organisation press briefings and providing updates on how other countries were tackling and dealing with the illness when the numbers soared around the world.
Old Harry Potter books came to good use, propping up my laptop at the kitchen table as I got to work showing Ireland that we were not alone in the fight against Covid-19.
Gone were the days of sitting in an editing suite having a chinwag with a video editor in the newsroom about the TV report. Now we were planning the structure of the package over Whatsapp or Microsoft Teams. For my voiceovers, I would tuck myself into bed at home, with a duvet over my head to muffle any sounds, and record my script for the reports.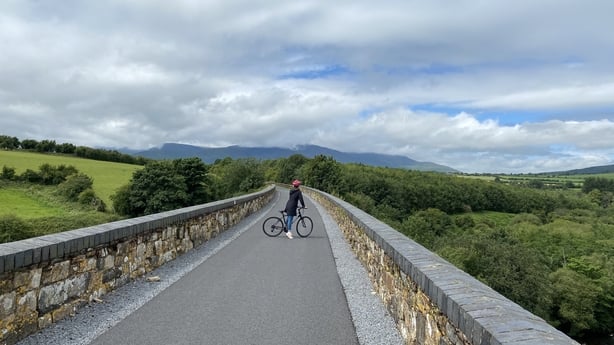 I didn't have access to anybody in the newsroom to voice-up the translation of my foreign language clips, so I had to look to the closest (and well, only) person to me for help. To our friends and family's great amusement, my partner Gareth was reluctantly roped into voicing my male clips. He even progressed over the weeks from a truck driver in Italy to the French President Emmanuel Macron. He wasn't bad either!
A few days before the country went into lockdown, Brian O'Donovan and I had just launched a new US Election 2020 podcast States of Mind. We found ourselves stuck at home on opposite sides of the Atlantic not wanting to give up on our new project and thinking of how we would make it work. Thankfully, our foreign editor was still in the office and took the reins by setting up the recording at base.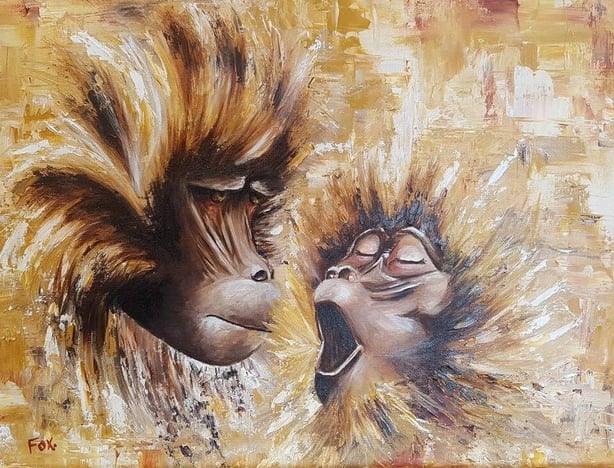 Brian would dial in from his basement in Washington and I would connect via a broadcasting app from underneath what can only be described as a 'news fort.' I needed a space that would mute outside sounds, minimise echoes and give me enough room to sit comfortably for an hour with my laptop. Finally my time of creating forts with duvets, chairs and cushions, as a child, came into use!
It was hot, stuffy and borderline suffocating. Sometimes during an interview I would have to mute my mic so I could open the duvet flaps for air. It did keep the sound perfect for the podcast though.
Our podcast took on new meaning too. It didn't take long for the US to become the worst affected country in the world and Donald Trump's response was under the microscope. One of our guests was Irishman Clive Anderson, a funeral director in the epicentre, New York, who told us that people were 'hailing hearses instead of taxis'. That took my breath away.
The days I was on duty would fly by as I filed for the 1, 6 and 9 o'clock TV bulletins. Those days were intense and knee deep in global statistics, trends and distressing stories.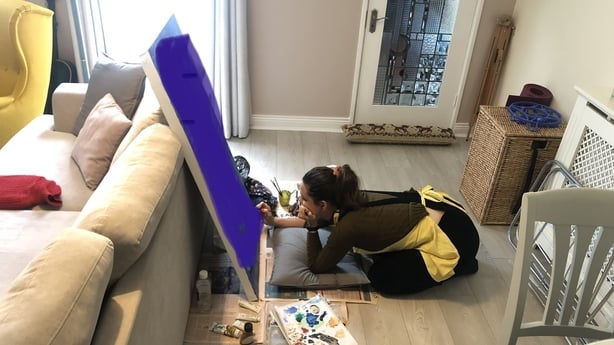 So, my days off had to be spent in a world away from coronavirus. One of the biggest challenges was separating work and home life - the line between the two had become so blurred.
Thankfully, a man obsessed with tigers became the ultimate tonic. Tiger King and The Last Dance will forever be remembered as the lockdown watches. I also found a lot of comfort in listening to BBC Radio 6 and Green Day's No Fun Mondays on Instagram.
I did welcome the slower pace to life on those off-duty days. To be honest, most of my time was spent in the yellow Ikea chair that everyone seems to have - delving into the classics I always wanted to read like Emma and The Lord of the Flies. I also devoured The Mercies, Daisy Jones & The Six, A Thousand Moons, Eleanor Oliphant is Completely Fine, Such a Fun Age, Where the Crawdads Sing, Girl Woman, Other and My Dark Vanessa.
I had to (and did) move though. Like everyone else, I attempted to get creative by trying to make different walks around our 2km radius. Yoga with Adrienne on YouTube was a godsend as were HIIT classes with Maeve Madden on Instagram.
I grew to understand what Ben Kavanagh meant when he said, three months previously, about feeling like being in a movie - the minimal traffic on the roads, amplified sounds of birds in the morning along with the niggling fear of uncertainty. Reading, walking and listening were strong distractions but when I went back to work, I was soon brought back to reality.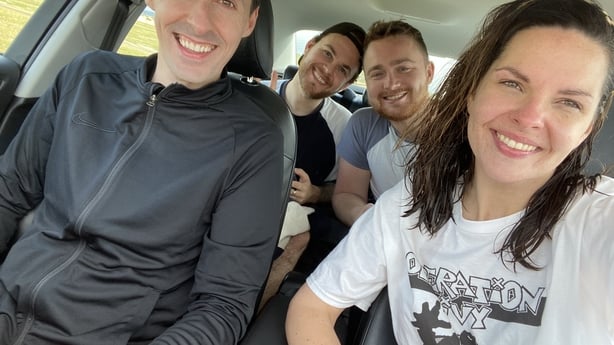 While I missed family back in Galway, due to the travel restrictions, I felt extremely grateful that none of them were ill and we all kept our jobs. Facetime video with my parents kept things going. But it is nothing like the real thing.
On our supposed-to-be wedding day, we were still in lockdown but the path for opening up was becoming clearer. That morning, my brother had a stunning wedding bouquet delivered to our apartment and we spoiled ourselves with delicious food and wine. I set up the tripod and took some pictures, marking what would have been our big day. We both understood the reasons why it had to be postponed but it was a relief when it was all over, so we could finally start looking forward again.
Not long after, Ireland started to open back up and I made a break for it to the west as soon as I could. The summer became filled with sea swimming in Salthill, surfing in Ballyconneely and long walks around Renvyle in Connemara. Sandwiches and treats in the back seat, while my mum and I discovered new magical spots across the west we hadn't properly seen before. I even managed to be pulled down to the sunny south-east for a gorgeous cycle along the Green Way in Waterford.
I was prone to the odd dip in the sea pre-Covid, but I think breaking free from such heavy restrictions made me enjoy the experience even more. You could see people cherishing the refreshing sea air and gasping for that rush of cold water which would melt the worries away. From the Irish Sea to the Atlantic Ocean, I wanted in.
With more time on my hands, I had more room for art. It's a love that I have carried with me since childhood. While I felt a bit stuck during lockdown, struggling to get ideas on paper, the creative juices thankfully got flowing once again in the summer.
After three months at home, my first day back at work was exhausting. That's not from the level of work, but the seriously overdue chats with my friends. It was a treat to see others and have a socially distant laugh. While we do a hybrid of Working from Home and in the newsroom, my dad's lockdown project revolutionised my experience at home - he made me a desk so the Harry Potter books can retire from the kitchen table and return to their rightful place on the book shelf.
As we go into another time of uncertainty, with rising numbers and restrictions hanging over us, we know that this will be a Christmas like never before.
I hope we can all be with the ones we love, talking about this bizarre year and dream of the sun shining a little brighter (and more hugs) in 2021. And maybe those invitations will finally be posted.