Tom Vaughan-Lawlor scooped the Best Actor Award at the Irish Film and Television Awards on Sunday night for his moving performance in acclaimed Dublin movie Rialto.
Vaughan-Lawlor plays Colm a father of two who has worked all his life on the Dublin docks. The recent death of his alcoholic father and a takeover at his place of work leads Colm to question everything that anchors him in the world.
"I want to thank you for giving me one of the best gifts I've ever received as an actor."
Adapted by Mark O'Halloran from his own play Trade, Rialto's exploration of what lies beneath is summed up in its line: "If we told people what was really in our heads - if we admitted it to ourselves, even - what would happen, do you think?"
Vaughan-Lawlor accepted the Best Actor in Film award during a virtual ceremony on Sunday night which was broadcast on Virgin Media One.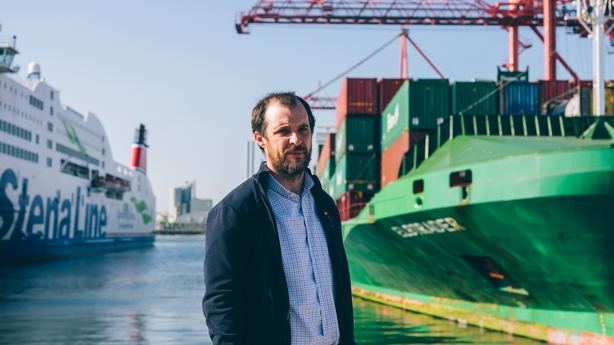 Appearing on his couch alongside his wife and children the Love/Hate star gave a moving speech - punctuated by some lovely cameos from his son's feet and his daughters' typing skills! He said: "Thank you to IFTA for all the work they've done for the industry during the Lockdown. I'm very proud to be a member.
"We all know how special Mr O'Halloran is, and him entrusting this part with me was a huge honour and… My daughter is hitting the keys sorry….I want to thank you for giving me one of the best gifts I've ever received as an actor."
Speaking previously to RTÉ Entertainment, Vaughan-Lawlor said: "I'd known Mark O'Halloran's work before, and so kind of from the first scene I was like, 'This is astonishing'. You can often tell how good a script is even within the first few pages, or how good the potential for something can be.
We need your consent to load this YouTube contentWe use YouTube to manage extra content that can set cookies on your device and collect data about your activity. Please review their details and accept them to load the content.Manage Preferences
"I literally from the first couple of pages was like, 'I have to do this'. You don't get a chance every day to be in every scene of a film, and for the film to be through that person's perspective and distilled through that person's experience.
"So I was just kind of knocked out by the script. I had worked with Peter Mackie Burns, the director, on his first feature, Daphne, and I'd worked with Mark before so it was a no-brainer."
Click here to read our review of Rialto