Facing in to another year like this one I focus on the positives that have come from the pandemic for me, says RTÉ News reporter Cian McCormack.
Something Haruki Murakami wrote in What I Talk About When I Talk About Running best explains how I have managed the pandemic's unwelcome isolation.
"I'm the kind of person who likes to be by himself," Murakami wrote. "To put a finer point on it, I'm the type of person who doesn't find it painful to be alone. I find spending an hour or two every day running alone, not speaking to anyone, as well as four or five hours alone at my desk, to be neither difficult nor boring."
His book on the power of running, which gives good insight in to the life and motivations of a runner, resonates with me as we are moving towards the eight month of Covid-19 in Ireland.
There are reasons for this, firstly, I like my own space and company. More importantly, I like running and like Murakami I have spent a lot of time working on my own. Much of my work prior to Covid-19 was alone and self-contained but peppered with a healthy helping of meeting and interviewing people for stories.
Secondly, I have found spending four or five hours at my desk at home more productive and less distracting than being in the office. Like a workhorse I put the blinkers on and get my work done.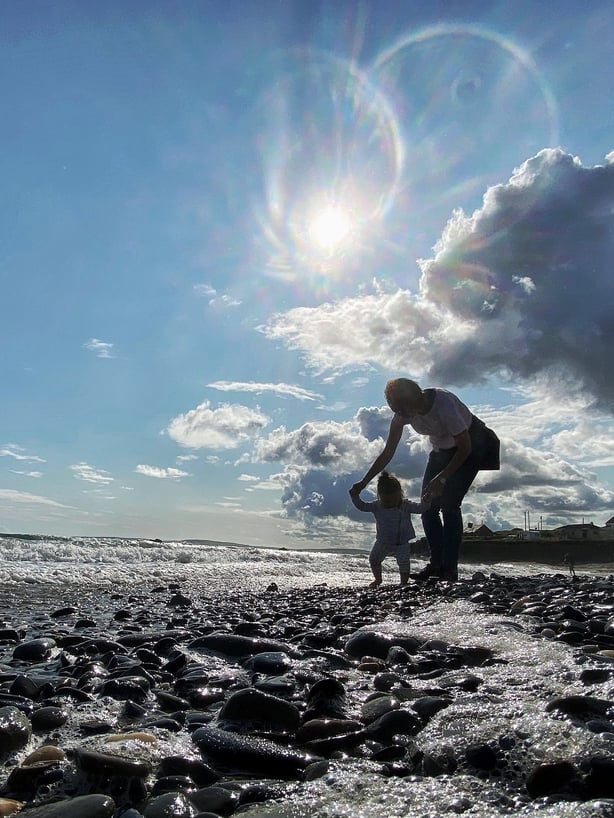 March 4th, 2020 marked my first day working from my attic during the pandemic. In hindsight, I could never have guessed that eight months later the only contact I have with team mates, friends and colleagues on Morning Ireland and News at One is on the phone. I miss them greatly and the healthy exchange of ideas that always electrifies the atmosphere of the newsroom. Calling in a story on the phone and having short conversations with editors at night keeps me going. It keeps me connected.
Facing in to another year like this one I focus on the positives that have come from the pandemic for me.
The isolating nature of today's happenings makes me appreciate what I have: my family, my health and my work. It also has challenged me to cast a fresh view on how I approach my work and use time efficiently.
Many people have lost loved ones, faced the closure of businesses and the loss of jobs. I have been lucky. My family remain healthy and in the face of the economic uncertainly unleashed on the country by Covid-19 I still have a job. I am very thankful for that.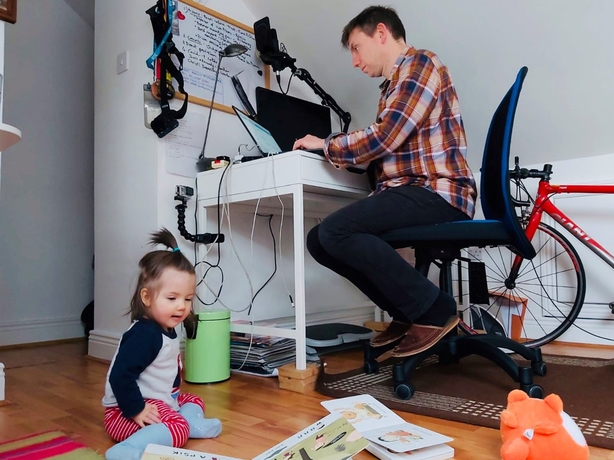 I have met shocked people who have arrived home to receive letters in the post telling them their jobs are gone. Those people have told me they have never signed on before. It is devastating. The dreadful impact of the pandemic on Ireland socially and economically has translated into one of my busiest work periods with RTÉ. Much of that work has been recorded and broadcast from my attic - with the exception of stories where I have visited locations all over the country.
From the attic I have told the stories of communities and people working to battle against the fallout from the virus. Many of these stories are uplifting and life-affirming.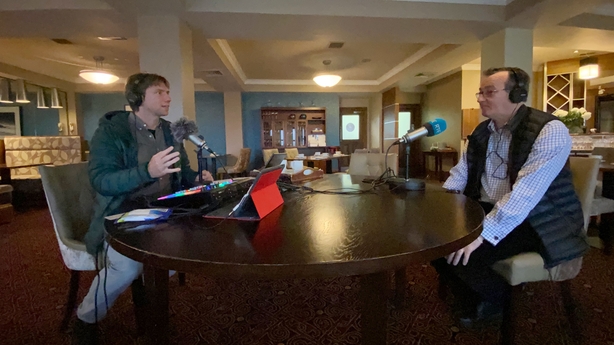 However, I recently detect a change in mood as people face difficulties and challenges head on. A fatigue has set in. There is a darker hue to conversation as people talk about the restrictions being 'too much'. They also stress 'mental fatigue' from isolation and lack of socialisation from friends and family. Sometimes I feel the same but I know it is in the best interest to follow the guidelines to keep my family safe.
My approach to dealing with things is to take everything in two week blocks – and after that I break time down day-by-day and minute-by-minute. I do my best to live in the now. I try not to think too far ahead because anything and everything could change.
The pandemic has given me more time. This is a big plus and one of the unexpected advantages from what is happening. I have travelled less in 2020 than any other year in my 25-year career in journalism. Less time on the road - whether that is on a week-long series, or travelling to the office every day - means I have more time to invest in to family, personal life and creative work projects.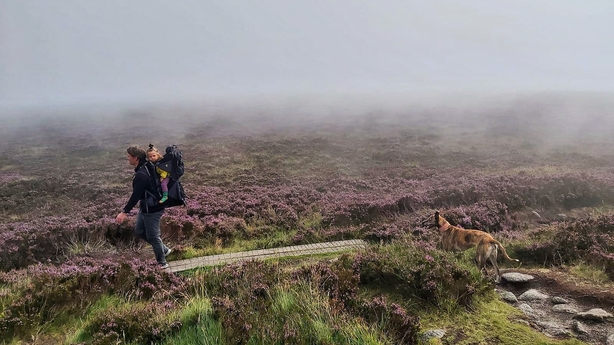 When the pandemic screamed its way into our lives my little girl Ailbhe was 10 months old. Since then, I have watched first-hand as she has learned to crawl, walk and paddle in the sea. Every small step and sound brings a smile to my face.
Working at home and parenting has been tough for both myself and my partner Ewa. We have facilitated each other's meetings and projects and ducked and dived by working sometimes from five in the morning, or late into the early morning before day break to ensure life moves smoothly. Although exhausting, it has given us the gift of seeing our daughter growing up at home.
This means we have had the privilege to hear Ailbhe's first words and her saying her own name. Maybe if the pandemic had not come she would have been at creche and I would have been in traffic thinking about how I was stuck in the ever revolving hamster wheel of life.
For me, the pandemic buckled that hamster wheel and prompted sharp rethinking of how I approached life. That means less wasting of time and more living of life.
I now have extra time to run. My training is consistent and I am achieving better times than I had for many years.
In terms of mental health, running has always served as an important way for me to deal with my emotions and tease out aspects of stories I am working on. It always clears the cobwebs and helps me approach life creatively. The pandemic has brought me closer to my running self. That has been a big plus.
Exercise is a big part of life in our home. Countless walks happen - either locally or up the Dublin Mountains with Ailbhe in a rucksack on my back and my dog Dot on her lead with my partner Ewa. Usually, on our walks I take many photographs. That is something I am passionate about. I have also finally managed to develop a website to give my work somewhere to live and exist. It can be visited here.
Staycation brought me to Cork and Achill in Mayo. Both offered photographic excursions and walks, but more importantly, provided the setting for my daughter Ailbhe to take her first paddle. The sound of laughter under the gentle breaking waves on Garylucas beach on the Old Head of Kinsale will be etched in my memory for many years.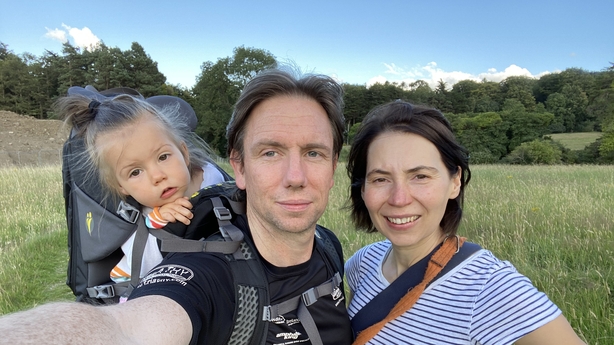 In recent years reading has not been a priority. The pandemic has brought books back in to my life. I have focused on fiction.
Stephen King's post-apocalyptic novel The Stand opened my pandemic reading. It was followed by the American author's The Dead Zone, The Outsider and If It Bleeds. King remains one of my favourite writers.
Irish authors have also lit up my reading. Strange Flowers by Donal Ryan is outstanding. The Thing About December and From a Low and Quiet Sea are equally brilliant. I love Ryan's work. I understand his voice, his characters and sense of place like no other writer. His work hooks me emotionally and his characters bounce back to life and reanimate in my head when I think about them.
Kevin Barry's Night Boat to Tangier and a re-read of City of Bohane were two other highlights for me. I love Barry's lyrical style and ability to paint rich, textured pictures of characters and the world in which they live.
Kathleen MacMahon's Nothing But Blue Sky also makes it to the top of my pandemic reading list. I certainly recommend it and love her insights in to the mind of a journalist, family relationships and marriage. Those elements are stitched expertly through her compelling story and make this a standout offering by the Dublin author.
My television moment is the Irish drama Normal People. I was hooked emotionally from beginning to end. It left an impact long after viewing.
I miss going to music gigs. As a result, my investment in listening to new music is at a standstill. I have found myself listening to David Bowie and Nick Cave more than in previous years. It just seems to suit where my mind is at presently and more importantly it also seems to suit the listening ears of my little daughter. She loves to dance in my arms before going to bed at night.
It is now October. Life has changed hugely for everyone. For many, Covid-19 has devastated their lives. We all face challenges as Covid-19 dampens our lives and dictates what we can do.
I look forward to meeting my family at home in Tipperary. I look forward to meeting friends I have not seen since last Christmas. I look forward to meeting my work colleagues in the flesh. I look forward to Ewa having the freedom to travel home to Poland to be with her family.
I look forward to my daughter Ailbhe not remembering what is happening now.
I look forward to beating a pandemic that has changed everything.
Cian McCormack is a roving reporter with Morning Ireland and News at One. He recently won his seventh national award for his work with RTÉ.
He recently won bronze in the IMRO Radio Awards News Reporter of the Year category for his work over the past year. Cian has been shortlisted eleven times in the past thirteen years - winning the News Reporter of the Year in 2009, 2010 and 2011 and Sports Story of the Year in 2013 for his coverage of the London 2012 Paralympic games.
In 2012 he achieved the PPI Bronze News Reporter of the Year Award. He also won the Law Society's Justice and Media award in 2006 for a series on Road Safety. In 2012, Cian was awarded a certificate of merit in the Justice Media Awards.