The legendary Gabriel Byrne's foray into Euro disco with Twink on the 1980 banger Jet Set Superstar turns the big 4-0 today and we can't thank RTÉ Archives enough for sharing this blast from the past.
Written by Barry Devlin, and co-produced and arranged by Devlin's Horslips bandmate Jim Lockhart, Jet Set Superstar cast Bracken heartthrob Byrne as a lovelorn French playboy.
The catchy track features in the spoof film I Wish That I Could Boogie, which was broadcast on September 29,1980, and focuses on Devlin's song from the time of its conception until it is recorded onto disc.
Actor Gabriel Byrne joins New Yorkers May Pang and Pandora Moore in the video for the single 'Jet Set Superstar' under the name Ménage à Trois.
WATCH: 'I Wish That I Could Boogie' broadcast #OnThisDay in 1980 https://t.co/rJekf1wIhN

— RTÉ Archives (@RTEArchives) September 29, 2020
The cheesy record marked the arrival of Ménage à Trois, a group which saw Byrne joined by John Lennon's former partner May Pang and Pandora Moore for photos and a much sought-after promo video.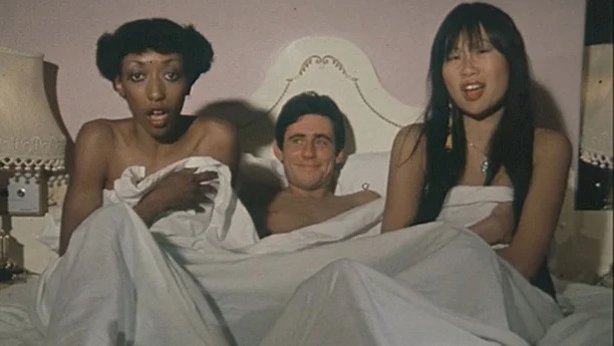 But neither Pang nor Moore sang on the actual single - Twink shared vocals with Byrne on the kitsch classic.
Find out more about this gem and other vintage goods on RTÉ Archives