The leading lady of The Broken Hearts Gallery has said that like her character in the new rom com, she too hoards souvenirs of her past relationships.
In the movie, which is in cinemas now, Australian actor Geraldine Viswanathan, the breakout star of 2018 comedy Blockers, plays Lucy, a ditzy New York gallery assistant with a talent for self-sabotaging her romances and who then hoards mementoes of her lost loves.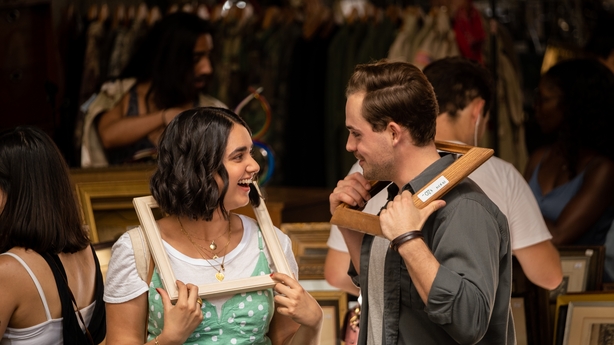 Asked if she also built shrines to former partners, Viswanathan told RTÉ Entertainment, "Absolutely! I've held onto mostly written things, I keep letters, I keep movie stubs, concert tickets. I have a couple of shoe boxes under my bed of souvenirs of good times, which around Christmas times, I'll go through and look at the past through love heart eyes, so I related to Lucy a lot in that way."
The movie also stars fellow Australian Dacre Montgomery of Stranger Things as Nick, who is struggling to convert an old YMCA into a boutique hotel and befriends Lucy on a drunken night out.
Read our review of The Broken Hearts Gallery
He told RTÉ Entertainment that he carries emotional baggage and not actual souvenirs of previous romances.
"When you're younger, what you take out of relationships is a level of learning so you go into your next relationship without making the same mistakes and you can hopefully treat the next person better and have a level of emotional maturity and understanding."
We need your consent to load this YouTube contentWe use YouTube to manage extra content that can set cookies on your device and collect data about your activity. Please review their details and accept them to load the content.Manage Preferences
The Broken Hearts Gallery moves at a cracking and wisecracking pace, while tickling all the rom com boxes, but it is also that rare thing in Hollywood - a movie with a female lead of Indian descent, something that was very important for Viswanathan.
"I feel very fortunate to be entering the industry at a time when a non-white person can lead a romantic comedy and no questions are asked, really," she says.
"We didn't have to explain it and it wasn't a conscious choice. Lucy could be anyone, so I think it was really cool that the producers were steadfast in reflecting diverse New York today. I feel really cool about it and I'm uncovering more and more about how significant it is."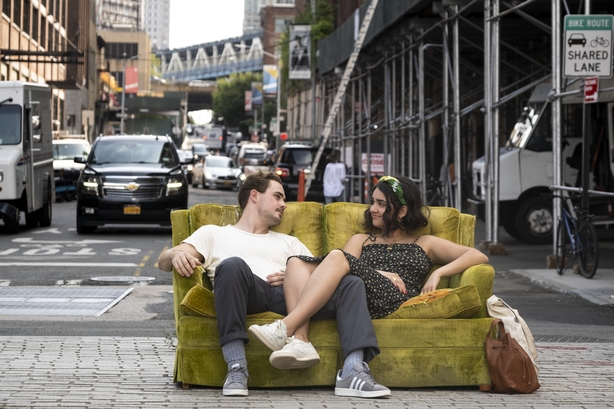 Viswanathan is from Newcastle near Sydney, while Montgomery hails from Perth and they agree that being Aussies helped them while working together.
"The fact that we're from the same part of the world means we have a similar in-built identity and banter," says Montgomery.
"It was also nice being considered an export while working with crews from all over the world so it was nice to work with someone who was from the same part of the world so when you're away it gives you a sense of home."
Alan Corr @CorrAlan2