Foo Fighters frontman Dave Grohl - the son of a teacher - has penned an essay defending educators that are concerned about returning to the classroom because of Covid-19.
The Hollywood Reporter says that Grohl's In Defense of Our Teachers has been published in The Atlantic and also made available as a nine-minute audio essay for his Dave's True Stories podcast. Grohl's mother, Virginia Hanlon Grohl, taught in public schools in the US for three decades.
We need your consent to load this YouTube contentWe use YouTube to manage extra content that can set cookies on your device and collect data about your activity. Please review their details and accept them to load the content.Manage Preferences
"As a single mother of two, she tirelessly devoted her life to the service of others, both at home and at work," says the former Nirvana drummer.
"I can't tell you how many of her former students I've met over the years who offer anecdotes from my mother's classroom. Every kid should be so lucky to have that favourite teacher, the one who changes your life for the better. She helped generations of children learn how to learn, and, like most other teachers, exhibited a selfless concern for others. Though I was never her student, she will forever be my favourite teacher."
On the issue of returning to the classroom in the wake of Covid-19, Grohl says: "America's teachers are caught in a trap, set by indecisive and conflicting sectors of failed leadership that have never been in their position and can't possibly relate to the unique challenges they face.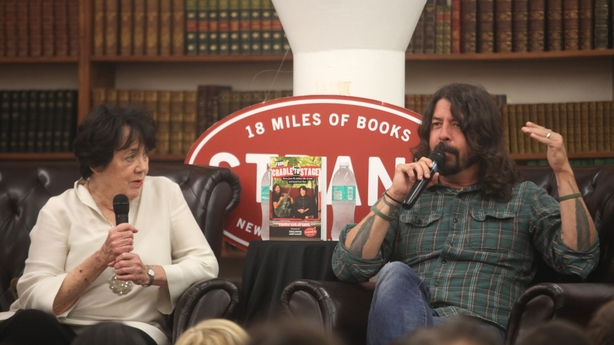 "I wouldn't trust the US secretary of percussion to tell me how to play Smells Like Teen Spirit if they had never sat behind a drum set, so why should any teacher trust Secretary of Education Betsy DeVos to tell them how to teach, without her ever having sat at the head of a class? (Maybe she should switch to the drums.)"
"Teachers want to teach, not die, and we should support and protect them like the national treasures that they are," Grohl adds.
"For without them, where would we be? May we show these tireless altruists a little altruism in return. I would for my favourite teacher. Wouldn't you?"
Virginia Hanlon Grohl is the author of the acclaimed book From Cradle to Stage: Stories from the Mothers Who Rocked and Raised Rock Stars.