Singer-songwriter Nerina Pallot, whose cover of Joy Division's Love Will Tear Us Apart had quite the cameo in Normal People, has told RTÉ Entertainment that the success of her rendition has come as a shock, adding: "I don't think I've ever had something that's connected quite so much."
The Londoner, who recorded the cover as a B-side in 2007, says its inclusion in Normal People has brought a new generation to her work, and "woken up a lot of my old fans who haven't heard any of my stuff for a while".
"I got the request to use it about six weeks before it aired," Pallot told RTÉ Entertainment. "But I had read the book, and my husband Andy, who's my manager said, 'Oh look, we've got this request for this thing...' And I said to him, 'What is it again?' [He said] 'It's called Normal People - what's that?'
"I was crazy about the book, so I was like, 'Yeah, yeah, yeah, yeah!' And he said, 'Are you sure? What if it's really crap?' And I was like, 'No, no, no - it won't be crap! Even if it's crap the book's amazing - let them use it!' So I never got told too much about it. I didn't see sort of any trailer. I knew what episode it was going out in [the Italian one], but I didn't realise it would be used for quite a lengthy part.
We need your consent to load this YouTube contentWe use YouTube to manage extra content that can set cookies on your device and collect data about your activity. Please review their details and accept them to load the content.Manage Preferences
"I did it as a B-side, but it was never released properly because I kind of felt that song is like a 'Holy Grail song'. So it was never released widely because I always felt a bit nervous about it. I mean, people have a big connection to that song. A lot of us who love it, I don't think we necessarily connect [with] it because it's about the happiest time in our lives. A lot of us who really connect with it have a really visceral connection with it. For me, it's always been quite a painful song to play. It's not one that I'm like, 'Hey guys, here's my cover!'"
Pallot paid tribute to the team behind the scenes on Normal People who knew about her cover long before the cameras started rolling on the Sally Rooney adaptation.
"There's a music supervisor who'd seen me play in Dublin a few years ago, and then on top of that I think one of the editors had heard it a long time ago and just really liked it and always said, 'I want to use it for something', but there was just never the opportunity to use it. And then when they were working on it, I think they said, 'Actually, this is the place for it'."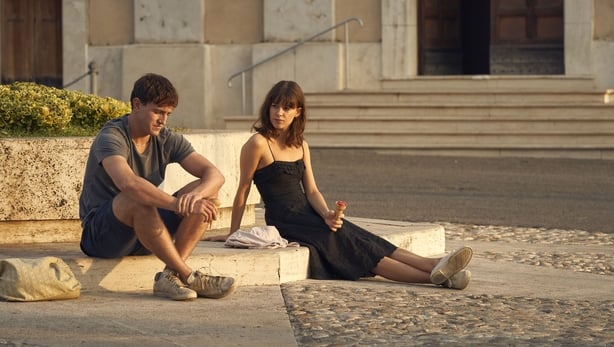 Pallot's cover took off about a week after Normal People premiered on the BBC iPlayer, and then gained more fans when the episode was shown on BBC One a few weeks later.
"Suddenly it was in the viral charts and it suddenly started to trouble the official charts as well," she recounted. "It was really weird, it was really strange. It was quite comforting in a way because I felt like people had really connected with it.
"What really freaked me about is the episode that my cover was in [on BBC One] was 40 years to the day that Ian Curtis [Joy Division singer] died. I didn't know that until somebody sent me a message on Twitter. I tell you, that made my hair stand up. That aired on May 18, which I didn't realise was 40 years since Ian Curtis died."
"I've had loads of uses [of music] in movies over the years and TV; it's not something that's been new to me," she concluded. "But I don't think I've ever had something that's connected quite so much. But I do think it is that song - we have to give the song some serious props! I'm sure there are people who absolutely hate my version!"
Pallot has just released her new single, Oh Berlin, and is currently working on a new album.
We need your consent to load this YouTube contentWe use YouTube to manage extra content that can set cookies on your device and collect data about your activity. Please review their details and accept them to load the content.Manage Preferences