Colin Farrell has urged listeners to RTÉ Radio 1's Ray D'Arcy Show to get behind his friend Emma Fogarty on her epic trek to raise money for DEBRA Ireland, describing the undertaking as "incredible stuff".
The Laois woman, who has the genetic condition Epidermolysis bullosa (EB), is doing a 36km challenge for her 36th birthday in aid of DEBRA Ireland, which provides support for families affected by EB.
'Words cannot explain the pain you go through... 80% of my body is covered in wounds' @emma_p_fogarty chats on @RTERadio1 about her life and why she's taking on a challenge to raise money for @debraireland
Donate: https://t.co/e3iHrOA1vb pic.twitter.com/7vFwRtYBcH

— Ray D'Arcy Radio (@RadioRayRTE) June 4, 2020
People with EB are in constant pain, with open wounds similar to third-degree burns on most of their bodies. The wounds must be dressed for a number of hours each day, or every second day. Cancer is also a constant threat for those with the condition.
Last November Emma was diagnosed with cancer in her left foot and underwent an amputation. She is the oldest survivor with EB in Ireland.
Emma and Colin Farrell have been friends since 2010, when the actor contacted her after she won a People of the Year award and raised awareness of EB. They memorably appeared together on the Late Late Show in December 2018.
They were reunited over the phone on Thursday's Ray D'Arcy Show on RTÉ Radio 1 with Emma telling listeners: "When I had my surgery I stepped back for quite some time as Patient Ambassador [for DEBRA Ireland]. I was always Patient Ambassador, but I just stepped back to take some time for myself...
"I was trying to get back on the saddle and do something and go out there with a bang. And so I turn 36 this year and I thought, 'Wouldn't it be great to do a 36km challenge and to just for the month of June walk 36km?' Not in one day, over the month of June. And so obviously I can't walk - I'm in a wheelchair - but the amazing Georgina [Herlihy, assistant] is pushing me all the way. She's pushing nine stone and walking 36km and she's doing amazingly.
"People will say, 'Well, sure, that's easy for you - you're sitting in a chair'. But it's not; it's the test of endurance of pain. Can I endure a bump, a pothole, a ramp, a pebble in the street? Can I endure all that? And that is my test."
Emma said she is doing the challenge because "DEBRA Ireland has taken a huge hit this year" due to the Covid-19 emergency.
"I am the Patient Ambassador and I want to step up and I want to do something," she continued. "I want to do something strong and powerful and that sets out a test for other people, that other people can join in. Other people can go for walks - virtually, obviously. We can all make a difference. Things might be tough now, but we can make it better by working together."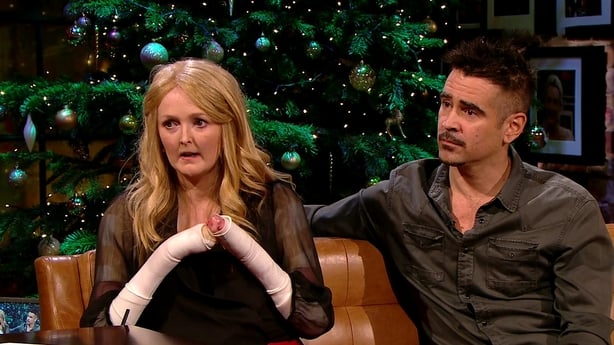 "I listened to your chat for the last 10 minutes and I find myself awed as if I was hearing it [Emma's story] for the first time," said Colin Farrell.
"She is without doubt the bravest person I have ever met in my 44 years being alive. I've never met anyone that has to deal with the pain and the struggle of existence the way she does, all the time. It's extraordinary."
"Anything anyone can give," he continued. "There's no expectation here. Emma's doing what she's going to do, but whatever anyone can give would be amazing."
To donate to Emma's 36 Challenge, visit: www.justgiving.com/fundraising/emma-fogarty.