It's business as usual at RTÉ for Katie Hannon in the News and Current Affairs arena, while the presenter and reporter has found a new pursuit at home. "As a complete novice, I'm gardening by Google," she says.
"We were lucky enough to move house just before the restrictions to a house with a good-sized garden. So after years of apartment living, I spent some of these lovely sunny days trying my hand at gardening. As for the gardening, let's just say that this has produced mixed results.
"The other major bonus of our new address is that we are a short walk from a nature reserve and bird sanctuary and – just a little further on – the strand. When we can, this is where we head for long walks with a stop-off for a spot of rock-pooling by my nine-year-old twin girls.
"On other days if I see a half-hour free between home school and a production deadline, we'll run down to the nature reserve and compete to be the first to spot the herons and moorhens in the marsh. There is a field beside it where we've found buttercups, bluebells and cowslips. Flowers I remember from the May altars of my childhood. My city children treat me like David Attenborough for knowing their names.
"Otherwise there is a great deal more cooking – and eating – than our pre-Covid days. Which I quite enjoy. I listen to a lot of current affairs radio – from Morning Ireland to Today with Sarah McInerney, to Liveline to Drivetime and, of course, I watch Prime Time and Claire Byrne Live and The Tonight Show, with Matt Cooper and Ivan Yates on Virgin Media.
"And in case that isn't enough, I am agog at political developments in the UK and tumultuous events in America so I can't miss BBC 2's Newsnight. Other than that, we have worked our way through a succession of the Netflix 'must-sees.'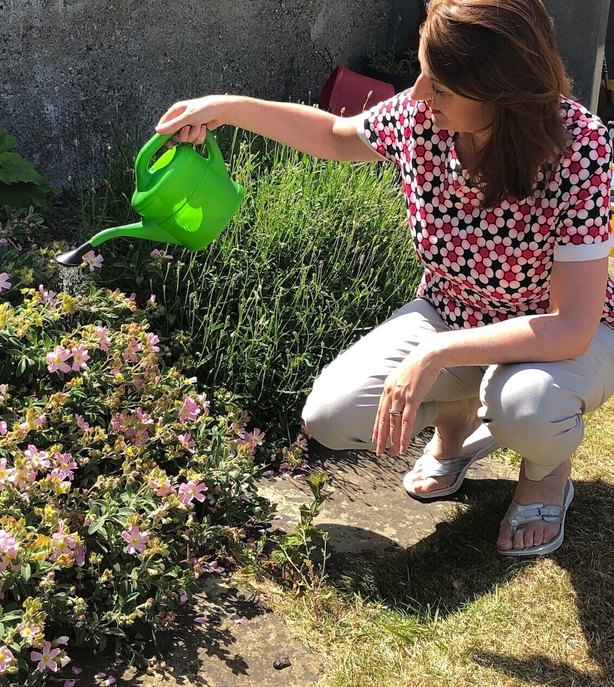 "I am probably the one of the last surviving adults in Ireland who didn't get into Normal People from the off. I held back – I loved Sally Rooney's book and didn't want the characters I had in my head ruined by Paul Mescal and Daisy Edgar-Jones. But then it went and became the cultural moment that defined these times. So of course I had to give in.
"I found I couldn't concentrate on reading when the restrictions kicked in. I would pick up a book but lose my way after a few pages. Eventually I reached for the slimmest volume on the shelf – Zoë Heller's Notes on a Scandal, bought in a charity shop last year, because I'd always meant to read it. The relief when I managed to finish it! So for now I'm sticking to guaranteed page turners like Liz Nugent's Our Little Cruelties.
"It's been challenging to get into a routine in the 'new normal.' Although I've never gone along with the notion that we're all in this together. People are having very different pandemic experiences. There's not a day goes by that I don't feel grateful that we're not one of the many people who are taking the brunt of this emergency.
"Once the social distance recommendations were introduced, the radio programme that I was presenting – Late Debate (RTÉ Radio 1)– was taken off air, as the live format with five or six guests in studio with me for an hour could not be continued safely.
We need your consent to load this YouTube contentWe use YouTube to manage extra content that can set cookies on your device and collect data about your activity. Please review their details and accept them to load the content.Manage Preferences
"Since then I've been covering general politics and Covid-related stories for Drivetime from my kitchen – apart from Tuesdays and Thursdays when I headed into the Department of Health to co-present Ireland on Call with the lovely Brendan Courtney.
"I loved the buzz of the live television studio where you could have actual real life (socially distant) conversations with other adults. At the height of the restrictions, being there felt like a huge privilege.
"Since Ireland on Call finished its run in line with the easing of restrictions, I've been back in the Radio Centre for the first time since early March to present Drivetime and give Mary Wilson a short hugely deserved break. I will be doing likewise when Joe Duffy takes a break later in the summer.
"All the presenters who have been a constant presence on air, guiding us all through these strange times deserve due credit. But so too do the teams of producers, reporters and researchers that are keeping these programmes on air and the show on the road, day in day out, in often very challenging circumstances. I think what is beginning to sink in now is that things are going to be this topsy-turvy way for quite some time to come."