Sharon Horgan has given voice to every mother spending all their time with their children during the Covid-19 emergency, telling US talk show host Seth Meyers: "I don't know how they're doing it, or how I'm doing it."
The Catastrophe writer and star began discussing her quarantine experience by saying: "God, it's ok. I mean, it's worse for other people. I'm aware of that. I've got two kids, so they're constantly... here..."
She then roared laughing when Meyers asked her whether she was loving her children "more or a little bit less or the same".
"Well, it depends on which kid!" she continued. "So my teenager's 16 and she's just so angry. I mean they're so angry that their lives have been taken away from them. So there's like a whole Linda Blair [who played possessed child Regan in The Exorcist] level of teenage anger in the house!
"Because we're together all the time, she's had to find new things to hate about me! The other day she got really angry with me because my eyes are too close together! In an argument [she said], 'I can't look at you! Your eyes!'
"My 12-year-old's grand. She's homeschooling as well... Little iPad and her iPhone with everything on there. And she's set it up in the kitchen right beside the fridge. You know in Goodfellas, you know that scene when they're in the prison [and] they've so much time on their hands and Paulie's cutting the garlic with a razor? That's my daughter, but with hot dogs and mangoes!"
"I don't know how they're doing it, or how I'm doing it," she added.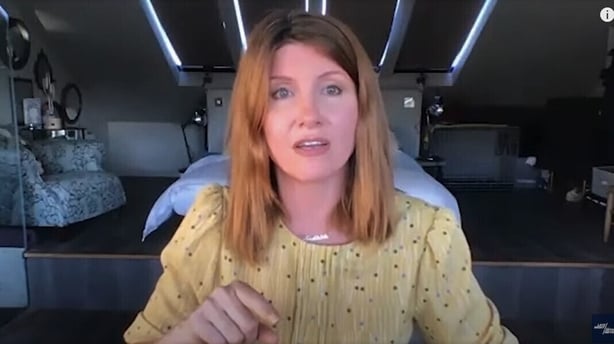 Horgan recently started meditation - with limited success.
"I guess it was a virtual meditation class," she explained. "It actually started just before lockdown. I was doing really well with it. It was called 21 Days of Abundance, and so you had to do your little meditation. There was tasks for you to do. And I was feeling like.... really like Zen, really feeling like I was nailing this because I never feel I can stop my mind from wandering.
"And then as soon as lockdown happened, even though there's this really nice soothing voice saying, 'Visualise everything that's good and right in your life', I'm like, 'No, I can't!' My mind is wandering to the fact that my parents are under house arrest in Ireland and my teenager is going mental! I just had to pull out of it. It would have been good."
Meyers asked Horgan about her Military Wives co-star Kristin Scott Thomas, and Horgan revealed their first conversation did not go well.
We need your consent to load this YouTube contentWe use YouTube to manage extra content that can set cookies on your device and collect data about your activity. Please review their details and accept them to load the content.Manage Preferences
"We arranged this call and she's in Paris and I'm in London," Horgan recounted. "I call her up and I'm like, 'Hey, it's Sharon!' And she goes, 'What?' And I go, 'It's Sharon'. And she goes, 'Who?' And, like, no joke, 'It's Sharon'. And she goes, 'Fanny?' And I'm like, 'What?! Were you expecting a Fanny to call? That name doesn't even exist anymore! Like, 'Fanny from the 1800s!'
"And then we met after that in Soho and spent a couple of hours together. She's just the best. She's the best craic. She's got this amazing sort of status but she doesn't take it seriously. You can really have a good sort of dig at her. Yeah, she's amazing. She's really enjoying lockdown, by the way. She's loving it. She's thriving in it!"
Military Wives is on Amazon Prime and available on demand.