Hollywood star Matt Damon, who has been living in the Dublin suburb of Dalkey for the past two months, has said life in quarantine in Ireland is "like a fairytale". 
Forty-nine-year-old Damon flew into Dublin with his wife, Luciana Barrosa, and their children, Isabella, Gia and Stella, in early March to film Ridley Scott's new movie The Last Duel - but almost immediately the film was shut down under Covid-19 restrictions.
The A-lister and his family have been living in Formula 1 star Eddie Irvine's house ever since and the actor has been spotted around the picturesque seaside village. But he has managed to keep a low profile, with tight-lipped locals rebuffing media questions about their famous new neighbour.
However, radio station SPIN 1038 secured the celebrity scoop of the year by landing an exclusive interview with Damon on Wednesday morning on the station's Fully Charged breakfast show - but it wasn't an easy task securing the Hollywood star. 
Appearing on the show, Boston native Damon told hosts Graham and Nathan, "I heard you guys on the radio and I shouldn't have put you through all of this. I heard you in the car with my kids, I had just dropped them off, and you guys gave the number to call.
We need your consent to load this rte-player contentWe use rte-player to manage extra content that can set cookies on your device and collect data about your activity. Please review their details and accept them to load the content.Manage Preferences
"I walked into the house trying to remember the number and my wife started talking to me and I totally forgot the number and it never came up again and my wife said to me, 'Have you called that radio show?' and I said 'No' and she said, 'You're such an idiot. Just look up the number!'"
The actor said that keeping track of time during the pandemic was hard but that he arrived in Ireland before the current restrictions were introduced. "We were shooting a movie," he said. "We shot the first half in France and just as we arrived here, the movie was shut down so that would have been early March."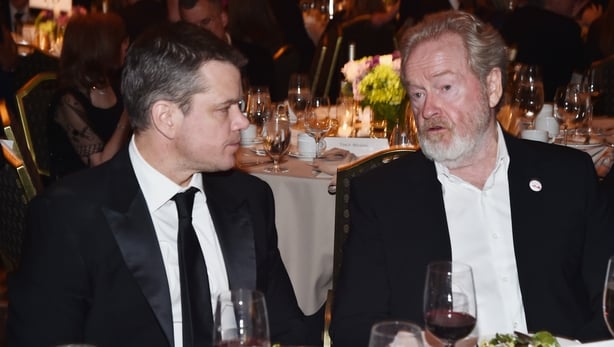 In their heroic quest to get Damon on their morning show, SPIN presenters Graham and Nathan even went as far as joining a Dalkey Facebook group to see if they could help. 
"I hear this this story and I laughed so hard," Damon said. "This place is great and everyone is so protective and I had no idea that all this was going on behind the scenes. Then I heard you joined the group but they found out who you were and booted you off."
Speaking about his new temporary home, Damon said, "It's been incredible. This is one of the most beautiful places we've ever been. Obviously what's going on in the world is horrible but I've got my whole family; I'm with my kids and we have teachers with us because we were planning on missing school for about eight weeks. 
"We've got what nobody else has, which is live human beings teaching our kids so we feel guilty. We've got this set-up in this incredible place. It's absolutely gorgeous. Even in the 2km lockdown, we've got trees, and woods and ocean. I can't think of any place you'd rather be in a 2km radius of." 
The actor has also been spotted exercising on nearby Killiney Hill. "It's insane. I thought it was incredible two months ago but now it's starting blooming and it's just incredible," he said.
"It feels like a fairytale. When I first came in, people were saying well, 'Bono lives over there, Enya lives over there'."
Asked if he was hanging out with the U2 frontman, Damon was on-message, saying, "Well, no-one is allowed to hang out, but I did FaceTime with him and he said to me, 'You know there's a radio station that's looking for you?' and that was the final impetus for me to call into that show. This has been going on too long." 
Damon, who previously worked in a coffee shop before becoming an actor, has been frequenting a local café, which has remained open. He also finally answered the question that has kept everyone guessing for the past few months - just what was in his now iconic SuperValu shopping bag when he was first spotted in Dalkey last March?
"Oh, I actually think we just had the towels. I was with the kids and we were taking a dip in that water there. We just grabbed one of our SuperValu bags because we didn't have beach bags. We were just improvising," said Damon, laughing off a suggestion that he was heading to a house party with a plastic bag full of cans.
He added that he would be returning to Ireland when restrictions are lifted to complete the film.
Damon also revealed that his step daughter, Alexia, fell ill with covid 19 'fairly early on' but she has recovered now.
She is currently in New York and he said he hopes that she will be able to join them when they go back to LA.
He described Taoiseach Leo Varadkar as "a bad ass" for returning to medical work as Ireland deals with the pandemic, adding that he was very impressed with the way people in Ireland are handling the pandemic and respecting social distance.
He told the breakfast show that they will stay here until the end of the children's school year and then whenever the world rights itself, he said, he will return to complete eight weeks of shooting on his movie. 
Damon also surprised a listener, and huge fan of the actor, on the SPIN breakfast show when she called in unaware that he was on air. French woman and health care worker Anniese, who is on the frontline battling the pandemic in Ireland, was shocked to be greeted by the star, who told her that if there is any silver lining to this pandemic it is the respect the people now have for frontline workers like her.
Living in isolation shouldn't be that much of a challenge to Damon, given his film-making history.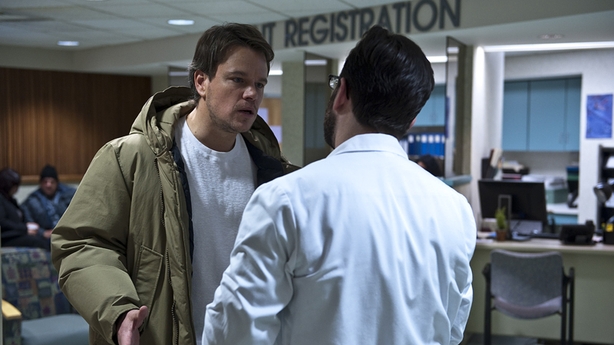 In 2011 he starred in the drama Contagion, in which a group of medical experts race against time to stop an unknown virus that causes a global pandemic.
In scenes somewhat similar to the current Covid-19 pandemic, the Steven Soderbergh-directed movie deals with a killer virus outbreak that's spreading across the globe.
Damon also played an astronaut stranded alone on Mars after being left behind by the rest of his spaceship's crew in the 2015 Ridley Scott sci-fi movie The Martian.
Alan Corr @CorrAlan2