The stars of Derry Girls have shared a video, which sees their characters isolating in an airing cupboard in 1996.
In the video, which was tweeted by Channel 4, Derry Girls' Erin (Saoirse-Monica Jackson) describes the video as "the most important thing we've ever had to do".
After Orla (Louisa Harland) interrupts proceedings by saying she made "a wee man out of chewing gum" and asking "Do lions yawn?", she tells Erin that she has already helpfully pressed 'record' on the camcorder.
Isolating with the #DerryGirls @SaoirseJackson @louisa_harland pic.twitter.com/2yal4TpGiR

— Channel 4 (@Channel4) March 31, 2020
"The year is 1996 and we're speaking from Derry, Northern Ireland," says Erin after regaining her composure somewhat. "These are uncertain times. Peace negotiations have broken down and mass rioting engulfs our streets."
"We've been ordered to remain inside our homes by the authorities," she continues.
"You mean our mammies," says Orla.
After more back and forth involving toes and biscuits, Erin tells viewers that "A situation like this makes you appreciate all the things that you took for granted."
Erin says she is "mostly grateful for my family", while Orla says she is grateful for Coco Pops - repeatedly.
An argument ensues before the ejected Orla makes a peace offering - can you guess what?
Speaking on last Friday's Late Late Show, the duo's Derry Girls co-star Nicola Coughlan said there would be murder if the gang were quarantined together during the Covid-19 emergency.
Coughlan, who plays Clare in the hit comedy, joined the Late Late Show from her home in Galway on Friday night, and was asked by host Miriam O'Callaghan how the Derry Girls characters would cope with the current situation.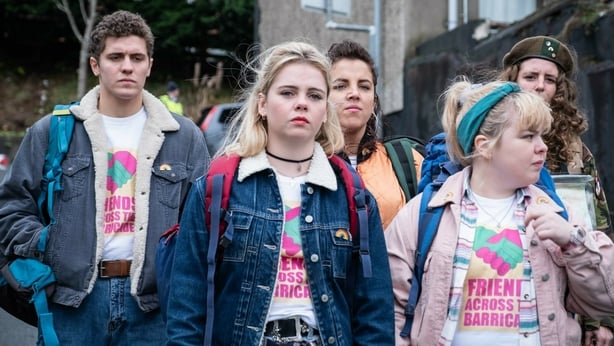 "If they were quarantined together I think one of them might end up dead!" laughed Coughlan. "I don't know if that would go very well!
"I imagine Clare would panic her way through it. I think she'd have the full hazmat suit on with the mask, you know, helmet, everything!
"I think Erin would be trying to regale them with poetry. I think Michelle would definitely have a secret stash of vodka! I think James would probably keep a level head and try and see them through it. And I think Orla wouldn't know what's going on!"
Coughlan said that, for her, anxiety about Covid-19 "comes in waves".
"Sometimes you can forget it's all going on and you're like, 'Oh, it's fine'. And then you go, 'Gosh, this is everyone.'
"But I suppose we have to find comfort in that, rather than be stressed about it... It will end, it won't be forever, and it's important to think that."