Calm with Horses star Barry Keoghan has told RTÉ Entertainment that one of the biggest pressures of making a film in Ireland is getting an accent right.
The Dubliner's new crime-drama sees him play Dympna Devers, a member of a family gang in rural Ireland.
"Doing an Irish accent is tough if you've to do a different accent other than your own," said the former Love/Hate star.
"Irish people can be very critical and they'll pinpoint where that [accent] is and tell you that was Cork and you were aiming for the west of Ireland!"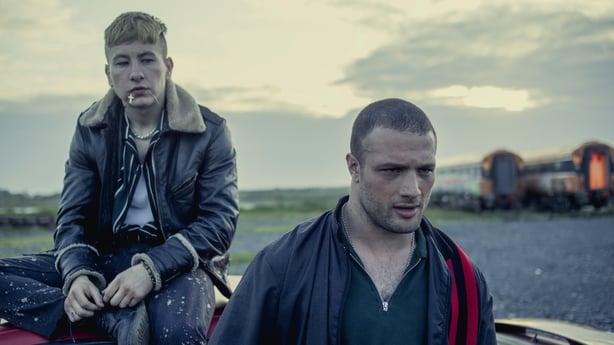 Despite the challenge, Keoghan agreed with co-star Niamh Algar that the desire to come home and make films in Ireland keeps growing.
Read our review of Calm With Horses
"Irish crews are the best," he continued. "We're storytellers and we do tell the best stories."
"Filming this, people leave you alone," said Algar. "No one's hanging in the background to watch what you're doing. We shot in Kilkee and people down there were so lovely - they knew we were making a film but they'd actually be trying to dodge to get out of the background.
"And the scenery in Ireland is ridiculous! I just worked with Ridley Scott [on the series Raised by Wolves] and he said he wanted to work in Ireland [on planned film The Last Duel] because he knew how great locations are and so close to airports. I'm really selling this place!"
"There's just that love and lovely family thing," Algar added. "Maybe because Ireland is a small country and when you have a film that travels outside Ireland people take a lot of pride in that."
More movie news, reviews and interviews here