Coronation Street star Jane Hazlegrove, who plays Bernie in the ITV soap, has said her character will be "the lioness" when she realises that her daughter Gemma is struggling as a new mother.
Teeing up Bernie's return to Weatherfield, Hazlegrove told ITV: "She gets a phone call from Gemma. She says she's alright, but Bernie's heard something in her voice that indicates that she needs some help. Whatever tiny bit of maternal instinct that Bernie's got has suddenly been heightened and she comes back to do what she can."
Hazlegrove said Bernie is "not necessarily surprised by the chaos that four babies brings, but certainly about her daughter's mental health".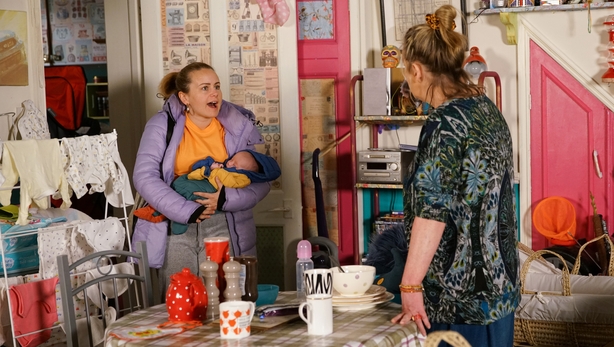 "She can see it deteriorating," she continued. "She's not herself; she's not the Gemma that everyone knows and loves. There's something that's not quite right."
"Bernie is the lioness and she's going to do everything she can to make sure that her baby is alright," Hazlegrove explained.
"It's time for Bernie to stop being selfish and be selfless, which is something Bernie hasn't done before," she concluded.
"I do think Bernie can change. I think what happened with [her son] Paul has given her a real kick up the backside about listening to that still, quiet voice that mums have."
If you have been affected by issues raised in this story, please see: www.rte.ie/helplines.
Coronation Street airs on Virgin Media One and ITV on Mondays, Wednesdays and Fridays.