Color Out of Space director Richard Stanley has told RTÉ Entertainment that star Nicolas Cage "always wants to go further" with his trademark onscreen freakouts - and that Cage's only disappointment with their new sci-fi horror is that more of them weren't included.
Adapted from a HP Lovecraft story by Stanley, Color Out of Space sees Cage play a mild-mannered alpaca farmer whose rural idyll is disturbed one night by "a boom like a sonic boom and a big flash like a pink light". 
We need your consent to load this YouTube contentWe use YouTube to manage extra content that can set cookies on your device and collect data about your activity. Please review their details and accept them to load the content.Manage Preferences
The alpacas' welfare soon gives Cage the opportunity for more of the over-the-top moments his fans love so much.
"Nic went through the script a few weeks before we started shooting and highlighted different scenes where he thought he could take it a bit further," Stanley laughed. "We knew in advance there were some parts where we were going to go 'full bore Cage'!"
"Nic's extremely special," he continued. "Having worked with him now I absolutely adore what he does.
"He brings with him a sense of monstrous comic timing which infects even his straight scenes, because his timing is so damn good. He can take even a dull line of dialogue and make it funny. I think he's got some aspect of Vincent Price about him."
Stanley described Cage as someone who has "incredible range and an extraordinary amount of energy as well".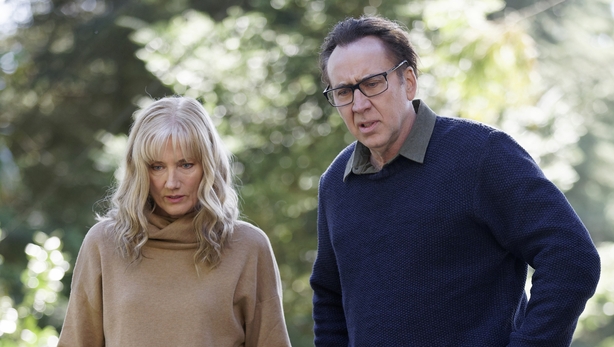 "The good thing is he's in good health!" the director said. "I'm keeping my fingers and toes crossed that we've got another 15/20 years of Nic bashing out two to three movies a year. He's making interesting choices, and I for one enjoy seeing what he's doing!"
When asked if Cage enjoyed watching his own performance in Color Out of Space, Stanley replied: "He always wants to go further! He was grumpy because so many of his crazy moments had hit the cutting room floor! I'm pleased to say they'll all be there on the DVD/Blu-ray!
"Nic brings a kind of danger or edginess to it that keeps me watching because I don't know what the hell he's going to do next! It's the same reason why you'd go to see movies with Klaus Kinski in the old days, or Marlon Brando for that matter." 
Color Out of Space is in cinemas and on demand from Friday.