Niall Horan has said that it would be "stupid" for One Direction not to reform and promised that the boy band would have an "even better time when we do it again."
The hugely successful act took an indefinite hiatus in 2015 and since then the remaining four members - Horan, Harry Styles, Liam Payne, and Louis Tomlinson - have all embarked on solo careers to varying degrees of success.
Speaking to RTÉ Entertainment ahead of the release of his second solo album, Heartbreak Weather, on March 13, 26-year-old Mullingar man Horan said, "We'd be absolutely ridiculous not to reform the band. We haven't really spoken about the "whens" but we do know we will. We have all said individually that we will and I think it would be stupid if we didn't."
Asked if he regretted anything about his time in One Direction, Horan said, "I don't think you can regret anything. I went around the world at 16, plucked from Mullingar, as my father says, packed a suitcase and never came back.
"I've got to witness things that some artists never will in terms of pandemonium and madness, I've had No 1 albums, hit singles. We had a great time and we'll have an even better time when we do it again."
Horan released his new single No Judgement on Friday, the latest song to be lifted from his new album, which is the follow-up to his 2017 No. 1 Flicker, which sold three million copies.
It sees him consolidate on the quick success of his solo career and seems to confirm that Horan, along with Harry Styles, has emerged from One Direction unscathed and happy.
"Some people handle things differently," he says. "Me and Harry had a great time in the band but I've heard some of the boys saying they've struggled with it mentally but that's life. I've always been a happy go lucky type person.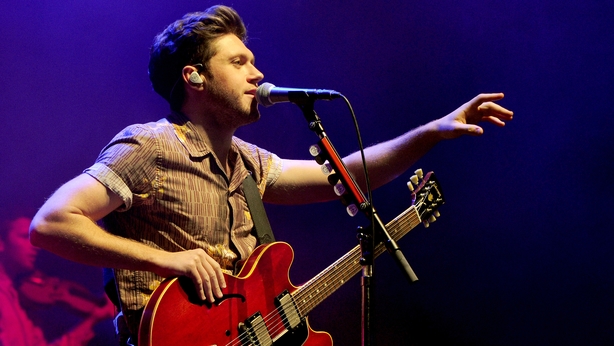 "The phrase `happy to be anywhere' is me. Harry's the same, bubbly character. Me and Harry have a similar taste in music, and similar mates. We live down the street from each other in London and LA and we went to an Eagles gig in London last Summer.
"Louis I'd see quite a bit when he's in LA and London. Liam the same, back and forth but because of schedules, we don't see each other as much as we'd like and that's something we need to talk about too."
Horan's new single follows previous releases Nice To Meet Ya and Put a Little Love On Me and - along with Heartbreak Weather - sees the "quiet man" of One Direction broadening his musical horizons, following the more traditional country rock and ballad leanings of his debut.
Reflecting on his new album, the relentlessly cheerful, wisecracking, talkative, multi-millionaire golf fanatic bachelor told RTÉ Entertainment, "Across the board, I'd say now I've got a good mix of me. I think I pigeonholed myself into one . . . It's been successful, I've been saying hindsight is f***ing wonderful thing and it's a great and the worst thing of all time! Hahaha.
"But the first album was a very specific place but with this one I wanted to stick a bit more energy into it. I'm always thinking of live shows and I like the idea of having nice, youthful up-tempo stuff mixed in with my sad stuff to make a rollercoaster of emotions in my live show. Hahaha."
However, the new record does include its fair share of soppy acoustic guitar ballads such as Still but Horan laughs off the idea that he's contractually obliged to write them.
"Nah! I just f***ing love writing them. I find it so much easier," he says. "I find it easier to sit a piano and pick up a guitar, the guitar I play on Still was out of tune, I picked it up randomly when I walked into the room and starting playing it. I find when you're being heartfelt, songs seem to fall out more. Maybe it's because I'm a shite communicator as a person.
"I just like to look at myself as this normal fella who does this crazy job but the perception is that because you're famous, you're going to be pounced on by every lady on the planet."
"The up-tempo stuff is harder, trying to fit it into grooves and phrasing. Ballads just seem to roll off the tongue. Some of my favourite songs of all time are ballads, like Desperado by The Eagles.
"I've been told I'm a shite communicator by a few exes but that's fine. We carry that masculine thing around with us, we're not very good at talking, so I write songs. That's my way to do it I suppose. I do it subconsciously."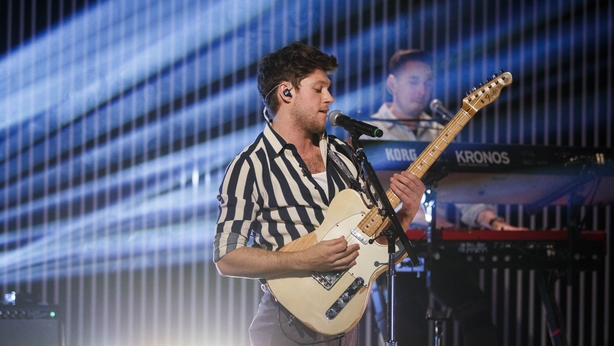 He does admit that maturing over the last few years away from the madness of being in the biggest boy band on the planet has made him a better communicator.
"I've gotten better at it because I know that's what people relate to. I mean look at Adele, she's the perfect example of that," he says. "I don't know if she's a good communicator because I never went out with her. Haha but she writes songs about her life but she also understands that that's what people connect with."
Success, both as a band member and a solo artist, has certainly opened doors for Horan and in recent years he has befriended Don Henley of The Eagles. Something that may be reflected in the fact that the intro to new album track Black and White is very similar to Henley's 1984 hit Boys of Summer.
"I'm the biggest flag bearer for Ireland and the more time I spend away the more I want to get back to it."
"I'm glad you said that because that means my influences are working on my music," Horan says."I know Don Henley, I know Don Henley well and I send him stuff and I ask him for advice. I did a song recently called Lay a Little Love on Me and he gave me his honest opinion and I changed a couple of things afterwards.
"Don Henley is my number one of all time, one of the greatest songwriters of all time. First gig I ever seen and I'm lucky enough to know him and he's also known as one of the most honest people to ever walk the planet. The relationship I have with him is that I'll send him something and he'll tell me the truth."
It's a friendship that has clearly left Horan star struck and feeling very lucky but his dad is even more impressed.
"It's f***ing mind-blowing," Horan Jr says. "When I talk to my dad about it he just can't believe it. I was on my dad's shoulders watching The Eagles in concert as a kid.
"It's his favourite band of all time and here I am with Don Henley's phone number and email and I chat to him, not all the time, but when I do it's about music. If he's in town I'll meet him for a bit of food. When he was in London, we went for a couple of pints and I'm sitting there sometimes I'm nearly shaking because it's Don Henley. It's mind-blowing stuff and I feel like a w**ker even mentioning his name in an interview."
"I was 19 in One Direction. You're sheepish as it is at that age and the gap between then and now is six or seven years. You're different person. Along the way I've matured. Sort of."
Heartbreak Weather also features several more up-tempo tunes from the man who is known for more middle of the road musical tastes such as Fleetwood Mac, Crosby, Stills & Nash and James Bay. Tracks like Small Talk tackle themes of romantic break-ups, while the video for recent single Nice to Meet Ya portrays Horan as a game young man out on the town.
Not quite the reality of an evening on the razz with Horan, however. "A night out for me doesn't look like that to be fair! A few more pints of Guinness," he laughs. "It looks a bit more Irish, how about that? I have a lot of Irish friends in London with a lot of drinking Guinness and talking shite.
"I don't have many music friends per se, I don't see many artists out and about but no, it's a lot more chilled than that video. People always tell me that I'm an old head on young shoulders so it's not as raucous and as Mayfair as the video. When I sang it in a certain way it made me want to become a character of myself."
But Horan denies he was the quiet man of One Direction, content to let Harry Styles play the cheeky chappy role. "I didn't think so myself," he says. "I was 19 in One Direction. You're sheepish as it is at that age and the gap between then and now is six or seven years. You're different person. Along the way I've matured. Sort of."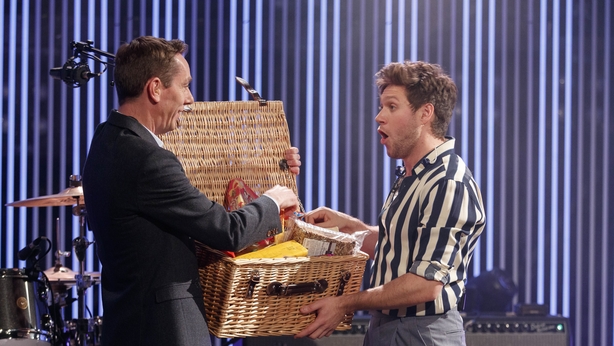 Working as a solo act does mean that Horan does get to visit his home in Mullingar more often but he says it's still not enough. "The last few years of 1D, I didn't get home much. Maybe once or twice a year and one of them was probably for a gig and the other one was for Christmas so I've tried to make it a thing to get home much more," he says.
"People are getting older, all the usual stuff . . . I'm the biggest flag bearer for Ireland and the more time I spend away the more I want to get back to it. I've gotten better at scheduling and finding the time to get home so I'm going to try and get home at least six, seven times a year now.
"One of things that really annoys me and I don't really talk about is that in my mind I'm don't think I'm perceived as one of the wholesome Irish acts.
"There's a list, the Picture This lads, Gavin James, Hudson Taylor, Wild Youth, The Coronas, maybe Dermot Kennedy, and I don't feel - maybe because I've spent so much time internationally - I think maybe people say `Oh, your man from One Direction with the Irish accent' so I don't feel as though I'm one of the full-blown Irish acts simply because it's my fault for not spending enough time here."
That's the price of being a member of the international jet set elite, who's worth half the GNP of Mullingar.
Flicker may have hit No 1 in the US Billboard 200 and gone straight to the top in Ireland but Horan - who owns several houses around the world - says he wants to push himself further.
"It's about longevity," he says. "All my favourite acts, The Beach Boys, Bruce Springsteen, Crosby, Stills and Nash, The Beatles if they were still around, Paul anyway, are all still touring and you have to have good songs to do that so I want to become a better songwriter and I want to make it last because I love doing it so it would be a shame if it went to waste."
Horan doesn't admit to any extravagances and likes to spend his time off travelling. "I'm not a sit on the beach person," he says. "I did nine weeks backpacking in SE Asia when the band finished. I've been living in California on and off for the past few years and my cousin was over and he suggested we go on a road trip so we did and stayed in an Airbnb in Joshua Tree and one in Yosemite National Park.
"I love driving. Drove up, did a massive hike. I've got houses but they're not mansions. Sure why would I need a mansion? There's only one of me."
Indeed. Despite, or maybe because of being linked to so many women over the years, Horan remains officially the most eligible bachelor in pop music. "Hahahaha. It's funny, isn't it?" he laughs. "I just like to look at myself as this normal fella how does this crazy job but the perception is that because you're famous, you're going to be pounced on by every lady on the planet.
"It's just one of those things you laugh off. It follows you around but I'm still eligible if anyone is looking for me!"
Spoken like a true relentlessly cheerful, wisecracking and talkative multi-millionaire golf fanatic bachelor.
Alan Corr @CorrAlan2
Heartbreak Weather is out on March 13
More music news, reviews and interviews here