Kevin Hart told RTÉ Entertainment that he has "a lot to be thankful for" and that following his serious car accident earlier this year he is even more focused on "being present" in his life.
Hart was hospitalised a few months ago after a car accident, which saw the 40-year-old actor suffer three fractures in his spine.
The Jumanji: The Next Level star spoke about the importance of appreciating what you have and the value of "understanding your life."
"I've a lot to be thankful for, a lot to simply appreciate and hold onto," Hart told RTÉ Entertainment.
"I can say, for me, there's a big value in understanding your life, family, to be present, there's so much more. I'm really taking advantage of the time.
"One of the biggest thing with our movie is having an understanding for life and what's not guaranteed, really taking advantage of our time here, so a lot to be thankful for."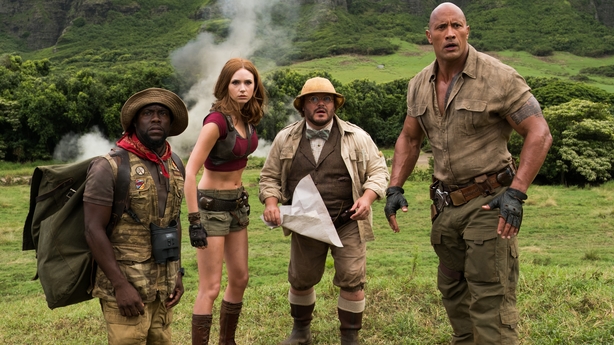 His co-star Dwayne Johnson added that Hart's accident "wasn't a wake-up call" as his frequent collaborator was already a "present, family man" but it served as a reminder to "be even more grateful."
"That's the funny thing about life, you can be grateful, and we all try to have our best versions of being grateful for things that we have, but often times things that are the most important to us and the things we need most are right in front of us, and not necessarily 'grass is always greener on the other side'," Johnson said.
"With Kevin's situation, it wasn't even a wake-up call after his accident that he got into, because he was already a very grateful guy, very present, a family man, and just everything that he was, it was almost like another layer to remind you to be even more grateful."
Jumanji: The Next Level hits cinemas on December 11.
Watch our full interview with Dwayne Johnson and Kevin Hart:
We need your consent to load this rte-player contentWe use rte-player to manage extra content that can set cookies on your device and collect data about your activity. Please review their details and accept them to load the content.Manage Preferences
We also spoke to their co-stars Jack Black and Karen Gillan:
We need your consent to load this rte-player contentWe use rte-player to manage extra content that can set cookies on your device and collect data about your activity. Please review their details and accept them to load the content.Manage Preferences