Comedian and actor Kevin Hart is in hospital with reported "major back injuries" following a car accident in Los Angeles.
But after visiting him, his wife Eniko Hart has said her husband "is awake" and "going to be just fine".
The US comedian and actor, 40, was reported to have suffered the injuries in a collision in California at the weekend. His wife Eniko has now told TMZ the star is doing well.
Asked about his condition, she replied: "He's great. He's going to be just fine."
"He's good," she added. "Everybody's good, thank God."
Asked by TMZ whether Hart was awake, she said: "He's fine. He is awake."
A California Highway Patrol collision report cited by Associated Press said Hart was a passenger in a car which is believed to have tumbled down an embankment in the hills above Malibu on Sunday.
The report said Hart and the driver both suffered "major back injuries" and were taken to hospital.
The driver of the car was not under the influence of alcohol, according to the report.
The California Highway Patrol revealed that the 40-year-old was being driven in his 1970 Plymouth Barracuda on Mulholland Highway when the accident occurred.
The driver, named Jared Black, lost control of the car which then fell into an embankment, with Black also sustaining major back injuries. A third passenger was unhurt in the accident which occurred just after midnight.
The driver is the fiancé of the third passenger, Rebecca Broxterman. 
The actor was taken to Northridge Hospital Medical Centre and the driver was taken to another hospital, the patrol report said.
Hart, best known for roles in movies such as Night School, Ride Along and The Secret Life of Pets, withdrew from hosting this year's Oscars ceremony following a controversy over homophobic tweets.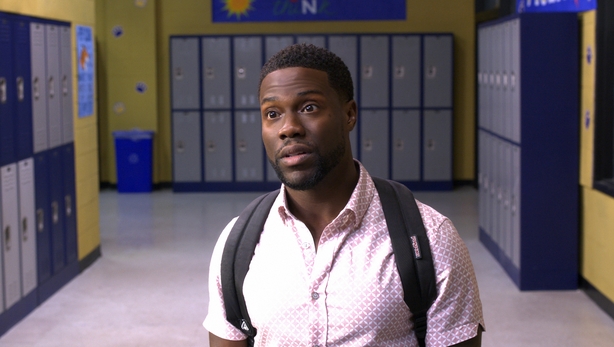 The actor and comedian declared that he did not want to be a distraction and was "sorry he had hurt people".The ceremony took place without a host due to the controversy.
In September 2018, the actor shared with RTÉ Entertainment some hard-learned advice for stressed Irish students and parents as they faced into another academic year.
"Information is free - don't pass up free information," Hart explained. "And as a kid, to all the parents out there, stop getting upset with your kids when they don't understand that as a child! 
"Some kids aren't going to understand what that means. But it's going to click; at a certain age it's going to click. Whether they took advantage of it or not, they're going to get it. And when they get it, they get it. Some get it young, some get it old. 
"I got it at an old age - I think I was 28 when it clicked! (Laughs) 'Damn it, Kevin! You should've been focused in school!' But it clicked - my momma's message clicked."