Caitlyn Jenner has revealed on I'm A Celebrity...Get Me Out Of Here that her being transgender was a "dirty secret in the family".
Speaking on day two of the reality TV programme, the 70-year-old said that she was having second thoughts about being in the jungle, the reality star had a bad night's sleep on the first night. Comedian Andrew Maxwell consoled the former Olympian and reality TV star.
She said, she was trying to figure out if she had done the right thing going to the jungle: "I'm 70 years old now and is being in here the right way to use my time? Should I be home with my kids, playing with the grandchildren? I've never quit at anything I've ever done and I'm thinking maybe it's time I learned how to do that."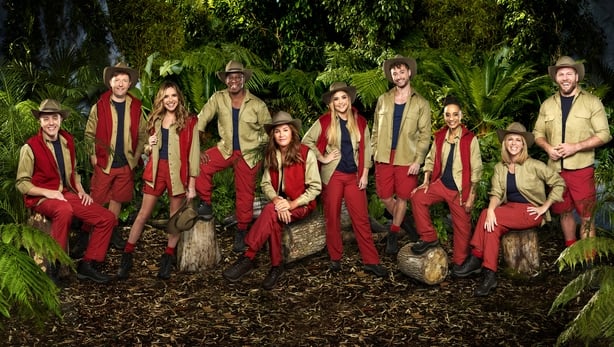 Elsewhere, Girls Aloud star Nadine Coyle mucks-in pumping gas and answering the jungle phone relieving Good Morning Britain's Kate Garraway from having bugs crawling all over her as she completes a task.
Irish comedian Andrew Maxwell helped to secure some crisps for the camp by guessing whether in a public vote people preferred the perfect face or the perfect body.
Roman Kemp son of Spandau Ballet bassist Martin Kemp and Shirlie of Pepsi and Shirlie fame spoke about how his father ended up in the band after his grandmother put pressure on the other bandmates and how his godfather gave him great presents.
Clearly his dad did not mind that his son said that they turned off the microphone for when he sang in Live Aid as he tweeted during the programme:
So proud of my boy @romankemp .. @Shirliekemp tearing up here!!!#ImACeleb

— Martin Kemp (@realmartinkemp) November 18, 2019
The pair had been on the The Ray D'Arcy show over the weekend and discussed Martin's brain tumours.
"What you notice is when you get to the other side of it, is that it's affected the people around you far more...than it actually affects you"@realmartinkemp speaks about suffering from brain tumours on the #RayDarcyShow. pic.twitter.com/5L6LX4jeqA

— RTÉ One (@RTEOne) November 16, 2019
There is a great Irish interest in this year's I'm A Celebrity... Get Me Out Of Here! due to Girls Aloud star Nadine Coyle and Irish comedian Andrew Maxwell.
Before going into the jungle, 34-year-old Derry native Coyle said: "I really want to try something completely new. I am scared of so many things. I used to be brave.
"In the past, I've opened a restaurant, had a record label, had my daughter and it was go, go, go with all of these.
"Now I have got so fearful even being in the car, flying or general things. I think it is since I became a parent that I am much more afraid.
"I really hope that by doing this, it pushes me so far out the comfort zone and that I learn to be comfortable, feel relaxed and do the things that I didn't used to be afraid of."
She added that she's afraid of "heights, rats, snakes - everything" and said that living in the jungle camp will be a learning curve.
Coyle explained: "I've never boiled water on a fire, chopped firewood, slept outside - I do hope I learn stuff about me and it's the next phase."
Meanwhile, comedian Maxwell revealed before going into the jungle; that he was not looking forward to contending with "creepy crawlies" in the jungle
The 10-strong line-up for this year's I'm A Celebrity also includes former footballer Ian Wright, soap star Jacqueline Jossa, Good Morning Britain presenter Kate Garraway and X Factor winner Myles Stephenson, member of boy band Rak-Su.
Former rugby player James Haskell, Capital Radio DJ Roman Kemp and former Big Brother contestant and Radio 1 DJ Adele Roberts complete the line-up.
I'm A Celebrity will be back on your screen tomorrow night at 9pm on Virgin Media One.
For more TV news click here.