The Young Offenders stars Alex Murphy and Chris Walley have heaped praise on their co-star Shane Casey, who plays the brilliantly unpredictable Billy Murphy in the comedy series, while revealing the surprising tactic he uses on set before takes.
Billy Murphy had a huge part to play in the finale of the last season, and it looks like he's shaping up for more iconic moments in the second run.
Speaking to RTÉ Entertainment, Alex, who plays Conor, said of his co-star: "Shane can be doing nothing in a scene and make it memorable."
Chris, who plays Jock, interjected: "You never know what he's going to do when you're on set with him which is great acting across him, he just gives you so much to work with."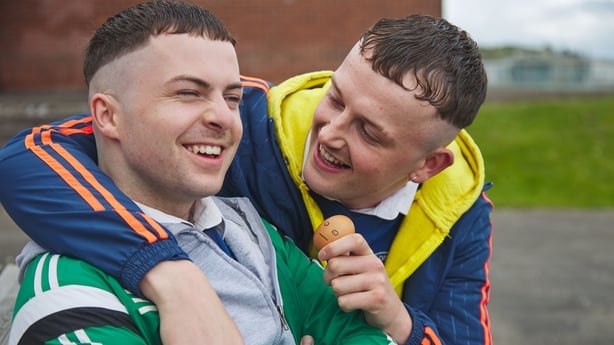 "Billy's quite scary and Shane's a bit scary," Alex said.
Chris continued: "He (Alex) gave him this idea, he said the relationship between the lads and Billy is like an elastic band in your face. Alex said that that's how it feels."
"Yeah every time that he comes close to you it's like someone doing this [holding an elastic band at your face]", Alex said.
"So then every time he was on set he'd have an elastic band, so before each take he'd hold it [in front of you]", Chris added.
The second episode of The Young Offenders airs tonight at 10.15pm on RTÉ 2.
Watch the first episode of the new season on the RTÉ Player here