Thursday night's equal parts hilarious and heart-warming season finale of The Young Offenders blew away viewers, with an average of 366,000 tuning in to watch the episode.
It is currently the top-watched programme on the RTÉ Player if you missed out on the episode and wish to catch up.
The six-part series starring Alex Murphy and Chris Walley as troublesome but loveable rogues Conor and Jock has had an average (consolidated) audience of 401,000 since its debut on February, and has been the subject of huge affection on social media.
The comedy series, which packs a punch in the emotional stakes too, has a cumulative reach of 1.8 million across RTÉ2, RTÉ One, RTÉ One +1 for all transmissions of the episodes, and it is the most-streamed programmes on RTÉ Player this year to date, with 868,000 streams.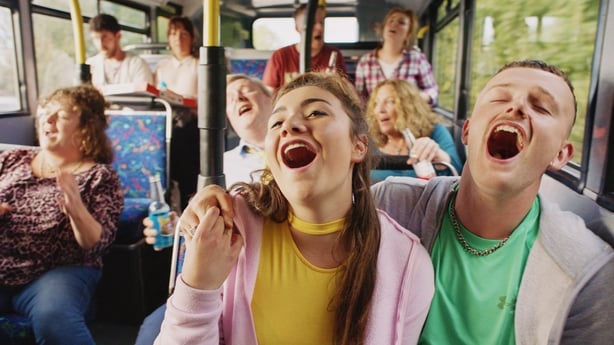 RTÉ Executive Producer for Comedy Justin Healy said: "We are thrilled with the success of The Young Offenders, it is vital that we support emerging writing and performing talent.
"Our continuing relationship with BBC3 and BBC Comedy has allowed us to support this truly Irish comedy and bring it to an international audience who have clearly lapped it up. The Irish talent across the production is very exciting."
Luckily for fans of the show, a second series has already been commissioned.
Creator of The Young Offenders Peter Foott said: "'We are consistently blown away by viewing figures in the UK and Ireland for each episode. We had hoped it would strike a chord with audiences, but the reactions are far beyond what we had hoped for.
"We're so grateful to BBC3 for commissioning the series originally and can't wait to get started on series 2. Thanks to everyone for watching!"
The six-part series was written and directed by Foott and produced by Vico Films for BBC3 and BBC Comedy, in association with RTÉ.
Take a look at some of the reaction to The Young Offenders finale below.
Lads, do yourselves a favour and watch the fabulous #YoungOffenders series finale tonight. It's like Speed meets Spartacus. In Cork. With the Frank and Walters.

— Declan McKenna (@fastpictureshow) March 16, 2018
Just watched the last episode of #YoungOffenders Absolutely brilliant... Bring on series 2!!

— Ashlie Henderson (@AshlieHenders15) March 16, 2018
'After All' by @frankandws is just a genius pop song by any standards. And a perfect compliment to the tender genius of #YoungOffenders.

— Colm O'Callaghan (@aslinndubh) March 15, 2018
Absolutely superb. Congratulations to Peter Foott, Alex Murphy, Chris Walley, Hilary Rose, and everyone involved in #YoungOffenders. Writing, directing, music and acting a triumph from start to finish. #AllTheAwards#TheYoungOffenders

— Philip Nolan (@philipnolan1) March 15, 2018
I think #youngOffenders is the best Irish comedy since Father Ted. It is exceptionally funny with a twist of Frank and Walters.

— Siobhán Maguire (@ShivMagST) March 15, 2018
And that, TV people, is how to make a series full of laughs and joy and heart. Hats off to all @YoungOffenders_ for making that magic look so easy. #YoungOffenders #TheYoungOffenders

— Esther McCarthy (@Esthermccarthy) March 15, 2018
Season 2. Now. Please.
Phenomenal stuff from start to finish. #YoungOffenders

— Lauren Guilfoyle (@LaurenGuilfoyle) March 15, 2018
Lovely ending.  @YoungOffenders_ has been the best thing on telly in ages. Well done all involved. #YoungOffenders

— Vinnie Quinn (@vinniequinn) March 15, 2018
Hilarious scene followed by all the feels. Quality series, just like that last episode it's been a fun ride, sorry to see it end.  Come back soon   #youngOffenders #quality

— cjudge109 (@cjudge109) March 15, 2018
#YoungOffenders is brilliant. I can't imagine how the cast and crew are able to keep a straight face producing it. Pure class.

— Evan O'Gorman (@evan_ogorman) March 15, 2018