Graham Norton has paid tribute to how Gay Byrne changed Ireland, telling Ryan Tubridy on RTÉ Radio 1 that the late broadcaster "allowed people to exist; people who hadn't existed before".
Ahead of Tuesday night's Late Late Show tribute to Gay Byrne, Norton joined Tubridy to discuss the impact Gay Byrne had on generations, and reminisce about his own first appearance on The Late Late Show. 
"I sort of wish I was in Ireland because obviously people here [in the UK] knew of Gay Byrne but they don't get it in the same way," Norton said of Gay Byrne's passing. "I'd like to be around people who understood."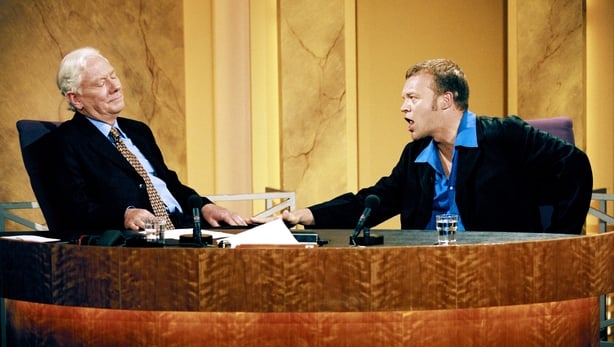 He said Byrne's time as Late Late Show host had been a big part of his life growing up in Cork. 
"You'd have to be some sort of weird quack or growing up in a cult with no television for him not to be a part of your life!" he laughed.
"And isn't it extraordinary that even then, when we'd nothing to compare him to, we seemed to understand how good he was? His qualities shone through, even though as an audience we were clueless! Because he was the only thing there was, and yet somehow we all knew he was very good."
"It's only now when I'm home and I look at things on RTÉ Archives and stuff and you see those clips of him back then," Norton continued. "Like, the audience look like they're from a different planet - these women with hats and gloves, and farmers with shirts too big for them and stuff in the audience - and he is so modern. He could be doing it now; his presenting style was so kind of ahead of its time."
Norton described his first appearance on The Late Late Show in April 1999 - alongside Terry Wogan and just before Gay Byrne's retirement as host - as "a very important time".
"There aren't many moments in your life where you feel, 'This is it. This is I've made it', but to be on the Late Late... And also my dad, it meant so much to my dad because he wasn't very well at the time, but he made it up to Dublin to be in the audience. And it was very special."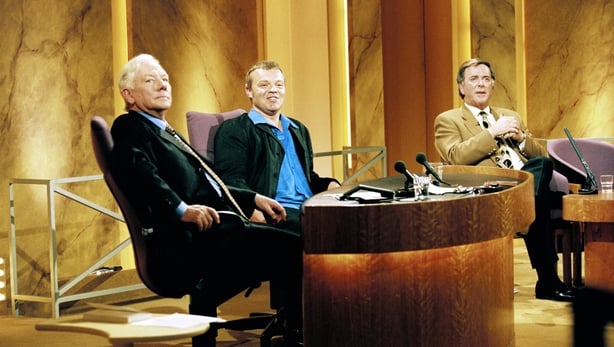 "Afterwards we went into the Green Room and Gay was still being the host after hosting that endless show!" Norton recounted.
"He was still in the Green Room, he was making sure everyone had a drink... It felt like the place to be. I remember thinking to myself, 'Oh, I must stay like this. I mustn't get jaded. I mustn't get tired. I must stay interested in the way that this man is'.
"Now, of course, I don't go near the Green Room - I'm out of there! I so didn't learn my lesson! I noticed and I thought, 'I must stay like that' - and I haven't!"
Norton concluded by saying he didn't know "if Gay ever understood how important the show was". 
"I imagine he did because he let the light in on so many subjects," he said. 
"He allowed people to exist - people who hadn't existed before. He put them on the TV. And you went, 'Oh, right. They're alive. They're in the world. They have an opinion. They have thoughts'. And as a young person growing up it was incredibly influential."
The Late Late Show Tribute to Gay Byrne, Tuesday, RTÉ One, 9:35pm and on the RTÉ Player