American comedian and actress Jillian Bell has opened up about her "life-changing" leading role in the upcoming film Brittany Runs a Marathon, saying it challenged her to examine her own "emotional baggage, emotional weight" once she wrapped the film.
The comic, known for roles in the movies 22 Jump Street and Office Christmas Party and TV series' Workaholics and Eastbound & Down, stars as the titular Brittany in the dramedy about a 20-something-year-old New Yorker who is stuck in a pattern of self-destruction.
After being told by a doctor she needs to lose a significant amount of weight, Brittany embarks on a, not always easy or linear, journey of self improvement, that includes an almost unthinkable goal: running in the New York City Marathon.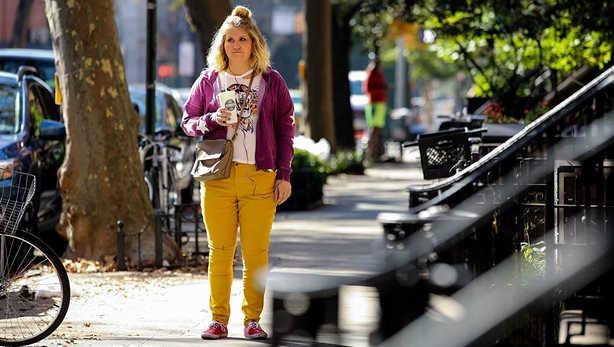 The film, which marks the directorial debut of award-winning playwright Paul Downs Colaizzo, who loosely based the character of Brittany on one of his good friends, has been garnering an increasing buzz since winning the Sundance Film Festival Audience Award earlier this year.
Speaking to RTÉ Entertainment, 35-year-old Bell said this was a very personal journey for her.
"It really was a life-changing role for a lot of reasons", she said. "It was my first true lead, being the title character, and this was my first movie with dramatic elements and also a lot of the story resonates with me and my own life.
"It was a movie I would want to see when I was 14 years old. I was excited to be a part of something that I felt wasn't really out there before."
The film takes a nuanced and emotionally astute look at the realities of weight loss and how complicated body image issues are. Bell, who also executive produced the project, said a huge amount of preparation went into the film ahead of production in order to make sure they perfected the tone.
Speaking about how she and writer/director Colaizzo collaborated before the cameras started rolling, she explained: "We had a lot of conversations before we even got close to shooting, the script I had seven months before we started shooting, so we were talking weekly on the phone and Facetiming and just making sure we both were on the same page about what we were saying in the film, what the characters were saying.
"That was very important to me. When you see the film, if you get anything slightly wrong, or off, it can ruin the whole movie. Because this is a very sensitive subject, especially for women, but we found for men too, and so we just wanted to make sure that when we got on set, we knew the intention of every moment. And with that I was able to feel really in control of my performance and very in her skin."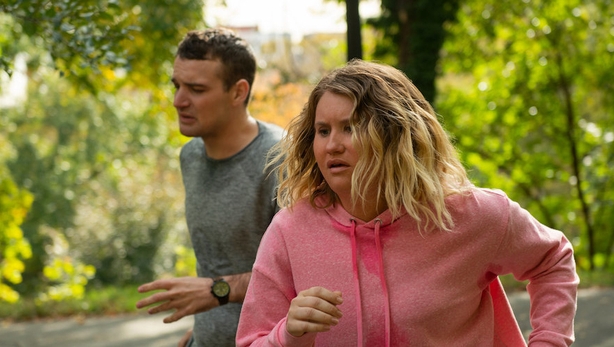 In addition to the countless phonecalls and detailed conversations around the characters, Bell also took up running for the first time, which she said really helps "my head, my brain". She ended up losing 18kg of weight. Importantly, Brittany Runs a Marathon challenges the toxic idea that your life will be perfect once you've reached your desired number on the scales.
"That's probably why I signed on to do the film," Bell agreed. "I am so tired of seeing movies where people lose weight and then their life is just perfect. I thought that can be somewhat irresponsible and as someone now who has experienced what it's like to lose 40 pounds and feel a big difference in your body, I realise I had so much emotional baggage, emotional weight there that I kind of wanted to figure out on my own once I wrapped the film.
"I do think there's a responsibility with that. I didn't want to sign on to the film and not have done the work, and not have been in both places where I can say 'I know what it's like at this weight and I know what it's like at that weight and neither of them are better or worse'.
"We all are just human beings who have a right to exist and be happy in our own bodies, in our own skin."
The actress and comedy star said that since making the film, she has come to realise how damaging self deprecating jokes can be and tries to practice being a bit kinder to herself.
"It's like some people practice daily meditation or something, I have to constantly be working on my relationship with myself", she said. "After doing this film I was pushed more to really focus in on that and how I was treating myself and how I can be better."
Having described the process of filming as "therapeutic", Bell said it has brought her to a better place. "It's opened a lot of conversations up, not just with myself, but with friends, family members, strangers on the street", she said.
"It's so touching how much people can relate to this. To have other women to come up to me and say 'I feel seen for the first time in a movie', there's no better thing to be told as an actor that your film has really connected to other human beings."
Brittany Runs a Marathon is released in Ireland on November 1.