Coldplay have used classified adverts in newspapers around the world to reveal the tracklisting for their new double album Everyday Life, with the back page of Thursday's Irish Times carrying the details.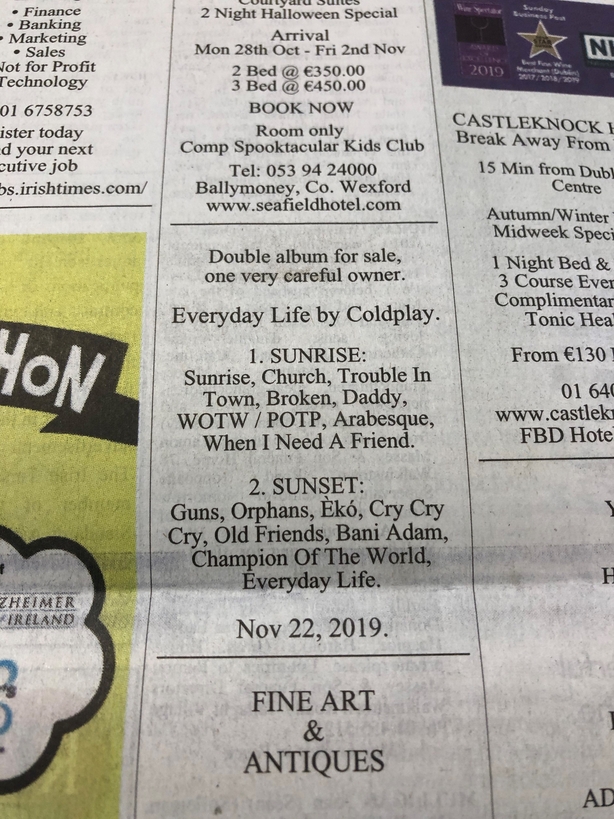 The band announced the album by sending fan Lena Tayara a typewritten letter, which she shared on social media - initially thinking it was a hoax.
Fake alert ! Got this in the post this morning with autographs in gold in the corners . Can't see why anybody would send it . Anybody got anything similar ? pic.twitter.com/Op6VsG51Dh

— Lena@Will's Drumstick 💎🐘🍓🧢 (@lena_tayara) October 21, 2019
The quartet then followed up with the song titles in newspapers.
Coldplay placed the ads in the Irish Times, North Wales Daily Post, Devon's Express and papers in France, Australia and New Zealand.
Coldplay frontman Chris Martin grew up in the Devon city of Exeter and guitarist Jonny Buckland grew up in North Wales. Buckland tweeted that he once had a job with the Daily Post, placing photos of houses for sale, but "wasn't very good at it".
I once had a holiday job at the Daily Post, placing photos of houses for sale. I wasn't very good at it. JB https://t.co/tYquPUn8S4

— Coldplay (@coldplay) October 23, 2019
Everyday Life, which will be released on Friday, November 22, is divided into Sunrise and Sunset.
The full tracklisting is: (for Sunrise) Sunrise - Church - Trouble in Town - BrokEn - Daddy - WOTW / POTP - Arabesque - When I Need a Friend
(Sunset) Guns - Orphans - Èkó - Cry Cry Cry - Old Friends - بني آدم - Champion of the World - Everyday Life