Cork-born comedian Maeve Higgins has suggested that Will Forte, her American co-star in the upcoming Irish supernatural comedy Extra Ordinary, should audition for Fair City so that he can spend more time in the country.
Forte, a Saturday Night Live alum and creator and star of the sitcom The Last Man on Earth, is no stranger to Ireland having filmed the 2013 Irish comedy-drama Run and Jump here.
It was an experience that led him to jump at the chance to work here again on writing-directing duo Mike Ahern and Enda Loughman's debut feature film Extra Ordinary, which has been met with widespread acclaim since premiering at South by Southwest in Texas in March. He was so keen to board the project that he accepted the role in lieu of a much-needed holiday he had planned to take in Ireland.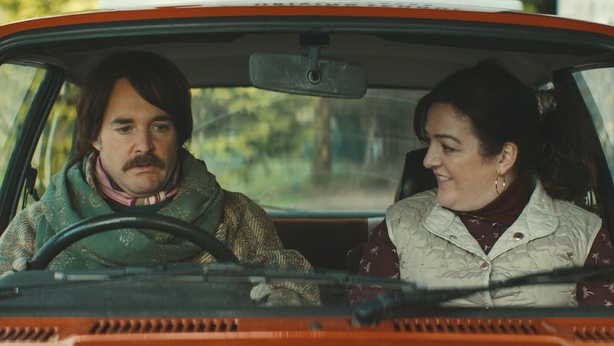 Speaking to RTÉ Entertainment in Dublin, Forte said: "I really needed to have a vacation. I had been working on this show The Last Man On Earth and the schedule's just nuts and I was like 'I just want to rest' and I read the [Extra Ordinary] script and I thought 'I just have to do this thing or I will never forgive myself'. It was such a funny script."
He added of returning to Ireland: "I love this country so much, it's the only place I really want to go when I have free time, so any excuse to get to come back here is great."
Higgins interjected with a laugh: "He's going to be in Fair City. Well I don't know, hopefully. He's trying out for it."
New York-based stand-up and writer Higgins makes her film debut in the leading role of Rose Dooley, an eminently likeable driving instructor suppressing her supernatural abilities due to an exorcism going horribly wrong in her childhood. She is forced to tap into her "talents" when a local man implores her to save his daughter from a fading rock star's (Will Forte) Satanic intentions.
Ahern and Loughman wrote the role with Higgins in mind, which she said was apparent when she read the script. "I've known them for a really long time and I think we all have the similar senses of humour so it was really fun, because I don't really act that much so it was better for me if it was just me doing whatever I normally do!", she said.
The comedian was also brought on board to work on the script, which she said felt "very natural".
"I would add bits into the script, or whatever way I would say it, which I think is kind of common for actors to do that", she explained, continuing jokingly. "Especially if you're a comedian too, and a model and whatever else, a multi-hyphenate we call ourselves."
Forte was effusive in his praise of Higgins, saying he "cannot believe that this was the first time she's done this because she's so good".
They both were aware this was a special project after reading the script.
"I read the script and loved it", Forte said. "But I didn't know anybody involved and then I realised, Maeve, I had met before. A lot of times you'll read something and you'll think 'oh this seems great, hopefully it'll come out the way it seems like it'll come out', but then a lot of times you get let down by a lot of people."
"Like, so much stuff can go bad.", Higgins interjected.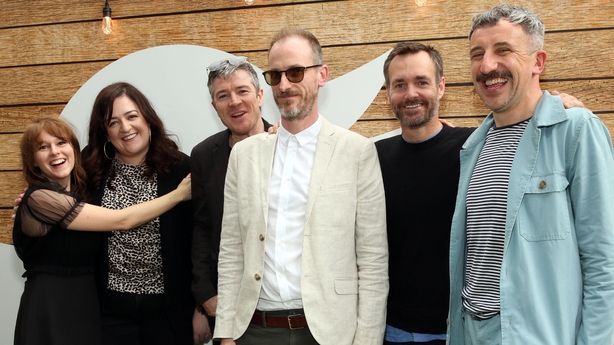 Forte continued: "Yeah it's very rare that things turn out the way you wished it would, or even better, and this was one of those experiences where immediately when you got over and met the people doing it you're like 'oh they have everything under control, they're so funny and good'.
"So once I met everybody, I thought 'yes this is going to be great'. And then when you find out that the guys who wrote the script are the people that are directing it, it just made all the sense in the world, because then you knew exactly what they were doing.
"The script is written so well and there are so many very specific and subtle moments that you knew that if those were the people that wrote it, they were going to capture those moments perfectly.
"God I'm so happy I got to be in this."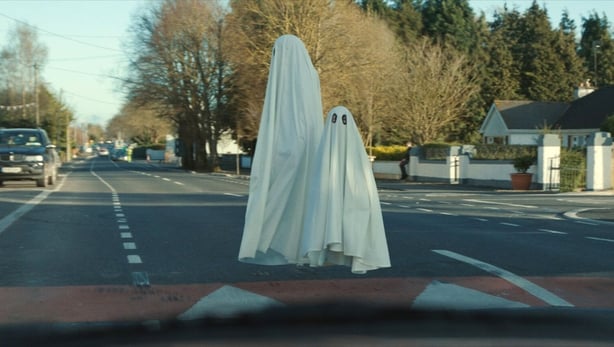 The film is unapologetically silly and playful, filled with mundane supernatural happenings such as haunted gravel and waving tree branches.
What would their haunting style be if they were ghosts?

"I'd just be looking at fellas, I'd just be looking in the window going 'what's he doing?'", Maeve said.
"I think I'd be very apologetic", Forte offered. "Like 'I'm so sorry, I'm a ghost, just keep going about what you're doing, I'm trying to be scary.'"
Extra Ordinary is out in cinemas in Ireland on Friday, September 13.