Navan native Pierce Brosnan has said it is time for a woman to play the 007 role in the James Bond franchise.

The former Bond was speaking ahead of Daniel Craig's expected swansong as the British spy in the 25th 007 adventure, No Time To Die.
Speaking to the Hollywood Reporter, Brosnan said:"I think we've watched the guys do it for the last 40 years, get out of the way, guys, and put a woman up there!"
Daniel Craig returns as James Bond, 007 in… NO TIME TO DIE. Out in the UK on 3 April 2020 and 8 April 2020 in the US. #Bond25 #NoTimeToDie pic.twitter.com/qxYEnMhk2s

— James Bond (@007) August 20, 2019
Brosnan, 66, who played Bond in four films - GoldenEye, Tomorrow Never Dies, The World Is Not Enough and Die Another Day - said: "I think it would be exhilarating, it would be exciting."
The Bond franchise has decided to make the female characters more believable for the new 007 film, putting Fleabag creator and star Phoebe Waller-Bridge on the payroll to make the characters "feel like real people".
In August, Waller-Bridge told the Hollywood Reporter what it was that interested her in the project.
"There's something about James Bond that always intrigued me in a similar way that Villanelle did," she said, referencing Jodie Comer's Killing Eve assassin.
"They live a fantasy! But it's a life none of us would ever want, if we're honest. We don't want to go put a bullet in someone's head to sleep with people and have martinis. It's a kind of fantasy nightmare."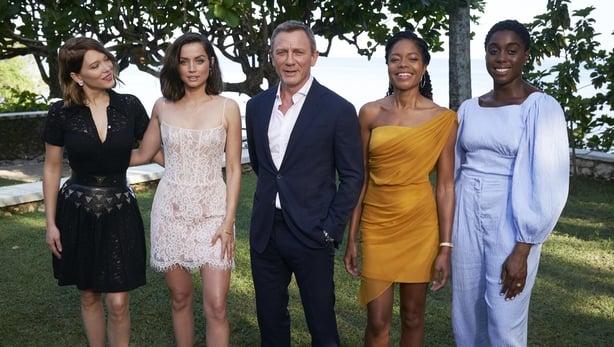 When asked about reports of Bond 25 actress Lashana Lynch picking up the 007 mantle, she said: "The whole thing has potential to birth new iconic characters all the time."
Waller-Bridge added of the project: "A lot has been made of me coming on board because I'm a woman, and that's wonderful.
"But also I can't take credit for the movie that was written. It's Cary's [Bond writer-director Cary Joji Fukunaga] movie."