John Byrne talks to Ruth Bradley about her latest film role, in The Informer, as well as playing Dublin's Abbey Theatre, and living half of her life in London.
It seems like Ruth Bradley's been around forever, but she's still only in her early 30s.
From The Clinic to Love/Hate and Primeval, award-winning turns in Stardust and In Her Skin, and more recently in Channel 4 series Humans and RTÉ One's Rebellion, she's been a familiar face on the small and big screen for more than half her life.
You could say she's not doing too Bradley.
When I catch up with her she's in Dublin's Abbey Theatre, where she's starring in This Beautiful Village, a new play by Lisa Tierney-Keogh. It's set on a quiet suburban street in Dublin, where a piece of graffiti tears apart a group of neighbours, exposing a deep divide between them.
If you can't make it to the Abbey, Ruth can also be seen at cinemas in Andrea Di Stefano's The Informer, a Hollywood thriller with a killer cast that includes Joel Kinnaman, Rosamund Pike, Common, Clive Owen and Ana de Armas.
The film is based on the best-selling Swedish novel by Anders Roslund and Börge Hellström and tells the story of Pete Koslow (Kinnaman), a convicted killer in New York working undercover for the FBI who intentionally gets himself incarcerated again in order to infiltrate the Polish mob at a maximum-security prison.
Bradley plays a cop who works alongside Common's nosey NYPD guy who becomes central to the story.
John Byrne: So, what attracted you to The Informer?
Ruth Bradley: I read the script and thought it was a real page-turner. I really wanted to know what happened next. It reminds me of a real old school thriller - like a Seventies' thriller - when I was reading it.
And it was such a different character for me. And so interesting, for me, that I was like, Oh, I'd love to get my teeth in something like that. So yeah, it was brilliant.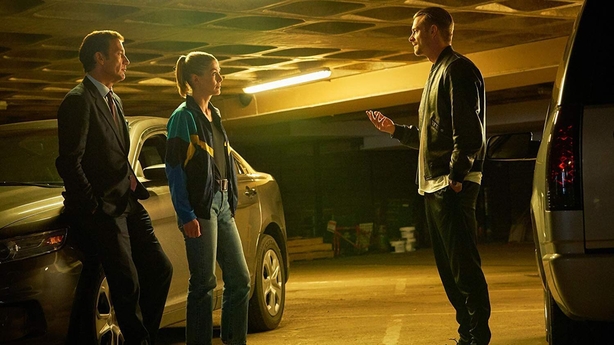 Would you be tempted to head over to Hollywood. Is that something that you might consider for yourself at this stage in your career?
Um, I don't really know. I mean, you know, I kind of just go where the really good work is. Like, this [The Informer] is an American film. But if something comes along, and it's really good work, then absolutely. I'd be I'd be delighted to do it - but that'd be more about what I want. First and foremost, I'm looking for really good scripts.
You've been in London quite a while - you've basically spent half your life there.
Exactly. I've been there since I was a teenager. If I had to move somewhere else I would - but it would have to be for the right thing. I'm quite happy where I am, and really happy with the work I'm doing.
Do you feel that you've settled in London at this stage?
I think so. I mean, Dublin's so different to when I left. It's changed so much. I still get back to Dublin, though probably not as much when I first left. I come home every few months – it's so easy to get home to Dublin. I'd say, maybe three time a year, four times a year.
I haven't worked here [in Dublin] in such a long time, it's nice to be here actually full-time. It's lovely.
And can you tell us about This Beautiful Village, the play you're performing in at The Abbey Theatre?
It's very exciting. It's a new play so I'm just actually dying to get out in front of an audience and see what they think of it.
 It's a six people with their own perspective on what's going on with this graffiti.  It just reminds me of loads of chats that I've had with people in general. Different views come out over the course of this meeting, and it just really gets exciting. And it's very topical.
My character's called Liz and she's kind of very clear about what she thinks is right and wrong and she very much wants to bring everybody up to speed with what her version of the right way.
We need your consent to load this YouTube contentWe use YouTube to manage extra content that can set cookies on your device and collect data about your activity. Please review their details and accept them to load the content.Manage Preferences
And we're also going to get to see you in an upcoming new BBC mini-series, called Guilt. How's that one looking?
That's brilliant, actually. I have seen that one. Obviously, I read the scripts and thought they were brilliant, but I really enjoyed the show. It's a black comedy but it's very original and it's beautifully shot and really quirky. It was unlike anything I've seen before, really, I thought.
My character is called Angie, she's an American and her uncle's just died. She's another really interesting character who changes over the course of the mini-series. You know, that's always a good sign when you read something and you're still interested in this person by the end.
The Informer is on nationwide release.