Beverly Hills, 90210 star Jennie Garth has said that a 10-month separation saved her marriage to husband and fellow actor Dave Abrams.
The couple have been reconciled for six months, and 47-year-old Garth has spoken about their split and getting back together in an interview with People magazine in the US.
"We definitely had to part ways completely," she explained. "We needed that time to grow."
The couple married in 2014 after dating for a few months with 38-year-old Abrams then filing for divorce in 2018.
Garth said marrying so quickly "hurt us".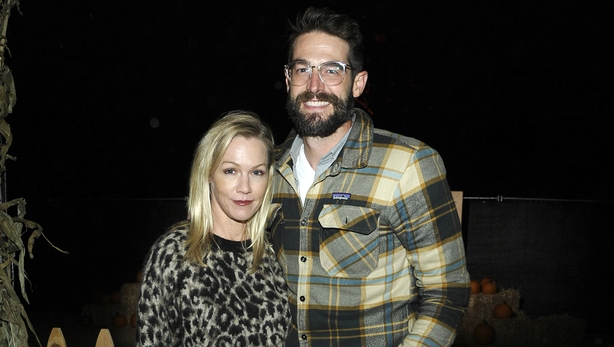 "We rushed it too much, and we had individual things we needed to work out," she continued. "Maybe it was a mistake and we've all had to learn and grow from that.
"When everything wasn't shiny and pretty and fun like it had been initially, when things got challenging, [Dave] didn't know how to handle it as much."
Garth told People she found out that Abrams had filed for divorce via celebrity website TMZ - but she then used the bombshell as inspiration for a storyline on BH90210, the new Beverly Hills, 90210 spin-off show she has co-created with longtime co-star Tori Spelling which sees them playing "heightened versions of themselves".
We need your consent to load this Instagram contentWe use Instagram to manage extra content that can set cookies on your device and collect data about your activity. Please review their details and accept them to load the content.Manage Preferences
The actress said her reasoning for bringing her private life into the show was "why not use the things that hurt us most and then take the power out of them and make them funny".
Garth, who was previously married to musician Daniel Clark and actor Peter Facinelli, said the prospect of a third divorce had "devastated" her.
"I was in a really bad mindset for a good five or six months," she recounted. "It was just embarrassing. And it made the accepting of it so much harder.
"But when I finally did accept, like, we're breaking up, I had to tell myself, 'Dave is not an option'. Because I kept wanting it. And then, just when I felt whole again, we started hanging out."
Analysing their reconciliation, Garth said she and Abrams "both had separate learning to do".
"And then coming back and sharing that growth was kind of the fibre that connected us back together like, 'I see you differently now'."
Garth described trying to stay together as "a process and it's continuously wanting to better the relationship".
"Dave keeps me young and fun," she added. "He makes me laugh. And that is the most important thing."