Former Love Island couple Anna Vakili and Jordan Hames have said they have no regrets about leaving the villa, despite their time on the ITV reality show ending on a sour note after he revealed his interest in fellow Islander India Reynolds. 
Anna and Jordan were voted off the show on Wednesday night along with Chris Taylor and Harley Brash.
Anna, Jordan, Chris and Harley have been dumped from the villa. 😭 #LoveIsland pic.twitter.com/G3D00saggo

— Love Island (@LoveIsland) July 24, 2019
After packing their bags, Anna and Jordan were both asked about the end of their screen relationship and time on the show.
Both said they would not return to the villa if given the opportunity. 
Anna said she had experienced "lots of ups-and-downs". 
"Obviously, the Jordan thing was one of my lowest moments," she continued. 
"I've had fun and made friends with people I never would meet on the outside. It's been a place where I've met great friends. I'm grateful and happy. A mixture of emotions!" 
When asked if she would do anything differently, she replied: "Absolutely not. I have no regrets with who I coupled up with. With Ovie, I just didn't fancy him in that way. I can appreciate that he is a good-looking guy but when I got to know him a bit better and I spent more time with him, I just wasn't attracted to him. Our personalities just didn't match."
On the subject of her feelings about Jordan, she said: "I'm so disappointed in him and I'm hurt by him. I'm shocked. I don't have anger towards him, if anything I feel sorry for him."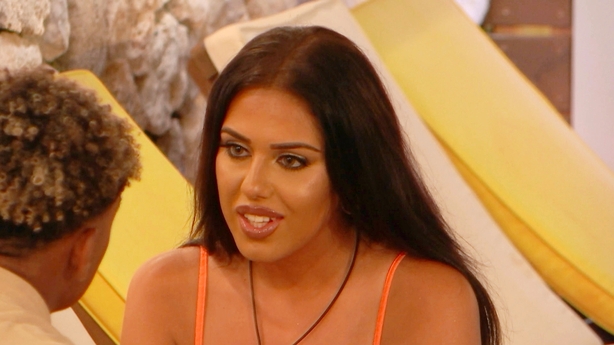 Looking back on mistakes made, Anna said: "I feel like I am very opinionated person and I want to tell people to their face what I think of them. But sometimes I feel like I shouldn't be like that and I should keep it in!"
Jordan said the Love Island villa had been "an intense environment" and "like you're in a gold-fish bowl".
"Me and Anna got on really well, she's a beautiful girl," he continued.
"She's got a lot of things I love in a girl but when someone else came in, it made me sit back and think that I could have something missing with Anna. To sum up the experience, it was unreal and I was lucky to have the opportunity. I feel thankful!"
Jordan said he had been "attracted to Anna from the start". 
"Throughout the whole process and when I made her my girlfriend, it was because all the signs were there for me to make her my girlfriend," he said.
"I've still got feelings for her, she's a great girl and she is beautiful. I just had this feeling which made me sit back and think something was missing, I just felt like I had to voice it. Everything I have done has been based on the way I was feeling. In that environment, your emotions can change quite quickly."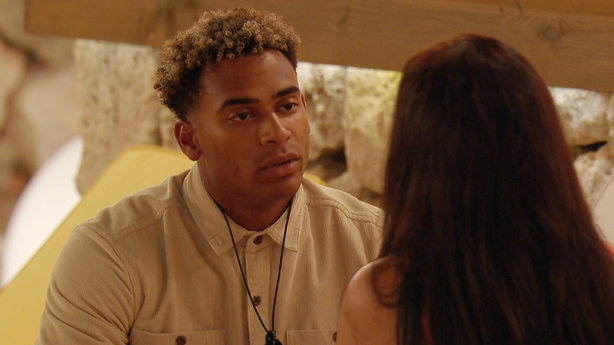 When asked for his feelings about Anna, he reiterated: "I think Anna is a great girl. She's beautiful. She's got a lot of the things I do look for in a girl. I do think that because I was bouncing off India in the last couple of days, it made me realise there could be something that me and Anna were lacking.
"When the whole thing blew up last night, it did raise a few red flags with me with the way things escalated. I like to sit down calmly and find out what the problem is. I do admit that I didn't go about things in the right way, but I feel like I don't want to get in heated arguments because that's not me."  
On the subject of mistakes made, Jordan said: "I don't feel like I made any mistakes. Before I went into the villa, Anna was one of the girls I had my eye on and we hit it off straight away. We had our little blip with Casa Amor. When the new girls came in, I felt like I didn't have anything as good with those girls as what me and Anna did, so I stayed true to myself. 
"When India came in, it did surprise me a bit so I voiced my opinion. I didn't go about it in the right way but everything I've done has been because of what I've been feeling. No regrets whatsoever."  
The show continues on Virgin Media Two and ITV2 on Thursday at 9:00pm.