Poldark star Aidan Turner has revealed that he has asked for the table and chairs from his character's home as the much-loved BBC One series comes to an end.
The fifth and final series of Poldark begins on BBC One on Sunday, July 14 at 9:00pm, with Turner telling the BBC he had no intention of leaving the set empty-handed.
"I sent a text to Karen Thrussell, our executive producer, asking if I could possibly have the kitchen table and benches from Nampara as it is this beautiful, vintage French table and they said yes, so I am very excited to put them in my house," said Turner.
"That will be a cool memento because it was at the middle of all of the big scenes we had in Nampara and where a lot of things went down. Obviously I am also taking the tricorn hat..."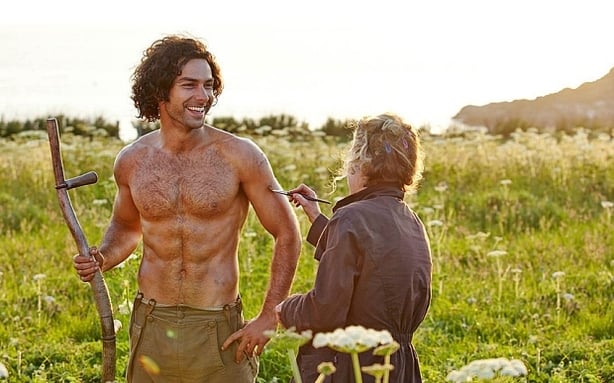 Reflecting on the experience of making Poldark over the last five years, the Dublin actor said: "When we started Poldark we aimed to complete the majority of the books that we could, which would likely take us up to series five. So during filming for this series there was a sense of completion and relief that we made it this far, that the show has been successful and that people enjoy watching it.
"Hitting that mark and returning for the fifth series was always the goal and we are proud to have achieved that. Walking on to set this year was different; when we would visit a specific location knowing that it would be the final time it was crazy, the whole series was emotional in that sense."
Turner teased that there is "a lot going on" in the final season.
"If your country betrays you, to whom do you then owe loyalty?" The final series of Poldark is coming soon to the UK on @BBCOne. pic.twitter.com/kJkmfgU3xb

— Official Poldark (@PoldarkTV) June 30, 2019
"There is an influx of exciting new characters, there's a lot of tension," he continued. "There is a great pace to the show this year that feels different and overall it feels slightly more grown up. That is something I believe people have loved about Poldark, that it does change every series and there are always new and interesting characters that alter the feel of the show. Ross is a dynamic character; he is not the same person year after year."
The 36-year-old said it had been "incredible" taking the character "on this journey".
"I was watching some clips of scenes from series one and one of them was when Eleanor [Tomlinson, co-star, who plays Demelza] was singing in the parlour and we all look so young," he recounted. "It is when I reflect on moments like those that all the emotions come in, and it makes me think about how much Ross has grown, and how much I have grown and learned and what these characters have been through.
It's officially the beginning of the end. Last week we recorded the last piece of music for episode 8 ?? However, UK fans can enjoy the first ep of #Poldark series 5 on @BBCOne 9pm 14th July! ?? pic.twitter.com/jnOfm0fDqD

— Official Poldark (@PoldarkTV) July 3, 2019
"It is especially funny to see how Ross may have reacted to certain scenes in the first series in comparison to how he would react in a similar scene in series five. That is not something you think about at the time but through the evolution of character it is interesting to see.
"For someone who is naturally impulsive and flippant and very much wore his heart on his sleeve it is nice to see Ross grow up and learn responsibilities in the right way and to the right people."