Former Downton Abbey and Mamma Mia: Here we go Again star Lily James has said that new Beatles comedy fantasy Yesterday is all about love - just like the Fab Four themselves.
Watch our interview with Lily James and Himesh Patel:
The movie, which is out this Friday, was written by the seemingly odd couple of Love Actually and Notting Hill writer Richard Curtis and Trainspotting and Slumdog Millionaire director Danny Boyle
It sees Jack Malik, a failing singer-songwriter played by former EastEnders actor Himesh Patel, wake up after a freak accident to find he is only person in the world who remembers The Beatles and who is then rocketed to global fame when he passes the band's songs off as his own.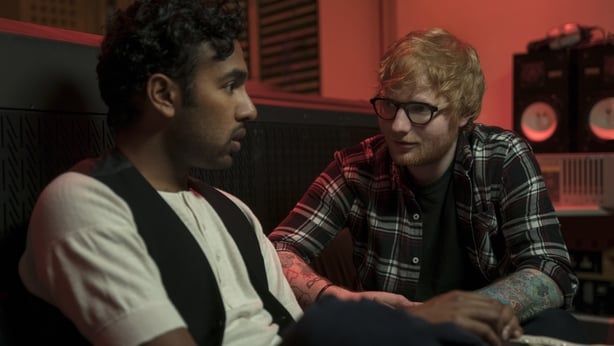 Lily James plays Jack's best friend and possible girlfriend, Ellie, in Yesterday and speaking to RTÉ Entertainment, she said "There's a lot of things crammed into the heart of this movie especially music but the love story is the momentum for why Jack ends up doing the things he does.
"That's the power of Beatles, isn't it?" she added."You just mention one song and I start literally hearing it in my head and wanting to sing it. It is so powerful and so beautiful. For me there was just a part of my life growing up, the fabric of the music I listened to."
Patel does most of the singing in Yesterday but James, who more than proved she can knock out a tune in Mamma Mia: Here we go Again, does at least get to sing a few lines herself.
"I was furious I didn't get to do more" she jokes. "I'd just done a film where I sing a lot so it was a bit of a relief if I'm honest. What attracted me to the story was that along with celebrating the music of The Beatles, it was the characters and the story."
Are James and Patel, who both began their careers on two very different British TV institutions - Downton and Eastenders - worried that Beatles purists might be taken aback by Yesterday's premise that The Beatles never actually existed?
"I respect them but I'm not worried if they're not abroad with what we're doing," says Patel. "We've done something quite unique and quite fun and it's a really interesting way of celebrating The Beatles and sharing their music in a new way and maybe sharing it to some people who may have never heard their songs.
"This is a story about love and what's important in life, which is something that The Beatles always knew."
More movie news, reviews and interviews here