The Body & Soul festival is back at Ballinlough Castle in Westmeath this weekend and it promises another two days of earthly delights and sonic wonder. Alan Corr and Michael Donovan round up the acts not to miss.
The Murder Capital
Friday, Body & Soul Stage, 7:30pm
With punk tyros Fontaines D.C. emerging as Ireland's most exciting new act in yonks and Idles and Shame leading the UK's new guitar band uprising, the time and sound is right for hotly-tipped Irish five-piece The Murder Capital. Having enjoyed a breakthrough 2018 with their own explosive live shows and support gigs to Slaves, Shame and Fontaines D.C., they began the year with the release of their Flood-produced debut single Feeling Fades. The enigmatic act, who hail from all corners of Ireland, have thrived on word of mouth and the caustic power of their live performances. Their debut album When I Have Fears, again with Flood behind the desk, is out this August. Catch 'em while you can, pop kids. (Alan Corr)
Pillow Queens
Friday, Woodlands Stage, Midnight

While taking influence from artists from contemporary US DIY indie & punk scenes (such as Mitski, Waxahatchee, Hop Along, Cloud Nothings), Pillow Queens stay true to their Irish heritage, using Dublin colloquialisms in their lyrics and singing in thick Irish accents.
Click here to read Michael Donovan's interview with Pillow Queens
Black Lips
Sunday, Body & Soul Stage, 8:45pm

Slackers and punks at heart, the Atlanta-based outfit rose to prominence on the back of their wildly provocative stage shows. When Black Lips, who formed before any of them could play instruments, take to the stage, their catalog, packed to the brim with earworm shout-along, becomes the soundtrack of a performance art project not to be missed.

Song you must see live: Bad Kid. Even the best among us can't help but flatter our inner delinquency when this irresistible tune seeps into our ear canals. (MD)
Sleaford Mods
Saturday, Body & Soul Stage, 10.45pm

Boris, Brexit, austerity, Trump . . . the centre cannot hold. In fact, it hasn't. Well, here are the boys to bring both politically-charged electro punk and dark humour to soundtrack the end of the world. Or at least the end of the weekend. After small beginnings in their native Nottingham, the duo of Jason Williamson and Andrew Fearn have become a vital voice amid the din. Their pithy and often very funny diatribes and observations about the everyday grind are a balm to the madness. Admirably prolific and riveting live, imagine Shaun Ryder trading barbs with John Cooper Clarke - with a demonic kid on a sampler providing a heightened backdrop. (AC)

Warning: expletives not deleted!
Thumper
Sunday, Midnight Circus, 5:00pm

The Dublin-based noise rockers pack their saccharine melodies with enough white-noise energy to power a small city. In a live setting, their signature combination of tone and drone whips crowds into a collective frenzy harkening back to the earliest days of DIY punk.
Song you must see live: AFL. A blistering track that starts at a 10 and moves up from there. Noisy and irreverent, it will shatter eardrums as it feeds the lonely soul. (MD)


SOAK
Sunday, Body & Soul Stage, 5:30pm

Once a teenage prodigy, 22-year-old Bridie Mons-Watson (better known as SOAK) now emanates maturity following the release of her sophomore record Grim Town. Unlike her earliest work, the new material breathes life into her sobering romantic vision, conjuring danceable heartbreak anthems fit for the main stage.
Song you must see live: Maybe. The track caffeinates its mopish subject matter, "a graveyard of lost chances," with infectious, New-Wave indebted hooks and explosive brass arrangements in the chorus. It's catharsis on the upbeat. (MD)
Avril Stanley, founder of music and arts event Body & Soul, previews this year's B&S bash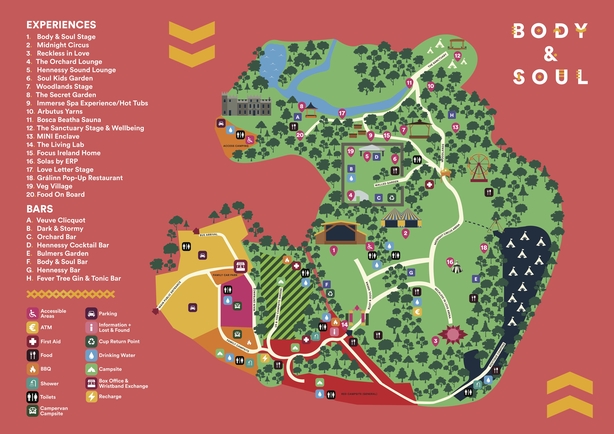 Body&Soul takes place from June 21 to 23. More information here