Dublin-based act Pillow Queens play the Body&Soul festival at Ballinlough Castle in Co.Westmeath this weekend. Michael Donovan catches up with a band who are constantly on the move
It's a clammy Thursday night in Dublin and Sarah Corcoran, lead singer and rhythm guitarist of Pillow Queens, floats a question over the enamored punters in city centre venue The Button Factory: "How do I look now, how do I look now?"
Her query is the chorus of her band's latest single HowDoILook but this is no desperate plea for validation. Amid guitarist Cathy McGuinness incisive leads, bassist Pamela Connelly's cocksure grooves and drummer Rachel Lyons' unshakable rhythmic foundation, it's more a rhetorical flourish. The question answers itself.
How do Pillow Queens look? Fearless.
However, their brand of brazen indie pop didn't materialise overnight.
As McGuinness recalls of the band's first ever rehearsal, "I arrived, and I didn't even have a guitar."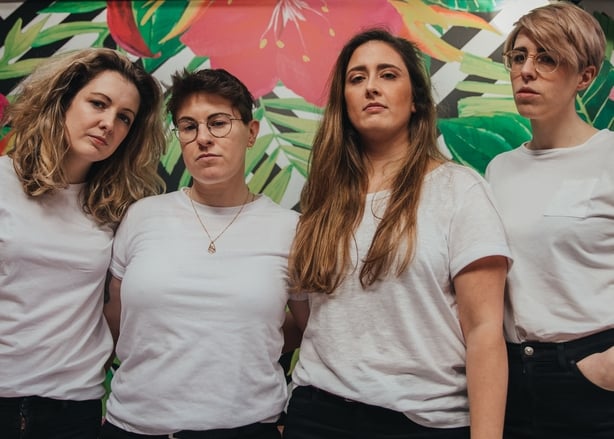 "It was very much DIY in that sense," she elaborates. "We didn't have any pedals. We're borrowing amps. Our first gig we put on ourselves. We weren't getting paid." Their first recording sessions took place "literally in the shell of a house that hadn't been built."
The band's present confidence owes much to their early limitations. "We just kind of stood it," McGuinness explains. "We got good results from the DIY vibe."
"We can't really call ourselves DIY anymore," she adds. "We're actually coming off a tour supporting SOAK in a double decker bus."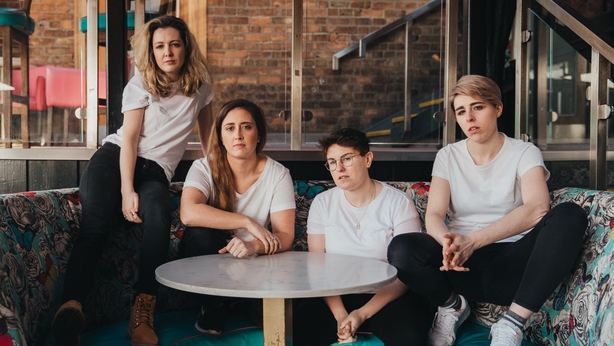 Alongside newfound access to "proper recording in studios and the media attention and everything," the improved methods of transportation were all part of Pillow Queens' rise from humble beginnings but, as McGuiness says, they've always been in constant motion.
"From 2016, we've been non-stop," she says. "I feel like it's been happening so quickly we haven't really had time to digest it."
That said, that explosion of opportunities, although exciting, come as a bit of a shock to a band whose "heart is in the DIY."
"I guess people are just kind of falling in love with guitar music again."
"I guess we're just finding our feet," McGuinness says. "We're grateful for every opportunity coming our way, but we definitely don't have any notions. I know we just had a tour on a double decker bus, but we came back to Ireland and it was straight back to transit - driving around for 8 hours at a time - so I guess we're still roughing it a little bit."
As Pillow Queens, who hail from Dublin, Wicklow and Kildare, look toward their debut album, the perpetual state of flux generates uncertainty as well as excitement. "We're actually looking for a label at the moment," McGuinness says. "Totally unclaimed at the moment, so we're hoping that someone will come and pick us soon, give us a little bit of help with the up and coming album."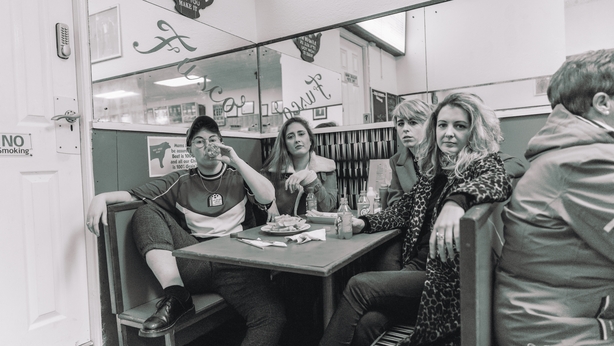 If all goes well, a Pillow Queens LP could catapult the band to the top of a rapidly growing list of compelling, pop-oriented guitar bands making music at the moment - the drivers of an indie-rock resurgence for music fans who never fell out of love with The Cranberries, Teenage Fanclub and Weezer.
"It's great!" McGuinness exclaims. "There seems to be a shift, even in terms of radio play. Because I think guitar bands have been around, but they haven't been getting the attention they deserve.
"People are giving a platform back to different genres. It doesn't have to be the mainstream dance or whatever genre is the generic … I guess people are just kind of falling in love with guitar music again."
Taking inspiration from stalwarts like Girl Band, new poster children like Fontaines D.C. and, indeed, upstarts like Pillow Queens, guitar bands are popping all over the place as the grassroots of a fresh-faced DIY movement.
"Now you're walking into any of the venues in Dublin, and you're hearing filthy guitar coming out, weird pedals," McGuinness says. "Really alternative stuff. It's really, really exciting. There also seems to be a huge emergence of female-fronted stuff which is really exciting too."
As the variety of sounds around Ireland proliferate, Pillow Queens aim to consolidate. "The more you record the more you write, the more your sound changes," McGuinness says of the band's forthcoming album.
"We're very conscious of having a cohesive piece of work. It's going to be tough. We're going to have to leave some songs behind but we're also going to bring some songs with us."
"We're aiming to record early 2020," she predicts. "On paper anyway."
Michael Donovan
Pillow Queens perform this Friday at Body & Soul at 1:00pm on the Woodlands Stage