O'Shea Jackson Jr. has said that he and some of his Godzilla: King of the Monsters co-stars have got "a bond for life".
The Straight Outta Compton star plays Officer Barnes in the latest installment of the Godzilla franchise, and said the cast had a strong sense of camaraderie off-screen as they experienced the sometimes gruelling shoot.
Speaking to RTÉ Entertainment along with his co-star Millie Bobby Brown, he said: "You have to, it's cool to do a job that you like, but the job becomes cooler when the people that you work with are cool too. It's huge.
"Chemistry is a real thing. Most of my scenes were with my soldiers and G Team, Anthony Ramos, Elizabeth Ludlow, Aisha Hinds, we've got a bond for life. When I see them in the streets, it's G Team for life."
Alongside the accomplished line-up of acting talent assembled here, the film's impressively realised monsters make a huge impression. Jackson Jr. said that acting opposite tennis balls and green screen for their scenes with the movie's enormous monsters was challenging.
What did he think about while filming with the monsters?
O'Shea joked: "I hope I look cool doing this right now!", before continuing: "A lot of it is expression, when you have a director that's as hands on as Mike [Michael Dougherty} is, in your ear letting you know, and you have a dope crew to make sure your eyeline is good, there's a number of things that go into making sure what you have to worry about is your character. I'm thankful for the crew that we had."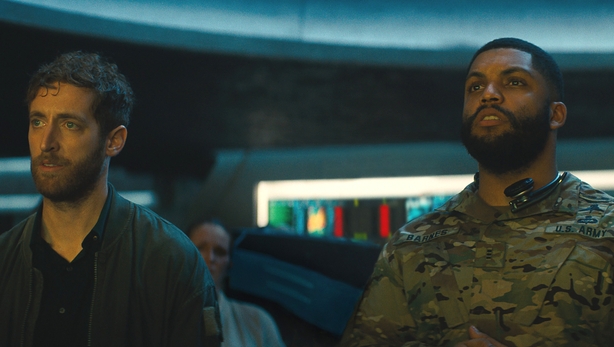 Following a tough shoot with plenty of wind and rain thrown at them, the stars of Godzilla: King of the Monsters seem well prepared to film their next movies in Ireland.
"Oh nice!" O'Shea said. "I promise, it'd probably be better than what they had for us in Atlanta - 'Bring on the wind a rain!'" he mimed into a walkie talkie, before adding: "It was bad!"
Godzilla: King of the Monsters is out in cinemas now.